It is already well-known that staff today are in pursuit of happiness – more than any other perk at their jobs.
And here's another valid reason why bosses should work harder towards providing their staff with that perk.
New research by GCC Insights highlighted the impact unhappy employees can have on the workplace.
Main consequences included:
Frequent unexplained or extended absence
Increases in presenteeism due to poor sleep, reduced concentration and lack of energy
Interpersonal conflict
Complaints and grievance procedures
High staff turnover
Damage to reputation
GCC's chief medical officer, Dr David Batman, said that, although intangible, negative emotions can damage a business's bottom line.
"Managers need to remember that an employee's psychological health can impact their physical health," he said. "This may manifest through stomach and heart complaints, backache and headaches. In turn, these may lead to reduced performance, increased absence and high levels of staff turnover."
Given the stakes, Dr Batman urged employers to look for signs of discontent long before they spiral into resignations.
The report, surveying employee from 500 organisations in 70 countries, also found a concrete link between happiness and productivity in the workplace.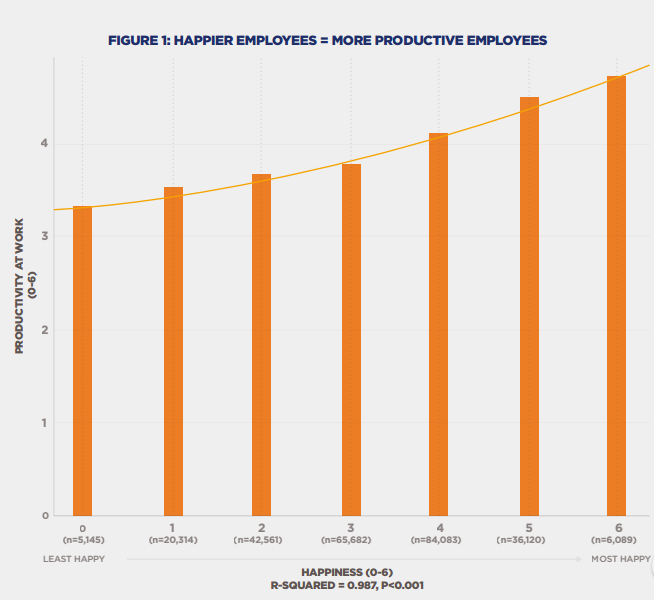 "The data shows that happy employees also reported feeling more productive," says GCC Insights' Data Scientist, Dr Olivia Sackett. "The connection is clear: happy employees are high performing employees."
ALSO READ: Singapore staff still in pursuit of happiness
The report also explained the different between happiness and engagement, stating that the two terms can't always be used interchangeably. This distinction was rooted in the fact that that while engagement is purely a work-related emotion, happiness is broader and covers both professional and personal realms.
However, the report added businesses still need to focus on happiness because even though the reason an employee is happy may have nothing to do with the workplace – happier workers are better liked and often out-perform their less happy colleagues. Thus, work is an appropriate place to start the conversation on happiness.
"Leaders who understand this and initiate happy habits – like reflection, gratitude and mindfulness – can reap the rewards from a more productive workforce," stated Dr. Sackett.
Image: 123rf