The picture of Virgin Group founder Richard Branson catching an employee napping at work was one of the most popular photos viewed on the Internet last week.
"I popped into the office and the airport to say hello and check in to see what the team are up to. This guy wasn't up to much at all – I caught him sleeping on the job! Wow, did he get a shock when I woke him up," the billionaire wrote. in his blog.
"He must have thought he was dreaming because he went straight back to sleep. To be fair, he was on standby, getting some much needed rest."
Jokes aside, scientists had proven a 15-30 minute nap at work, increases alertness, memory, cognition and mood.
Since lack of sleep is a common problem among professionals, a growing number of forward thinking employers have already started to offer facilities for employees to take a break.
The headquarters of Google, Uber, and the Huffington Post are equipped with nap rooms for employees to recharge periodically without having to leave the office.
Zappos, for instance, has nap rooms equipped with EnergyPod chairs designed for maximum relaxation.
In fact, Ben & Jerry's has had a nap room for over ten years and considers it an important part of the company culture.
Nap rooms may be growing in popularity, but there are several other facilities in the market which today offer a good rest during a busy working day.
Architect Sharon Liverant of Joynout, an Israel based design house, has the habit of taking quick naps at his desk at lunch.
The experience inspired him to invent "For The Rest", an office partition that folds down to act as a pillow, together with the company's chief designer Assaf Israel.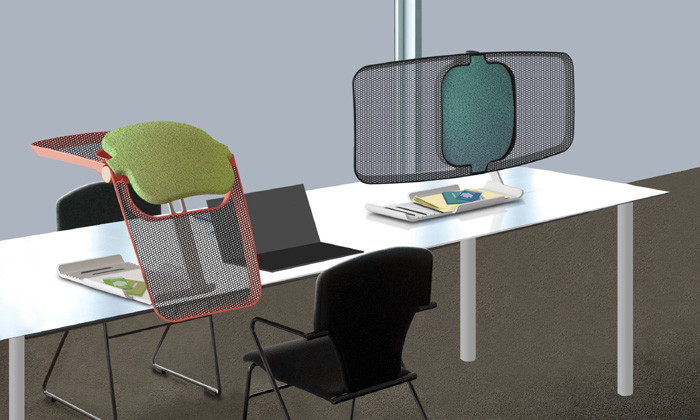 The padded center, made of felt, helps block out noise when you lay your head on it. The lightweight net on the frame acts as a soft, ergonomic cushion for your shoulders.
The design is patent pending and design registered. Joynout is in the process of negotiating with manufacturers of office furniture and it will hit the market soon.
The bigger challenge, however is not how you can sleep well at work. It might be changing company culture so that people can take naps during work hours, in full sight of coworkers, so you might want to go to a nearby location to nap to avoid the stares and glares.
In addition, The Nap Lounge, founded by David Lau, is now available in Central, Wan Chai and in Tsim Sha Tsui for professionals to doze off peacefully for a while.
Lau believes it is time to change the concept of staying in your seat in the office despite not being actually productive.
The idea of  helping professionals taking a proper break inspired him to create the space dedicated for relaxation.
"Our major customers are the executives and professionals working in the district near the lounge area. The majority is white-collar, some of them are travelling businessmen and self-employed persons looking for a quiet and cozy place to relax and work. It is more related to the personal habit rather than industry in particular. We have regular customers coming every two days or everyday sometimes," said Lau in an interview with Human Resources.
Image: Joynout