Generation Y employees score significantly lower than other generations on traditional leadership traits such as decisiveness, persuasion and strategic thinking. However, they bring an entirely different set of skills to the workplace relevant to today's business needs.
This understanding of the psychological differences in the way that Generations X, Y, and the Baby Boomers think, act and lead have been featured in Hudson's new report, based on 28,000 psychometric assessments.
Generation Y, born between 1980 and 1994, is shaping up entirely different at leadership than its predecessors. Forceful leadership and persuasion are not their priorities; instead they prefer to lead by providing insights and a vision, and by being a role model.
They have been profiled as 32% more ambitious and 27% more people-oriented than Baby Boomers.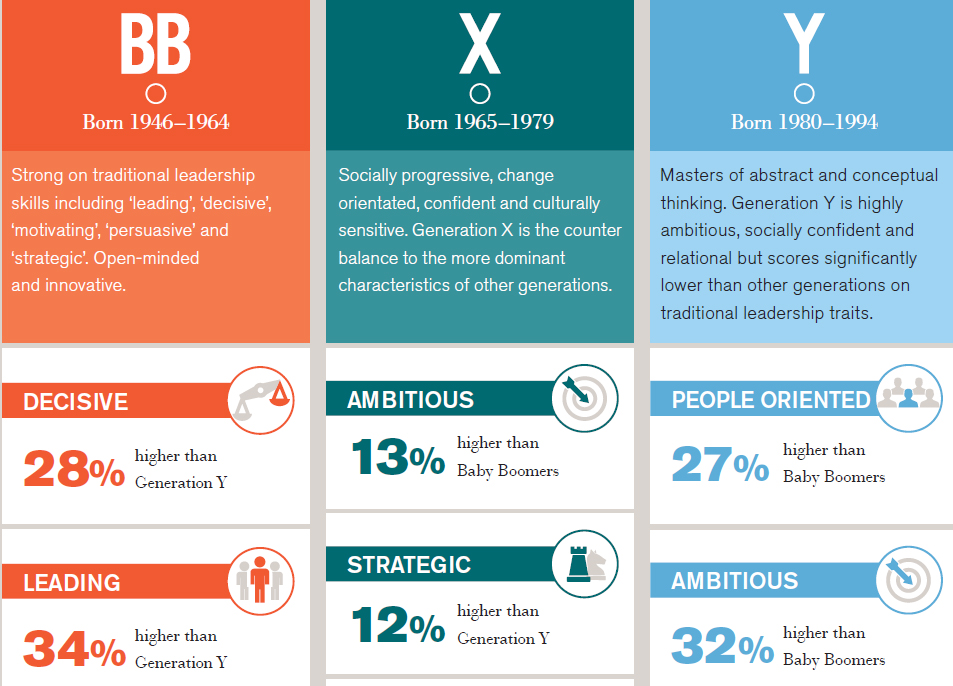 Generation X, on the other hand, has emerged as a diplomat – speaking the languages of both Baby Boomers and Generation Y – by educating upwards and innovating downwards.
They are also more socially progressive, change-oriented, and culturally-sensitive. They are marginally more strategic in their approach than the following generation.
RELATED READ: Training the Millennial generation
Baby Boomers, the first of whom are on the way out from the workforce, come out top in traditional leadership traits. They were listed as 28% more decisive than Generation Y, and 21% more persuasive.
This generalist, overseeing approach provides them a much-needed competency, and the report advises they should be given opportunities to share, teach, and mentor, before they exit the workforce completely in 20 years.
"Generation Y is no longer the baby, Generation X no longer the middle child, and Boomers no longer the parent. Everyone is moving up a step. The leadership implications will need to be reckoned with," said Simon Moylan, executive general manager of talent management for Hudson.
"Organisations need to understand what motivates their employees and connect the dots between the motivational drivers of those in different ages and stages."
Image: Shutterstock