HR Vendors of the Year Awards is back again for its 5th year with a fascinating gala night to celebrate the best HR vendors in Hong Kong. Winning is both an affirmation of the exceptional quality of your work in the industry and among peers. Enter Awards now
Contact us now for more details.
Gloria Chin, HR director, National Environment Agency, is on a quest to decode the future of HR – and points to knowledge acquisition becoming seamless and effective with the use of technology.
Q. What is your take on the future of the HR function – what do you see yourself doing as an HR practitioner in 2026?
Early in 2016, I challenged a few of my young executives to imagine what they would be doing in 15 years' time and to produce a zero-cost video called the 'Future of HR'. I told them that their reward would be a sumptuous lunch treat from me. They exceeded my expectations by producing such a neat video, that we had it screened at the Public Service HR Leaders Retreat in April 2016.
In the video, behavioural scientists scanned people to understand their strengths and inclinations, and then matched them to the perfect job in the organisation. Knowledge acquisition and collaboration at work across individuals and teams was seamless and effective with the use of technology.
The video also featured a boss who used smart systems to monitor the performance and motivation levels of employees. I believe that what these young people envision could become a reality in the future. This would then transform the function of HR, and require us to be much more tech-savvy, efficient, lean and strategic.
Art Direction: Shahrom Kamarulzaman; Photography: Elliot Lee, Nikon Ambassador (Singapore); Makeup & Hair: Michmakeover using Make Up For Ever & hair using Sebastian Professional.
Read more about The Futurist or subscribe here.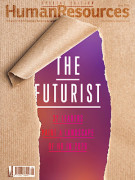 Mark your calendars as the crowd's favourite candidate and employee experience conference, Talent Experience Forum is back!
Happening only in KL, Malaysia on 5 November. Register your seat early because you will be hearing top insights from C-suite and senior HR leaders from Dell, Digi, GoCar, IPG Mediabrands, Nestle, Tesco, Unilever and more.