Hong Kong is notorious for having long working hours. The city leads the world in the number of working hours per week at more than 50.
The insurance/finance sector is among the most hardworking industries in Hong Kong. Helping employees find work-life balance presents a major challenge for HR professionals.  As an insurance provider, AXA Hong Kong empowers customers to live a better life, and it also wants to empower employees to find a balance between work and life.
In 2016, the leadership team at AXA Hong Kong decided to undergo a series of makeovers to transform the company's people strategy.  Led by Isabel Lam chief people and corporate management officer, the HR department has focused on three areas – the way we work; compensation and benefits; systems and communications to redefi ne the organisation's
working environment.
"We believe if we can transform the above three areas, we can significantly increase staff's engagement towards AXA Hong Kong as an employer, while attracting others to join our organisation going forward," Lam said.
The company's dedication to enhancing work-life balance can be experienced from the new office design – in 2016 AXA Hong Kong moved its Hong Kong headquarters from Wan Chai to Vertical SQ at Wong Chuk Hang. Occupying 10 floors of the building, one floor is known as "The Hub" for employees to relax and host informal meetings.
Located on the 15th floor, "The Hub" is equipped with different settings,including sofas, vending machines, tables and chairs for employees to get together.
"The informal environment is great for inspiring ideas especially for young people who do not enjoy formal meetings in a conference room," Lam added.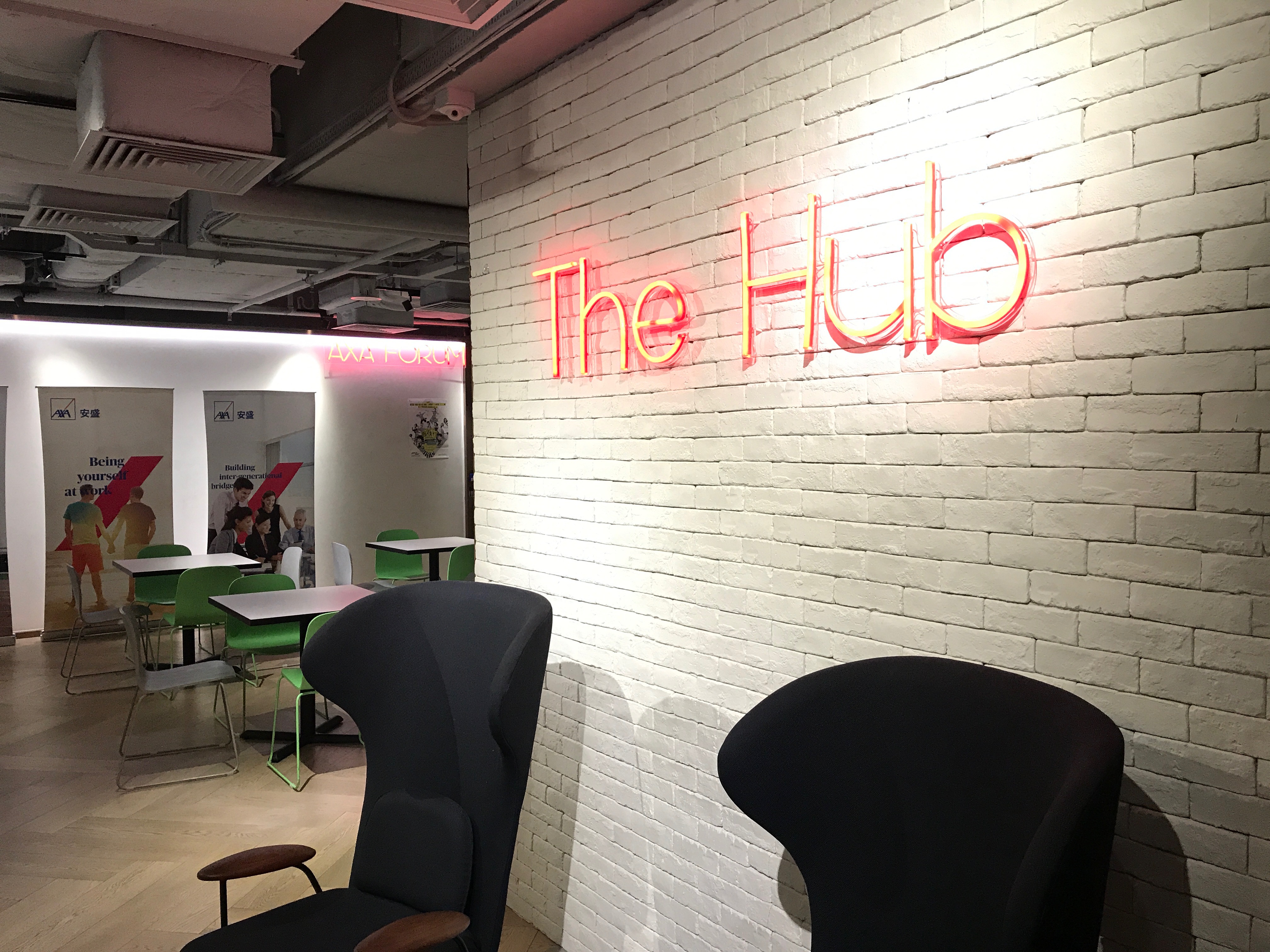 The space is also excellent for hosting luncheons and workshops. Employees are able to gather in a space to learn the updates from the company and the latest trends in the industry.
AXA Hong Kong is also a pioneer in having flexible working arrangements. Most of the employees are allowed to work from home one day per week. They are equipped with laptops to work from home or in other offi ce locations under AXA Hong Kong.
"Employees who are parents enjoy flexible working arrangements the most. They can attend school functions or pick up their children from school without having to miss any work time," said Tony Wo, senior manager of learning and culture for human resources.
For compensation and benefits, AXA Hong Kong is one of the first company in Hong Kong to introduce 16 weeks of maternity leave and four weeks of paternity leave. The company also offers two days of family care leave, and one day of birthday leave on top of annual leave.
The effort by AXA Hong Kong to help employees achieve work-life balance was recognised by a bronze award for Excellence in Employee Work-Life Balance at the HR Innovation Awards 2017, organised by Human Resources.
Lam hopes AXA Hong Kong's approach to helping employees live a better life will become a unique selling point for job seekers and employees.
"It is an honour to win the award. The award is a good chance to promote employer branding," she said.
The article is brought to you by AXA.