Since its establishment in Hong Kong in 1980, Gain Miles has proven to be a comprehensive consultant on pension, employee benefits as well as corporate risk management and individual financial advisory.
Like any developed economies, the population and workforce of Hong Kong is ageing quickly. In fact, according to government findings, the city's population aged 65 or above is expected to surge from about 900,000 at present to 2.1 million by 2030 or about a quarter of the population.
A forecast by the World Health Organisation predicts by 2050, Hong Kong will rank fifth in the world for cities with the largest percentage of older adults – 40% of the population in Hong Kong will be 65 or above.
The demand for a carefree retirement solution on budget has never been higher, and as one of the leading retirement service consultancies, Gain Miles is committed to helping employers and employees plan a happy retirement.
To begin with, Gain Miles is a pioneer in retirement education, having organised the first MPF seminar in 1998 before the launch of the MPF system.
Gain Miles prides itself on doing extensive in-house market research and surveys to support tailor-made solutions for clients with scientific data analysis. Since 2003, the company has published a biannual employee insurance benefits research report. The report keeps track of the trends of cost and benefit data on group insurance from major industry/business sectors, providing a big picture of the market standard for employers' references when positioning strategic levels of the benefits.
In 2012, Gain Miles released the first MPF member confidence index survey in collaboration with the Public Opinion Programme of the University of Hong Kong ("HKUPOP"), examining the behavior, expectation, knowledge and confidence level of MPF members in a consistent and scientific manner.
As one of the leading MPF and employee benefits consultancies in Hong Kong, the company also hosts regular MPF and employee benefits seminars and forums to provide updates on the latest developments in the industry.
"We stand out from the pool because we adhere to our scientific-based research to advise our clients on benefits solutions in a consistent manner. We pride ourselves on bringing market benchmarks on employee benefits, at the same time contributing to the community as a whole," said Gloria Siu, chief executive of the Gain Miles Group.
"We were the first to establish a dedicated MPF Servicing Team to provide customised briefings, risk profiling questionnaire, as well as MPF service support and education to equip employees with adequate investment knowledge in order to help them make the best informed decisions." Siu added.
Sharing her insights on the local compensation and benefits market, she thinks the local employee insurance benefits market is getting tougher as market players are keen to compete in a price war – and customers are looking for cost-effective solutions in the midst of medical inflation and technological advancements.
Gain Miles' believes that the structure of the employee benefits design is important, maximising the use of resources at optimal budget. Their integrated approach helps in the process of designing tailor-made programs for clients, by analysing their existing scheme structures, providing market benchmark data, leveraging on their market intelligence of industry development changes, and facilitating communication with employees through dedicated briefing sessions.
Over the past year, Gain Miles has done a tremendous job to upgrade its talent and enhance its services. All of their consultants are required to be SFC, MPF and CIB-licensed for all new hires, including trainees.
"To unlock our staff's potential to the fullest extent, Gain Miles operates diverse training and development programmes to bone up on their knowledge and skill sets at work."
The hard work that Gain Miles has put in has not gone unnoticed. The company was awarded silver for the Best Compensation & Benefits Consultant category in the HR Vendors of the Year Awards 2016 in Hong Kong.
Looking forward, the goals of Gain Miles are to build a stronger team of consultants; make use of systems to streamline workflow and maximum efficiency of back-up functions; and strive for excellence to be the most trusted and professional advisor leading the health and wealth industry.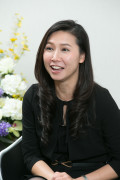 Caption: Gloria Siu, chief executive of Gain Miles Group
The article is brought to you by Gain Miles.