The jewel in HR's crown
The jewelry industry in Hong Kong has always been rather conservative due to the sensitive nature of the trade.
Alex Wong, general manager of Hong Kong and Macau Management Centre at Chow Tai Fook explains how the leading jeweller revolutionised its HR function to meet modern-day expectations, while aligning to the company's rapid business expansion.
Vital stats: With a passion for jewellery, Alex Wong brings more than 40 years of experience in the industry. Wong joined Chow Tai Fook (CTF) in 2000 as a sales representative and worked his way up to the company's senior management role. He was appointed general manager of Hong Kong and the Macau Management Centre in March 2015, overlooking the company's human resources function at the regional level.
Q. With a legacy of 85 years in the industry, how has the HR function evolved in CTF?
The HR function in the jewellery industry used to be very limited and predictable, focusing mainly on recruitment and ensuring the company's practices were in compliance with labour laws.
Recruitment was often done through referrals from trusted sources such as family members and friends due to the sensitive nature of the business which involves the handling of extremely valuable goods.
Having said that, the jewellery industry has been evolving, with modern HR practices and advanced technology being implemented. Many top management positions are now employed through open recruitment.
Q. How did you move up to your current position?
I have more than 40 years of experience in the jewellery industry. In 2000, I joined CTF as a front line sales representative.
I love to learn about jewellery. Knowledge on jewellery is endless and that is what fascinates me. I have several qualifications in gemology.
I was promoted to supervisor, shop manager and then to the general manager role overseeing the operations of the organisation, including, sales, product management and administration.
Q. How has the company's direction evolved since becoming listed in 2011?
CTF has grown exponentially in the past few years with various new positions and job functions being created after we were listed.
We have great demand for talent of different backgrounds, expertise and experience to support the sustainability of our business development.
As a global enterprise with more than 2,100 outlets around the world, the company has put a lot of effort in making use of advanced technology to manage staff and sales.
This has created demand for IT talent, which is difficult to recruit across industries in Hong Kong.
We developed our own specialised system to keep track of sales figures, raw materials supply and stock supply. Our senior management team has an app on our phones that helps us keep track of all such numbers wherever we are.
Computerisation and a more systematic mechanism also helped our HR planning and management. We need more IT talent to continue to maintain and develop state-of-the-art systems for the company.
Corporate affairs staff are also hard to come by, since it is not easy to hire people with strong English and Chinese language skills and experience with handling the media.
As the organisation grew we became increasingly aware of the importance of staff engagement. We want to motivate and develop staff, encourage communication and collaboration as well as learning and sharing at all levels.
Corporate affairs staff are also hard to come by, since it is not easy to hire people with strong English and Chinese language skills and experience with handling the media.
Q. As the company becomes more global, what is the current focus of the HR team?
Nowadays, the war for talent is increasingly vigorous in almost every business in the competitive recruitment market. As the demographic composition of the workforce changes, our focus also evolves, keeping in line with operational needs and business strategies.
With an increasingly strong regional presence and global outreach, CTF has placed a greater focus on recruitment of talent with global perspectives, overseas experience, international exposure and multi-lingual ability.
We organise many training programmes to expand staff members' horizons, and professionalism by getting them to attend overseas conferences and studying business programmes.
We aggressively recruit young talent from local universities by organising recruitment talks at various universities in Hong Kong. We are especially looking to develop management talent from these young new-comers.
Q. With a retail network spanning 500 cities, how do you ensure the company's vision and mission is understood by each employee?
We are committed to upholding our core values, culture and vision all the time by employing a multitude of platforms in different formats for dissemination to all staff members around the world.
It starts with the orientation for new employees who are given reading materials and briefings by our HR professionals and relevant department designates.
Traditional formats such as company newsletters, staff magazines, notices and an anniversary documentary booklet have been widely used.
New media and interactive communication tools such as e-newsletters, videos, instant messaging apps, social media platforms and the intranet are increasingly employed for promoting our culture, values and visions.
Q. Coming from a family-owned background, do those family values also define the working culture at CTF? What is the culture created by the company's leaders?
CTF has "sincerity and eternity" as its core values, as well as business philosophies. These values have been widely recognised not only among staff members, but also the general public.
Originating from CTF's honorary chairman Cheng Yu-Tung who brought the group to great success, these philosophies and values are not merely a slogan for promoting company culture, but fully applied in practice as reflected in all aspects in our daily operations.
We insist in upholding integrity, trustworthiness and sustainability in our business practices and pursuit of excellence in product design and craftsmanship.
We are serious about authenticity and trustworthiness in product quality and pricing.
We pledge to manufacture and sell quality products that are of ever-lasting value for families to pass on from generations to generations. Finally we are committed to building customer relations with sincerity.
CTF has placed a greater focus on recruitment of talent with global perspectives, overseas experience, international exposure and multi-lingual ability.
Q. Based in Hong Kong, what are the specific regional advantages, as well as limitations, in terms of attracting and developing talent for your company?
As one of the world's leading jewellers in one of the largest markets in the world, we are able to attract brilliant talent.
On the other hand, because the Chinese market is our major market and the vast majority of our staff are Chinese, Chinese is our common language.
Chinese language skills, both verbal and writing, are therefore one of our important recruitment criteria as this is the tool for effective and efficient communication and co-operation across the group.
Market knowledge, customer understanding and cultural integration will also be our concerns in the recruitment process.
Q. Do you have training programmes for your storefront as well as back office employees to help them in continuous development and improve employability?
The demand for training increases and diversifies as the business expands. We encourage life-long learning and self enhancement and are committed to providing training and advancement opportunities to our staff at all levels.
We have experienced full-time training staff and veteran colleagues to serve as trainers and instructors while engaging outside professionals to conduct comprehensive and multifarious training and development programmes.
For in-house training resources, we have recently upgraded and consolidated our training centres across Greater China under the more organised overarching Chow Tai Fook Academy, newly set up in June this year.
With five faculties – jewellery, watch, sales and marketing, management and professional skills – we offer more organised and systematic training and development resources for the entire group.
We provide not only classroom learning, but also i-learning so that colleagues can enjoy self-study anytime everywhere.
For every staff, we provide them with a training budget. If there are courses or events beneficial for their work, we encourage them to take it.
We sponsor or subsidise staff to receive formal education in colleges and universities, and to attend inspirational seminars and learning and sharing conferences, as well as to attend practical skill and knowledge-based workshops.
For some of the senior staff we support them to take EMBA programmes. The younger staff will receive sponsorships to gain professional qualifications related to gemology.
Q. A lot of research shows that companies in APAC are struggling to provide a work-life balance to their employees. What is your view on that – is this possible or a myth?
We encourage work-life balance. There is no doubt the working environment is getting tougher in an ever-increasingly competitive commercial world.
We consistently review our manpower and workload on the one hand and provide training and facilities to equip and help staff to improve their job knowledge, skills and techniques. We believe staff who are better prepared will have less pressure to work overtime.
We believe a joyful and relaxing atmosphere in the workplace is crucial to help maintain a healthy balance between their work and personal lives.
We organise various events and activities such as health talks, interest classes, sports activities and volunteer services for our staff and their families.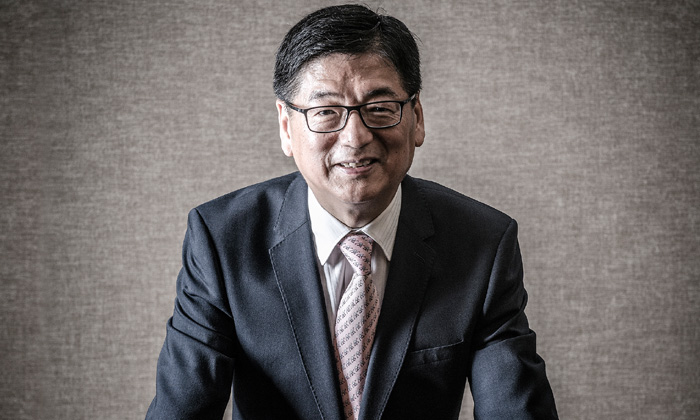 Q. With 40 years of experience in jewellery, what is the most impressive masterpieces you have seen?
The most magnificent piece I have ever seen is the "Cullinan Heritage 1" – a 104-carat D colour internally flawless round brilliant-cut diamond.
In 2010, Chow Tai Fook successfully bid for the 507 carat Cullinan Heritage rough diamond for HK$275 million, setting a record price for a rough diamond.
I would say the Cullinan Heritage is among the rarest and most valuable diamonds ever discovered, as well as the most exquisite now in CTF's extensive collection.
It was discovered in 2009 in Gauteng Province, South Africa, at the Cullinan diamond mine, where the majority of the world's most famous diamonds have been uncovered.
Our craftsmen in South Africa spent three years cutting and polishing the piece to create Cullinan Heritage 1 which is the largest diamond cut from the Cullinan Heritage.
As we celebrate our 85th anniversary this year, we will take the opportunity to unveil this magnificent masterpiece.
Image: Maru LUN @ ETTP