It is no secret that leadership talent is hard to come by. For most organisations, the best way to find leaders for the future is to groom their own. Every year, HR departments of companies visit universities to promote their management trainee programmes in the hope of hiring high quality young talent to sustain the development of their company.
From attracting young talent to grooming them into future leaders, four HR heads share with Anthony Wong their ideas on developing tomorrow's leader.
Putting recruitment into the hands of end users
The Hong Kong and China Gas Company (Towngas) has been running a graduate trainee programme since 1982.
While having a long and proud history demonstrates the company's prowess in grooming talent, it is easy for long-standing graduate trainee programmes to lose track of the latest trends in the recruitment market.
Now in its 35th year, Kit Fan, the company's corporate head of HR, has decided to put the recruitment of young talent in the hands of young people.
"We decided to get the 2016 graduate trainees to play a major role in hiring the 2017 cohorts. Who understands young people better than young people themselves?" Fan says.
The 2016 graduate trainees were tasked to come up with a proposal to hire the next batch of graduate trainees. Besides designing posters and shooting promotional videos, the trainees ran a Facebook page to respond to enquiries from students and share bits and tips about working at Towngas.
"The trainees are honoured and thrilled to be handed such an important project. They formed a working group and took shifts to update the Facebook page and reply to enquires from students, ensuring a swift response to applicants," she says.
Getting young people to help with recruiting graduates not only enhances the candidate experience, it also has a tremendous effect on the growth of the graduate trainees.
"The trainees are very happy to know that despite having less than one year in the company, senior management has so much trust in them. Instead of handing over a project to them and asking them to be part of it, I let them take the lead and myself and other senior managers play an advisory role."
Over the years, the programme has successfully produced leaders for Towngas. Today, one of the seven executive committee members, the company's top governing body was a graduate trainee. More than one third of the company's senior executive staff members, across functions and locations, were graduate trainees.
On the job-hopping tendencies of young people, Fan believes it is something employers need to cope with rather than trying to eliminate.
"Today's young people have their own approach towards life. At certain stages in their life, they might want to travel the world or continue their education. If they decide to move on, we are happy for them and we are proud that we have nurtured some fine young men and women during their time here."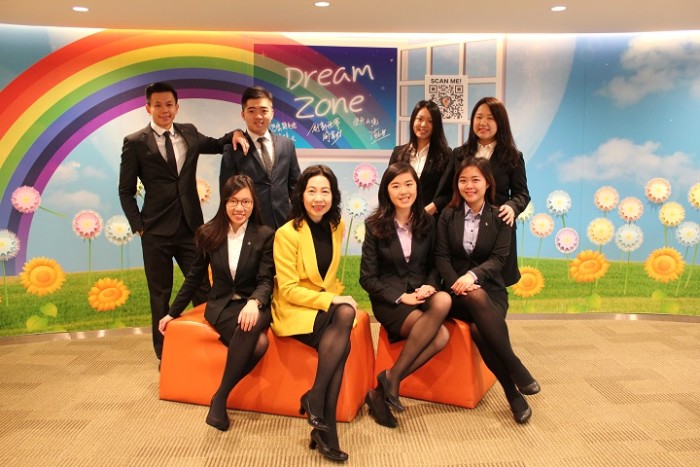 Caption: Kit Fan decided to put the recruitment of graduate trainees for 2017 in the hands of the 2016 graduate trainees.
Winning graduates over with a human touch
Angela Wong, director of human resources at BDO, believes the company's caring culture is what makes it an employer of choice.
"At BDO, we endeavour to nurture a supportive culture that we treasure as one of our core values. On a number of occasions, we have seen our young colleagues openly expressing their appreciation and gratitude to their superiors for the attentive and professional coaching and care they receive," she says.
From day one, BDO ensures graduates are taken care of through the different stages of their career. To begin with, the new joiners are warmly welcomed into the firm with an induction, an office tour and lunch with senior executives to help them understand BDO's values, followed with a systematic and well-structured training program for a few weeks on technical and soft skills development.
The company has a buddy system where every new associate is closely taken care of by a buddy who is one or two levels above. The aim of having a buddy is to help the newcomer adapt to the new working environment in a shorter time and in a comfortable way during their first year.
After the first year, each associate will start to be coached by a more experienced colleague under a mentoring programme. Through sharing their experiences and insights, the mentors look to inspire the mentee to reach their potential.
"Our senior staff members, managers, principals and even directors actively participate in this programme to enrich our talent pool and develop the next generation of leaders," Wong says.
BDO's management is always enthusiastic about communicating with colleagues to understand their needs, concerns and challenges. After listening to opinions from colleagues, the company's HR department came up with a number of policies to cater for staff members' different needs.
"We took our staff's suggestions to introduce a graduation ceremony leave so our graduate recruits can take the day off to celebrate the great day. Another example is the introduction of birthday leave. For staff members with children, there is infant school starter leave which allows working parents to take leave for accompanying their young children to attend infant school orientation program.so they can spend time with their young children who are nervous to start school. This leave benefit is unique not only among CPA firms but also among employers in Hong Kong"
To accommodate personal development needs and encourage continuous learning of staff, a career break scheme, "BDO Flex" programme, is available to staff members to take temporary breaks from work for various personal reasons.
It includes taking short education courses for self-enhancement purposes. While catering for the work-life balance of its staff,
"BDO Flex" enables staff to achieve their learning and development goals from different aspects, both at work and out of work.
"For example, one of our line managers has just completed his sabbatical leave under 'BDO Flex' to pursue his study for a master's degree in business administration in the United States for a semester," Wong says.
The company enjoys an 80% retention rate, and the majority of the new graduates have successfully moved up the career ladder and some of them have been fast-tracked because of their outstanding performance. For example, some high performing associates have been able to reach the level of senior associate within one and a half years while some have been promoted to manager grade within four and a half years.
To promote BDO's employer brand among universities, the company has put in a lot of work to reach out to students.
Each year, it runs a four-month internship programme for university undergraduates. The programme starts with a one-week structured audit training course. In addition to work practice, the interns are also offered an opportunity to join the BDO Best Intern Scholarship Contest which aims at unleashing their problem-solving, creativity and presentation capabilities.
There are also job shadowing programmes for undergraduates to experience the working world. Students are given the opportunity to "shadow" a senior executive of BDO as they go through a normal day on the job, such as attending meetings.
Through observing the daily tasks of the host executive, the job shadower can gain a taste of what it is actually like working in the CPA industry.
BDO promises associates diversified job exposure under a flexible structure, which is particularly appealing to young professionals.
Notwithstanding a workforce of over 1,000 staff, the teams within BDO are arranged in a flexible structure so members of each team can gain exposure to a wide range of clients from various industries within a short period of time.
In their first year, young colleagues have plenty of opportunities to work for clients from a variety of industries and to travel outside of Hong Kong.
This initiative is assured by the company's client work rotation arrangement that allows staff to change to other assurance engagements after participating in a specified client engagement for three consecutive years.  In addition, the staff's exposure can be further broadened through the company's International and Internal Secondment arrangements.
"Young people like to try new things and gain new experience. This is the perfect chance for them to learn and gain different perspectives through participating in engagements of a diverse client base," Wong says.
Putting youth development first
The selection process for elite young talent at Hong Kong Broadband Network (HKBN) is one of the most demanding, but also one of the most rewarding.
In 2015, seven graduate technical trainees (GTT) were hired out of 1200 applicants. The starting salary was HK$24,000, almost twice the market starting salary for fresh graduates.
CY Chan, associate director for talent management and organisation development at HKBN, says besides the handsome rewards, the company is dedicated to accelerating the growth of every trainee.
To accelerate the growth of young talent, support from senior management is crucial. The company's chief technical officer and chief information officer are personal coaches for the GTTs throughout the 24-month programme.
"Our senior management is in close contact with the TM (talent management) department throughout the recruitment and training process to ensure the talent that they need is being delivered to them. They totally buy in and understand what it takes for the company to move forward," Chan says.
While most companies are worried their trainees might leave them for other opportunities upon completing their training programme, HKBN has no such concerns. In fact, trainees need to interview again for a job, if they wish to continue to develop their career in the company.
"We have seven trainees and six job openings. Each trainee can apply for three jobs, if he or she fails to impress at the interviews, they have to leave the company."
Ming Choi was one of the six graduate technical trainees who was hired after completing the GTT programme. He was grateful that management put a lot of trust in him despite his youth.
"I was given the chance to do an analysis to justify a department's budgeting model. It is a rare chance for a new comer to be involved in high-level tasks like this," he says.
When it comes to caring for talents, Choi thinks HKBN talks the talk and walks the walk.
"The company pitches 'LIFE-work' priority; it is not just a slogan. Colleagues are able to leave on time, we play ball and go hiking together, life comes first for HKBN talents," he says.
Chan adds that the best way to retain talent is by helping them find the right match. The TM department at HKBN meets regularly with talents to discuss their career path.
"The direction of the company will change and the priorities of our talents will also change. If we are not able to find a talent a good match, it is time for them to move on. Not everyone in the company can be committed and happy with what they are doing," he says.
Grooming talent with a global vision
One of the highlights of the regional management trainee programme at Pernod Ricard Asia is its emphasis on international mindset. Applicants from 16 countries in Asia were flown into the company's assessment centre in Hong Kong after passing through the initial selection in their respective  markets.
"As an international company, it is very important for our employees to be able to interact with people from other cultures. Each year, we have about 30 candidates gather in Hong Kong for assessments," says Jenny To, HR and talent development director at Pernod Ricard Asia.
"After going through all the recruitment exercises of the day, we will take them out to dinner and let them experience the Pernod Ricard culture."
The company hires management trainees for a wide range of business functions, including finance, marketing and HR. Trainees will spend a a good proportion  of their time with their own chosen function and also rotate to other departments for hands on experience and to understand how the other department works within the company.
Every trainee spends three months in the sales department,which will enable them to have direct contact with customers and better understand the market landscape, during the 18-month programme.
Pernod Ricard is committed to giving trainees international exposure. To begin with, newly hired trainees will gather in Hong Kong for an induction and then meet up again in another location in Asia for leadership development programme. Trainees will also go on a three-month overseas assignment in the region.
"The trainees will spend time in their own function during their overseas experience. We want them to get international exposure and to see how things could be done differently in another market environment."
Case study: In search for the future CXO
When Hong Kong Broadband Network (HKBN) hosted the CXOs of the future programme in 2011, it became the talk of the town because of its generous salary offer and extremely demanding recruitment process.
Six years later, Mingo Tsang, one of the two elites hired from the programme, reflects on his growth. He had a number of lucrative offers on the table at that time, but decided to join HKBN because of the company's commitment towards developing young people.
He still remembers very clearly that all senior management members, including then chairman of the company, Ricky Wong Wai-kay, were present for the final interview which took place at an outward bound campsite at Sai Kung.
"After 36 hours of surviving in the wild, the finalists were brought before the senior management team. Wong asked everyone an IQ question which nobody could answer and asked everyone to write down on a piece of paper why the company should hire him or her," recalled Tsang, an economics and finance graduate from the Hong Kong University of Science and Technology.
Tsang thought that what made him stood out was his confidence.
"Ricky Wong is known to be a man who is very confident in himself. I thought it will boost my chances if I show self-confidence too. So I told Ricky that he is a great entrepreneur, but I am great at something too – I am a champion debater at my university. I guess the self-confidence I displayed caught his attention and he offered me the job," Tsang says.
Coming out of university as a prized young recruit, Tsang experienced first-hand the importance of disruption and innovation in driving an organisation forward.
Similar to management trainee programmes in other companies, he was given the opportunity to rotate to different departments within the company, but what stood out was the commitment of senior management in helping him grow.
Senior management will take trainees out to meet with investors, show them how to do business and leave a time slot for trainees to speak on stage when they are invited to speak at different events.
At age 21, Tsang was already giving presentations for crowds of more than 1000 people; the effort senior management puts in is to accelerate the growth of the trainees and that includes giving trainees the chance to fail.
Tsang says he went to NiQ Lai, chief talent and financial officer, to ask for a HK$40,000 budget to set up a university student referral programme to get more customers to use the services of HKBN.
"The project was a complete failure and I lost all the money. NiQ knew all along that I would fail, but he let me try because he wanted me to grow and learn from my mistakes. I don't think many senior management would allow their employees to take such a big risk for the sake of their future development," he says.
The effort of senior management has certainly paid off – Tsang is now a senior sales manager for enterprise solutions, leading a 60-man team to explore new markets. He is the youngest co-owner and section head at the company.
"I am really thankful for the opportunity the company has given me to accelerate my growth. I hope to move up to a director grade role in five years and the ultimate goal is to reach the C-suite level," he says.
Photo/ 123RF