Despite an increase in the percentage of women in its global workforce, the world's largest social media network is still struggling with gender and ethnic diversity.
In a recent diversity update, Maxine Williams, global director of diversity at Facebook announced that globally, the social network's workforce comprises 67% men and 33% women – a small improvement of 1 percentage point from last year.
While senior leadership roles (73% men vs 27% women) and tech roles (83% men vs 17% women) are still dominated vastly by men, more women are seen in non-tech roles (53% men vs 47% women).
"Over the past few years, we have been working hard to increase diversity at Facebook through a variety of internal and external programmes and partnerships," Williams wrote.
"For example, while our current representation in senior leadership is 3% Black, 3% Hispanic and 27% women, of new senior leadership hires at Facebook in the US over the last 12 months, 9% are Black, 5% are Hispanic and 29% are women," she added.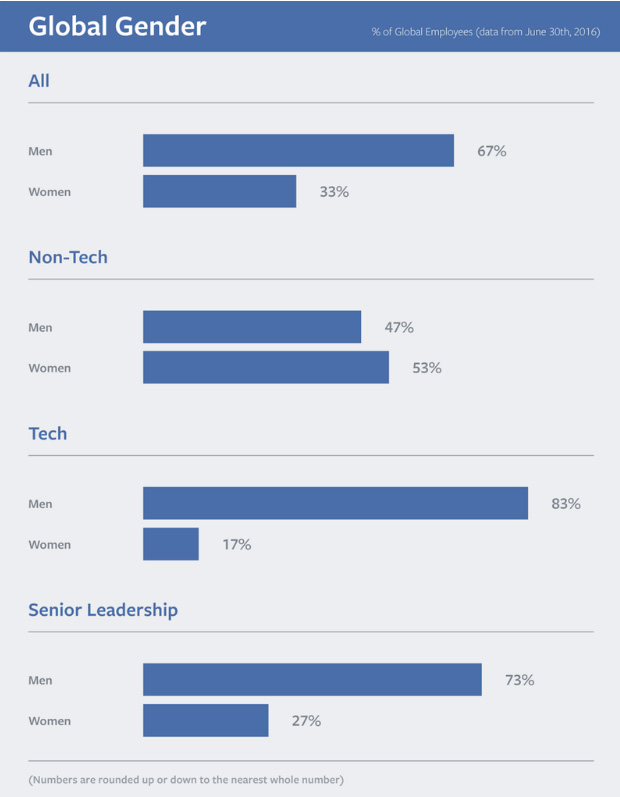 Apart from diversity in terms of gender and ethnicity, Facebook also seeks to be diverse in terms of sexual orientation. "Diversity comes in many forms, and we want to take a moment to highlight the vibrant LGBTQ community here at Facebook," said Williams.
She revealed that a voluntary survey of Facebook's employees in the US about sexual orientation and gender identity, to which 61% responded, 7% self-identified as being lesbian, gay, bisexual, queer, transgender or asexual.
"We are proud to support the LGBTQ community through our policies, products and extensive benefits for our employees," she said.
This includes a $15 million commitment to Code.org over the next five years as well as various other initiatives which were broken down into the short term, medium term, and long term.
Williams also brought attention to the various initiatives Facebook has to drive diversity in the organisation – short, medium and long term.
Short term: Building a diverse slate of candidates and an inclusive working environment
Williams explained that the 'diverse slate approach' encourages recruiters to look longer, harder and smarter for more diversity in the qualified talent pool with the goal of creating an environment where diversity is considered an indispensable part of the search for great talent.
Medium term: Supporting students with an interest in tech
For the medium term, Williams highlighted two initiatives based on supporting undergraduate college students with an interest in computer science with a focus on underrepresented groups in the industry – ethnic minorities as well as women.
This includes the Facebook University (FBU) programme launched in 2013 for engineering with 30 students interested in computer science. The programme has since grown to include 170 students.
"When we started FBU in 2013, we knew it could be years before we saw students return for full-time jobs at Facebook. This year, for the first time, we are proud to welcome a handful of former trainees as full-time employees," Williams said.
The other programme highlighted was the Computer Science and Engineering (CS&E) Lean In Circles, launched a year ago in partnership with LeanIn.Org, LinkedIn and the Anita Borg Institute.
ALSO READ: How Facebook is promoting diversity in its offices
Long term: Creating opportunity and access
Facebook's aims to move middle schoolers to new hires in a 10-year process. It also invests in TechPrep – an online resource in both English and Spanish for parents, guardians and future programmers who want to learn more about computer science and programming.
"Since we launched TechPrep last October, the site has had over half a million unique visitors from all 50 states," wrote Williams.
Facebook was unable to respond to queries from Human Resources about similar initiatives in Asia at the time of publication.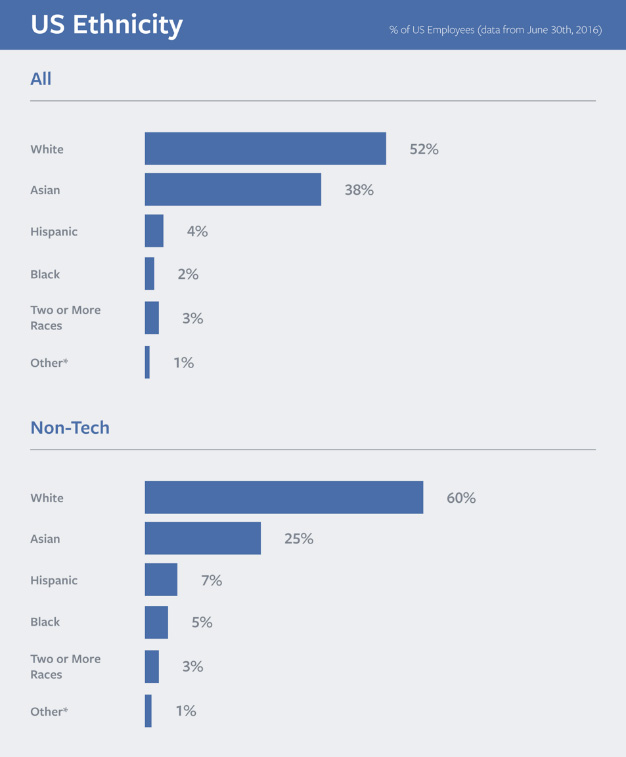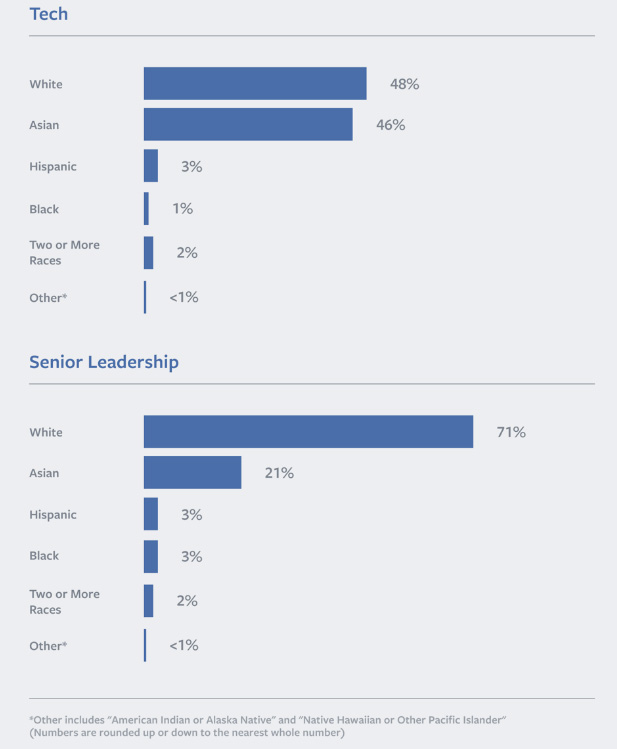 Lead image: 123RF