When relocating employees, bosses might be hesitant in sending their staff to Hong Kong due to the high cost of living in the city.
The city is today officially more expensive than Japan and Europe, according to The Economist Intelligence Unit (EIU).
EIU's biannual worldwide cost of living survey ranked Singapore as the world's most expensive place to live.
Hong Kong followed closely at number 2 – a surprise to many, considering the high rent of Hong Kong properties, including office.
The ranking, which compares the price of a weighted basket of goods across 133 cities, including food, transportation, alcoholic beverages and tobacco, specified that it does not include the cost of housing rents in the study.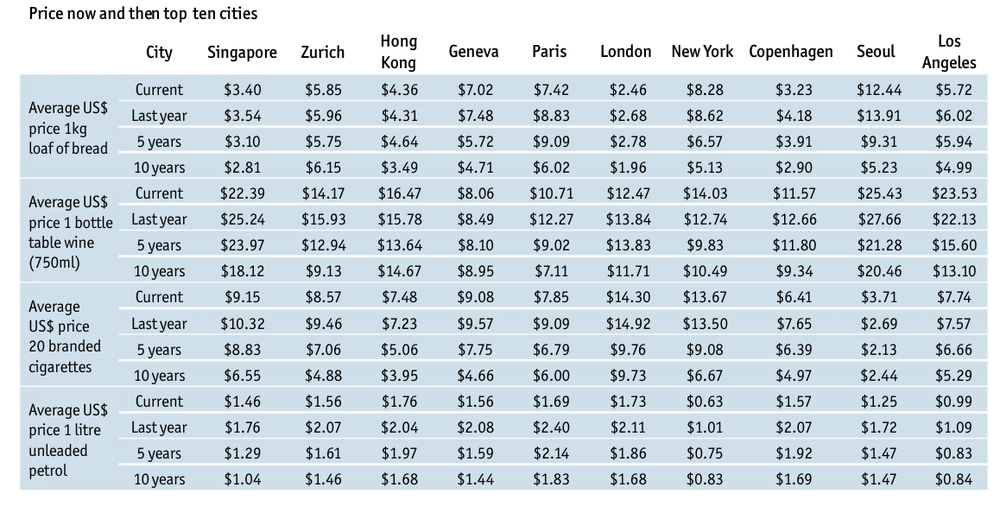 The report found up and coming South Korean economy has continued to drive up the cost of living in Seoul. The city is now ranked 9th globally and the third most expensive Asian city to live, following Singapore and Hong Kong.
The weak Japanese Yen had Tokyo to fall out of the top 10. In fact, living in Shanghai is now as pricey as  Tokyo.
The estimated 480,000 people planning on travelling to the 2016 summer Olympic Games stand to benefit from a spectacular decline in the relative cost of living in Rio De Janeiro.
The Brazilian city fell 52 places to 113th in the ranking and is now almost half as cheap as New York.
However, with Brazilian inflation creeping into double digits last year, locals are not seeing the benefits that visitors are.
Ironically, with Russia expected to host the next Football World Cup, Rio is now as cheap as Moscow.
San Francisco ,which had made headlines about being an expensive place to live in because of the influx of technology companies ranked 34 globally.
This was a 25 place jump from last year but still quite far away from the traditional US metropolitan cities like New York City, which ranked 7th and Los Angeles, which ranked 10th globally.
The ten most expensive cities in the world according to Economist Intelligence Unit's worldwide cost of living survey:
1 – Singapore
2 – Zurich
2 – Hong Kong
4 – Geneva
5 – Paris
6 – London
7 – New York City
8 – Copenhagen
9 – Seoul
10 – Los Angeles
ALSO READ: Hong Kong is the world's hardest working city, at 50 hours a week
Image: Shutterstock