The United States is the most desirable market for businesses to expand into, according to new research, coming just ahead of the United Kingdom.
China and Hong Kong come in at third and fourth place respectively, with 29% and 27% of business decision makers surveyed stating these are the most desirable markets to move into in Asia. Germany follows in fifth place at 26%.
Singapore came in at 23% – behind Germany but before France – in the report titled The art of connecting business by BT, which surveyed 1,150 business decision makers in 13 regions around the globe to explore the reasons for international expansions.
Businesses stated one of the biggest indicators for expanding into a country is whether it is a "digital-first" economy, with 91% of respondents stating this would be a "great help". Digital-first economies have a ubiquitous, nationwide, high speed internet connection.
Respondents stated Hong Kong has the most attractive tax and governance regime, with 32% saying this is the most desirable element for expansion into Hong Kong. Additionally, as with the majority of markets, the affluence of citizens and the potential customer base of both Hong Kong and Singapore lend to their relative attractiveness.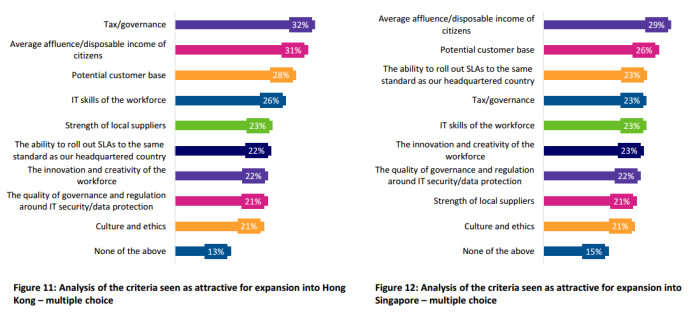 The biggest barriers to expansion were cited as being government regulations (47%), followed by established competition (45%) and the cost of initial investment (40%).
And despite being an accelerator for expansion, poor digital infrastructures are also a hindrance, as the majority (94%) of business decision makers claim the digital infrastructures of their most desired markets have hindered their plans to some extent.
But 37% also believe technology within their own organisation is hindering their expansion into other countries.
Personnel issues (31%), logistics (30%) and regulation and tariffs (29%) were also identified as internal challenges faced by organisations looking to expand internationally.
 Image: Shutterstock