The second edition of HR Tech Interactive, Hong Kong, saw HR leaders across industries gathering at Hotel Icon, Hong Kong last Friday to discuss the most pressing issues on HR technology.
More than 100 delegates took advantage of the event to exchange ideas on HR technology and to network at the regional invitation-only HR technology event for HR leaders and senior HRIS specialists.
Starting the conference was Anita Lam, Of Counsel (Solicitor Advocate) – Employment Practice DLA Piper.  She inaugurated the event with a keynote on the use of wearable technology and predictive analytics for talent management.
Lam reminded the room of the risks that come with data analytics, pointing out that not all employees would be happy to have all their conversations monitored just for the company to determine how good their relationship with their boss is.
"You have to ask yourself, what is the problem you're trying to tackle and are we okay with the impact a solution might have on all the stakeholders?" she said.
She urged delegates to take away at least one thing from her talk today: DDE. When thinking about data analytics, consider data privacy, discrimination, and employee engagement.
The second speaker, Adam Spring, senior director, HR effectiveness at Prudential Corporation Asia talked about the challenges and outcomes of the company's journey to the cloud.
He said it started by simply asking the question: "What do we want from our HR system?"
The company needed a common HR platform across the entirety of the organisation that provided control and accountability, real time information, sustainable technology, the ability to follow employees throughout their career, and self-service. For Prudential, the  cloud is able to full-fill all those demands.
Spring admitted that there are some challenges with moving to the cloud. He explained that several aspects can be both a plus and a minus. For example, constant innovation ensures the most current system, but having to update the systems twice a year can get int he way of doing daily work.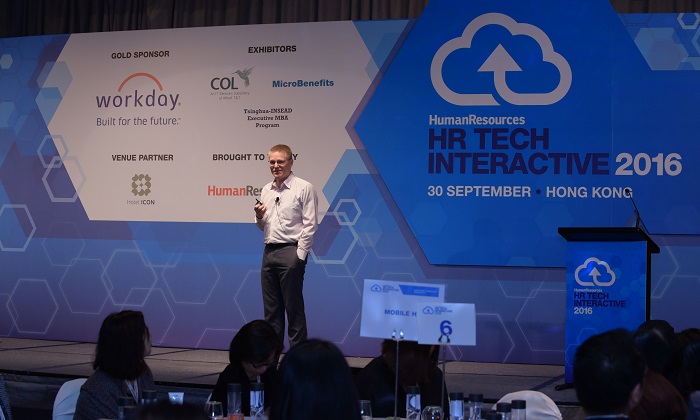 He left the delegates with some advice: "If you're moving to the cloud – get your support model right. Be active in the community of fellow users, and add self-service to help with engagement. Keep your processes smart, effective, and simple, drive your analytics, and most of all, be absolutely on top of data privacy".
Photos from the conference, HR Tech Interactive 2016, Hong Kong
After lunch, talent management expert Charles Hughley, talked to the room about EVP. "When I think about EVP, what it's really about is your story", he said. "What story are you looking to communicate to employees, to people you want to attract to the organisation? It's about connecting with the people you should be connecting with".
In response to a question from the audience, Hughley spoke about the choice between designing different EVPs for different regions, or taking a blanket approach. "We decided it should be one EVP that communicates one consistent message across the world", he said. "This is us, so it has to be consistent".
The panel discussion for the day was moderated by Aalok Gupta, HR & org. effectiveness expert. With him on stage were Wingo Wong, director, HR transformation and rewards, AIA Company, Kabir Julka, vice president & head of HR Asia, American Express, Grace Cheung, North Asia L&OD, talent management director, Avery Dennison, Eric Yee, head of talent solutions, North Asia, LinkedIn, and John Nolan, group HR director, Jardine Matheson.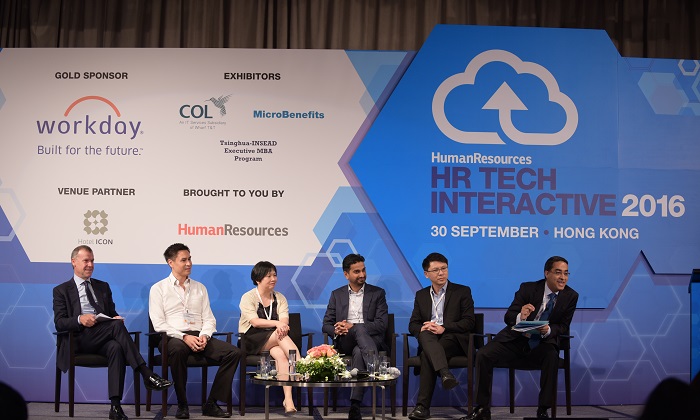 The group explored the role of technology to enhance the employee experience. Nolan told the delegates: "What we do today will be dramatically transformed by technology. Along the way, we need to make sure we keep two things in mind. Are we using technology to actually improve the employee experience? And are we using technology to create solutions, not just look for problems?"
Throughout the day, delegates were involved in four interactive sections, where they shared insights on HR cloud, mobile HR, data analytics and can Agile work for HR?
To roundup the day, the eight table hosts summarised the insights and key takeaways from their discussions.
Human Resources would like to thank all sponsors and partners that contributed to the success of HR Tech Interactive 2016, Hong Kong:
Gold sponsor
– Workday
Exhibitors
– COL
– MicroBenefits
– Tsinghua University
Partner
– Hotel Icon
Photos from the conference, HR Tech Interactive 2016, Hong Kong