How do you know if your #learning is relevant for the #future?
Find out at the region's largest conference for HR and L&D practitioners, Learning & Development Asia, happening in September.
Register for early-bird savings now.
Talent Management Asia is the biggest and most respected conference in Asia Pacific dedicated to best practice in human capital management, held over the past two years in Singapore.
Now in it's third year, we bring the conference to Hong Kong, offering the region's most experienced HR leaders a platform to share their insights and case study experiences with fellow HR professionals.
Catch all the live updates from this two-day annual event, as we inaugurate Talent Management Asia, Hong Kong at The Mira, Hong Kong on this page.
—
That brings #TMA2015 to a close. Thanks to everyone who spoke, attended and supported the event! We hope you enjoyed it as much as we did!
Last but not least, Monteiro is joined on stage by HR professionals from Li & Fung, Rosewood Hotel Group and Zurich Insurance for our last panel of Talent Management Asia Hong Kong. The panel, moderated by our senior journalist Akankasha Dewan, will discuss about incorporating your talent management strategy with the latest trends.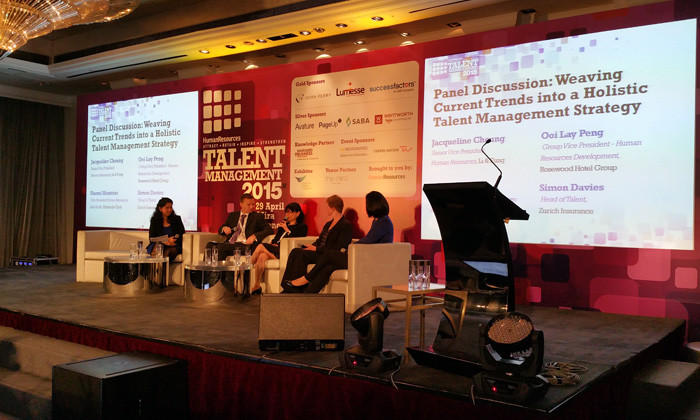 Kimberly-Clark's vice president of human resources Asia Pacific, Naomi Monteiro reveals how the company empowered local growth in the region by providing each country's HR with the freedom to innovate around the needs of their market while leveraging the resources of it's regional and global teams.
"First of all, understand context and understand how we can make that people philosophy and strategy come alive in that region," she says.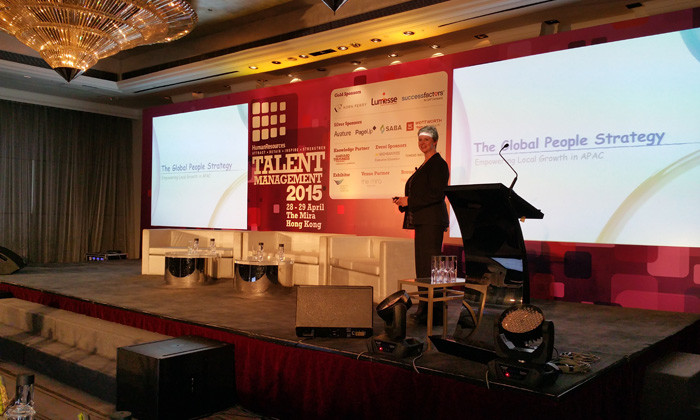 Back to back, we have another panel, discussing about giving staff morale boost through employee empowerment with Philip Morris, Best Practice Institute, Wentworth People and Amoy Food.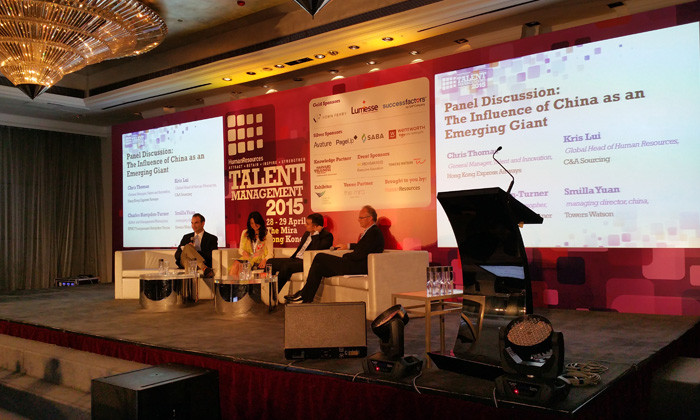 After lunch, we have our second panel of the day, moderated by our senior journalist Akankasha Dewan, with KPMG Trompenaars Hampden-Turner, Hong Kong Express Airways, C&A Sourcing and Towers Watson discussing about China's influence and the strengths and opportunities of Chinese talents to become global leaders.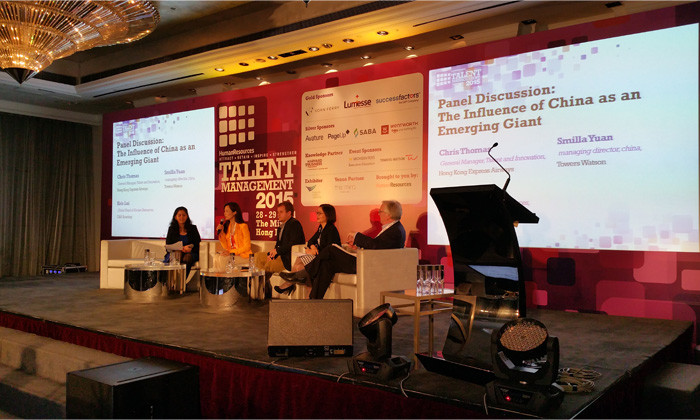 Our first panel of the day discusses about a multi-generational workforce and it's benefits and disadvantages with Saba, Rosewood Hotel Group and Cigna.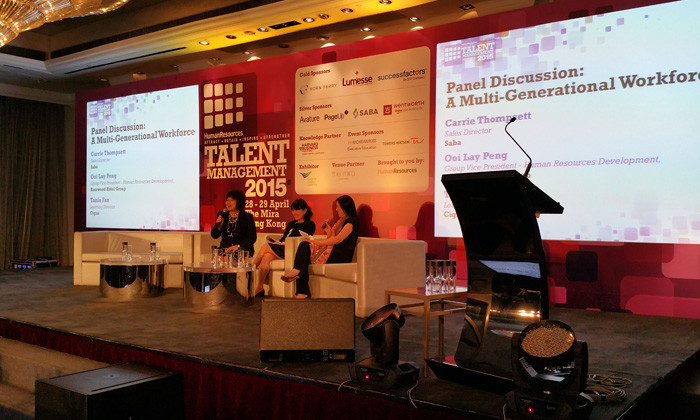 Amanda Reynaud,managing director, Asia Pacific at WDHB Strategic Learning, talks about experiential learning is and how it benefits diversity and inclusion at their company.
"Learning multi-dimensional, it is also about context, not just about the transfer of information," she says.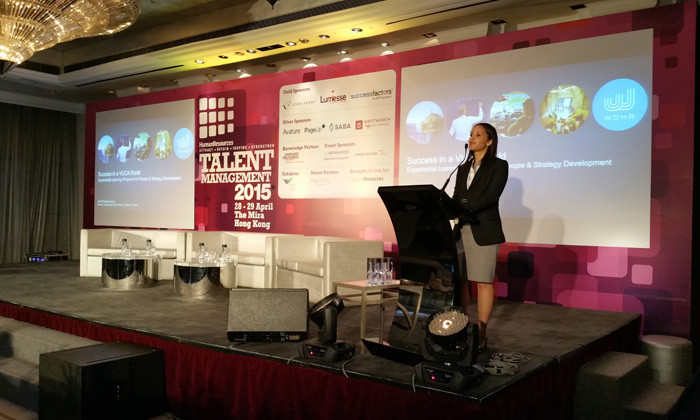 Managing director ASEAN and HK, leadership and talent consulting at Korn Ferry, Anita Wingrove, educates delegates about what makes a good succession plan and what organisations have to do to equip senior executives to meet critical business challenges.
"Ideally, 67% of talent should be 'built' and 33% should be 'bought', yet, almost 50% are more dependent on outside hires than internal promotion," she says.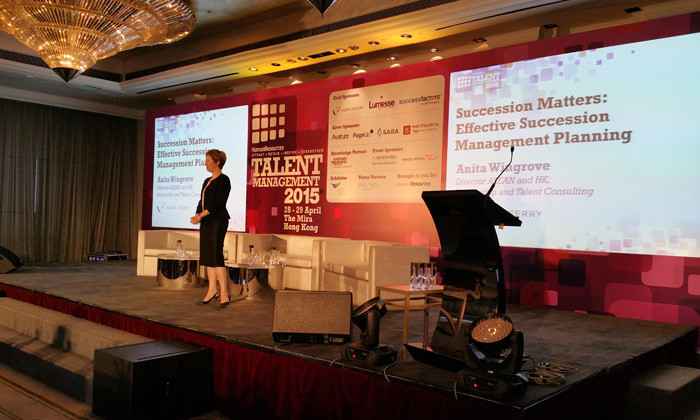 Jessica Zee, head of talent and development, financial and risk, Asia Pacific at Thomson Reuters shares about how they develop leaders in Asia.
"It's not just about commitment to your business units, it's about commitment to the organisation," she says.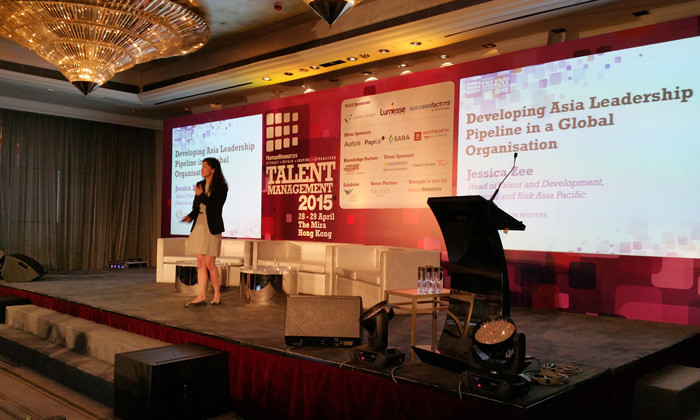 Simon Davies, head of talent at Zurich Insurance talks about the new 'reality' that has made the challenge of grooming the organisation's top-level successors even harder.
"It's really about predicting the future rather than looking at the past. Predicting the future is a more difficult activity than looking at the past, however, it' what we need to develop talent," he says.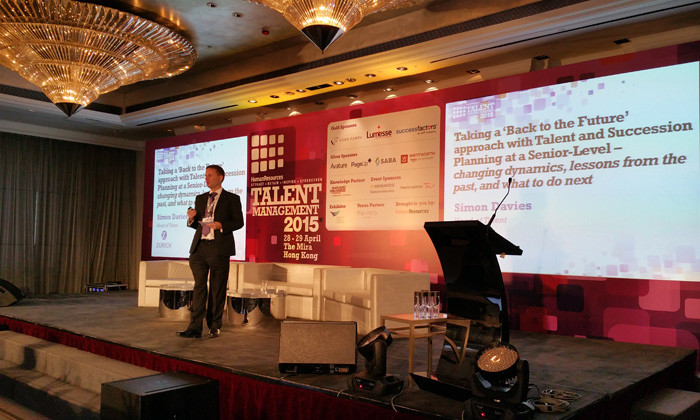 Author, executive coach and president of Global Leadership Associates, Maya Hu-Chan shares what companies can do to maximise development opportunities for the emerging generation of Asian leaders.
"The most successful leaders don't wait for others to develop them, they develop themselves," she says.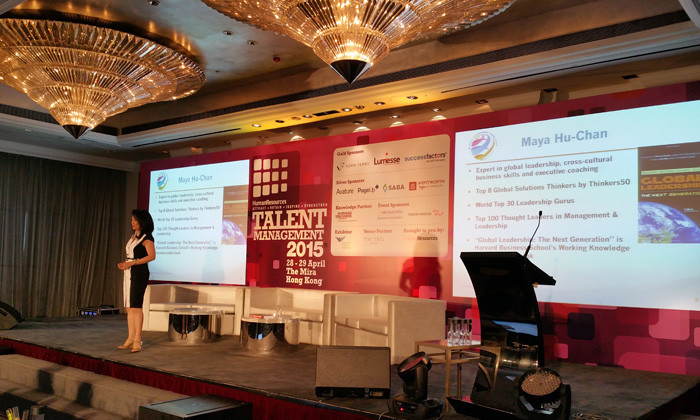 Welcome to day 2 of Talent Management Asia, Hong Kong.
We're here at the venue, ready to welcome our delegates. Some of the areas we would be discussing today are high potential leadership development and succession planning, diversity and inclusion and how to manage your talent holistically. Stay tuned to this space for live updates during the event.
Day 2, 29th April
That wraps up Day 1 of Talent Management Asia 2015! We'll be back tomorrow to hear from Zurich Insurance, Kimberly-Clark and more.
Tania Fan, learning director of Cigna, shares what the company is doing to meet the learner's changing needs, company's expansion plans and filling in their leadership pipelines.
"I don't think anyone knows what is going to happen over the next 5-10 years, but we try to make things interesting to them in the future, that's the key," she says.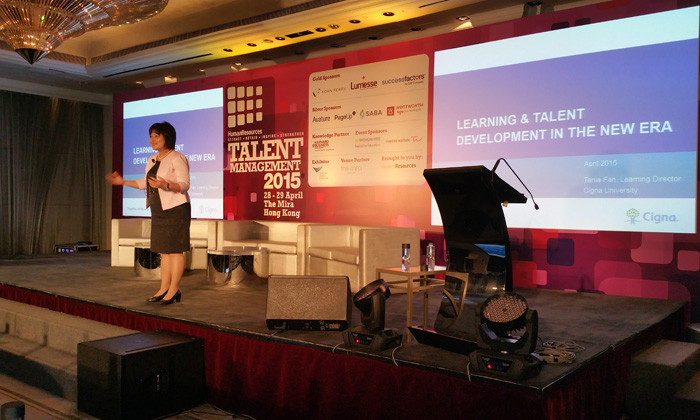 Human resources value engineer: Asia Pacific and Japan at SAP SuccessFactors, Mark Souter, talks about the age of HR, the future of work and the value of unified HR technology.
"HR are not ready with big data because most HR have difficulty getting headcount reporting right within four weeks. The idea is to start small then go big," he says.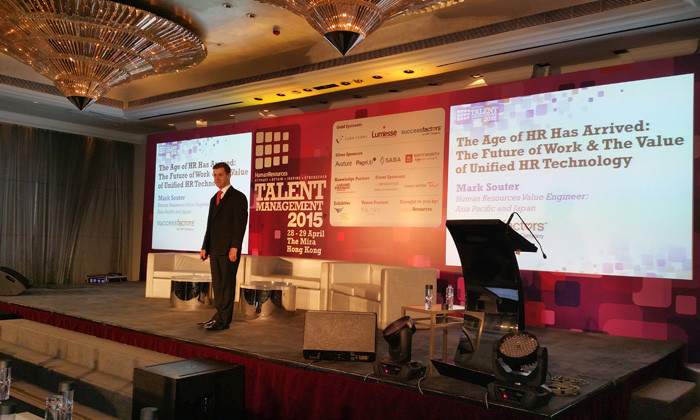 In our second panel of the day, speakers from Hotel Jen, KPMG Trompenaars Hampden-Turner, Médecins Sans Frontières, American Express and Societe Generale discuss about developing an employee-focused vs. a business-focused interview process.
"I actually learned that the soft skills are actually the hard skills," says Jagmohan Singh, human resources director of Médecins Sans Frontières.
"One trap that famous organisations find themselves is that they are like a training ground, where people join them and get developed then move on to another company," says author and management philosopher, Charles Hampden-Turner. "Ask employees about their dream and help them achieve it, that way, you are able to retain them."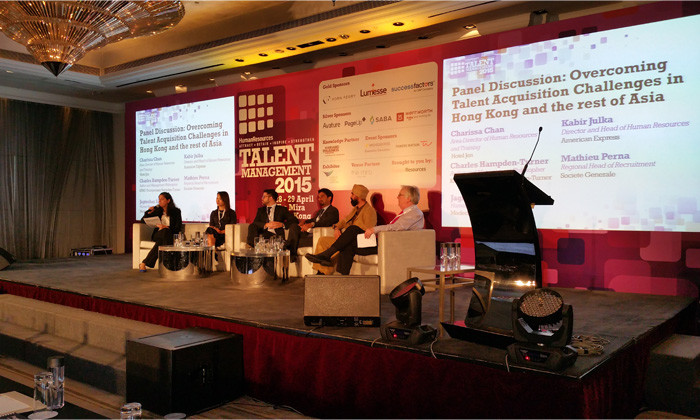 Jagmohan Singh, human resources director of Médecins Sans Frontières shares about the hurdles and high jumps for professionals joining humanitarian aid work.
"You have to be aware of the different cultural experiences; where you come from and where you work have very different cultures," he says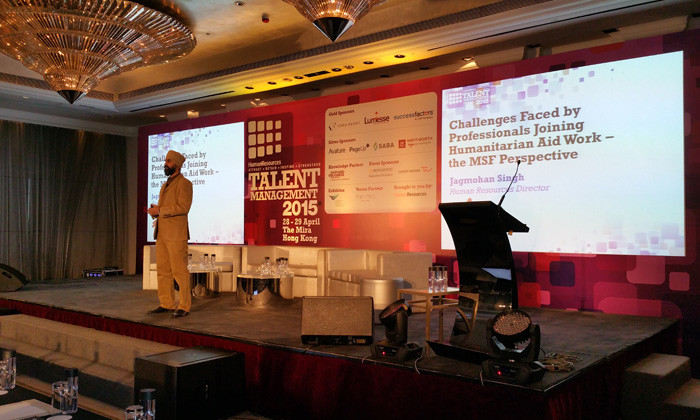 Learn about the new era of human capital management from Erik Schmit, senior vice president, Asia Pacific of Lumesse.
"We believe that if you want to be successful with talent management solutions and implementing it in your organisation, you have to keep it simple, make it mobile, connect it to people and make it available anywhere, anytime," he says.
In our first panel, author, executive coach and president of Global Leadership Associates, Maya Hu-Chan, discusses the evolution of talent management with PageUp, AXA Asia, Best Practice Institute and Avature.
"The future of talent management is not just about prediction but also about amassing the information in such a way that it brings change to the organisation," Louis Carter, author and CEO of Best Practice Institute says.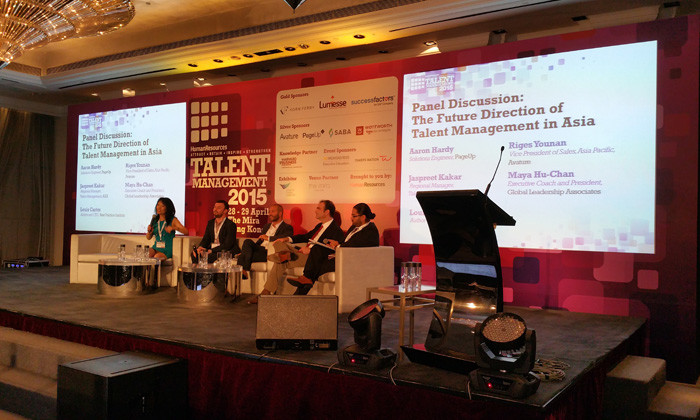 Author and CEO of Best Practice Institute, Louis Carter speaks about the Purpose Model and how it helps in sharing and creating your talent management story.
"It's really about the why, how and what of our talent programmes," he says.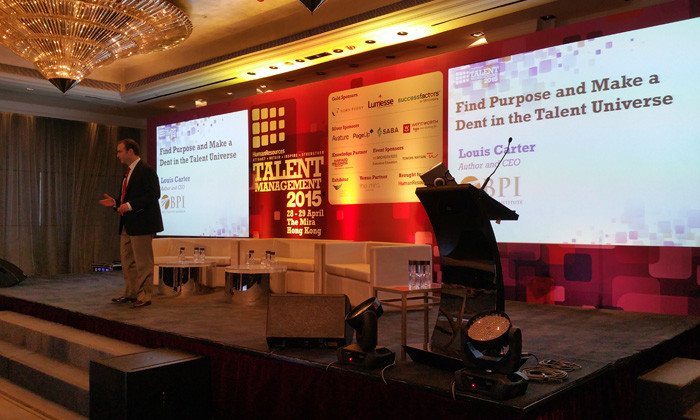 Author and management philosopher, Charles Hampden-Turner educates delegates on leveraging the differences of cultures common in managing global talent.
"Being different is a risk, being diverse is a danger, but it can make you or it can break you," he says.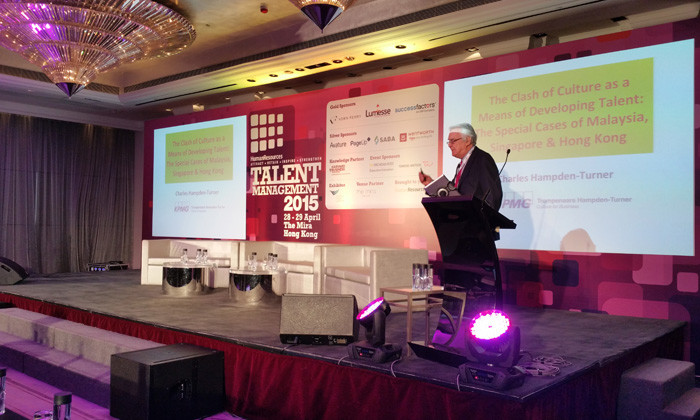 Human Resources' senior journalist Akankasha Dewan opens the conference to welcome our delegates and partners.
"Through stimulating case studies, insightful keynotes, and dynamic panel discussions, we will explore the latest and most effective secrets of managing the talent universe and how to attract, retain and strengthen companies' most vital assets today," she says.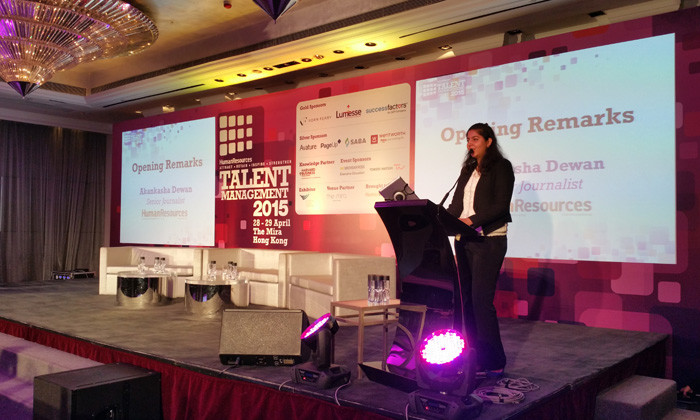 The stage is all set in Hong Kong and we're eagerly looking forward to welcoming our stellar list of speakers and delegates.