Asia's premier forum on employee healthcare is finally here! Welcome to Employee Healthcare Interactive 2015.
Employee Healthcare Interactive 2015 is tailored for senior HR decision makers who are in charge for the benefits and investment decisions for employee healthcare and wellness within their organisation.
Set apart by its interactive format, roundtable discussions will take place throughout the day in between lively on-stage panel sessions, ensuring delegates get the most out of the event by engaging in two-way discussions.
Stay tuned here for live updates – and follow us on Twitter for #EHI2015 conversations.
#EHI2015 Tweets

— Live updates, most recent session appears on top —
That brings Employee Healthcare Interactive 2015 to a close. Thanks to everyone who spoke, attended and supported the event! We hope you enjoyed it as much as we did!
The final interactive session of Employee Healthcare Interactive 2015 sees this table of delegates focused on how to assess ROI.
Second panel discussion today, this one is on the theme of maximising the value of employee health and financial wellness. Seen here are [L-R]: moderator Akankasha Dewan of Human Resources; Anna Tan (senior associate, Wentworth People); Alex Leung (health consulting and analytics leader, CXA); Joanna Miller (HR director, American Express); Doris Ooi (VP HR rewards, global markets, Unilever Asia).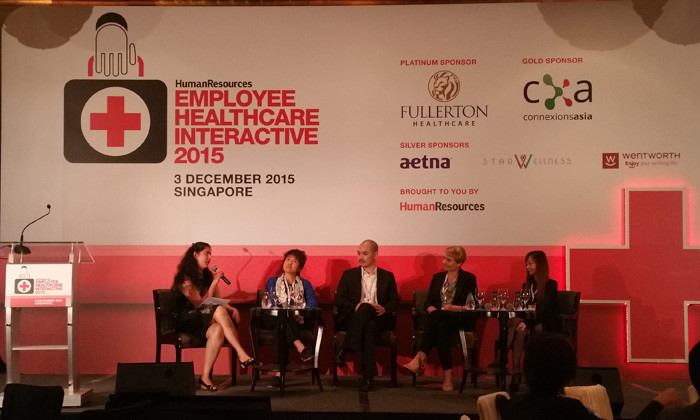 The day's fourth interactive session sees this table deep in conversation around healthcare analytics and technology.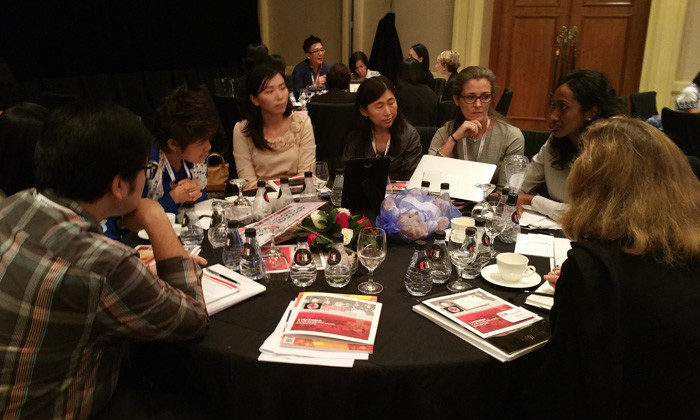 Delegates get immersed into another interactive session, this table is focused on healthcare innovation.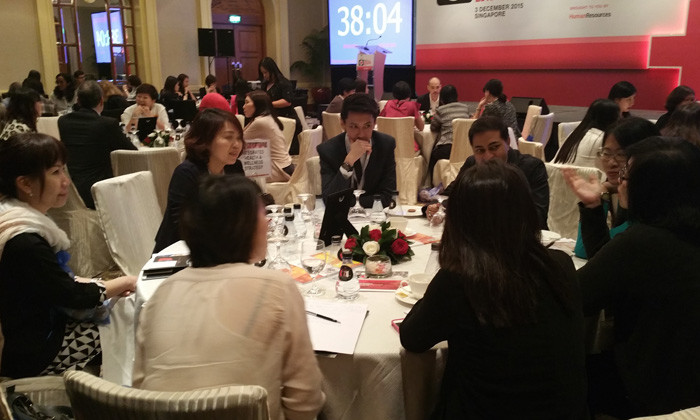 It's time to delve into big data and its implications on employee health insurance, as Dr Elton Ong, managing director of Fullerton Healthcare Group takes the stage.
Dr Elton Ong, managing director of Fullerton Healthcare Group said: "Your employees will consider how much they can spend, how much the company is paying and how much the insurance company is paying and if it is of value to them?"
"Having healthcare analytics in place helps to derive value and intelligence to improve care and quality and outcomes to curb cost," he added.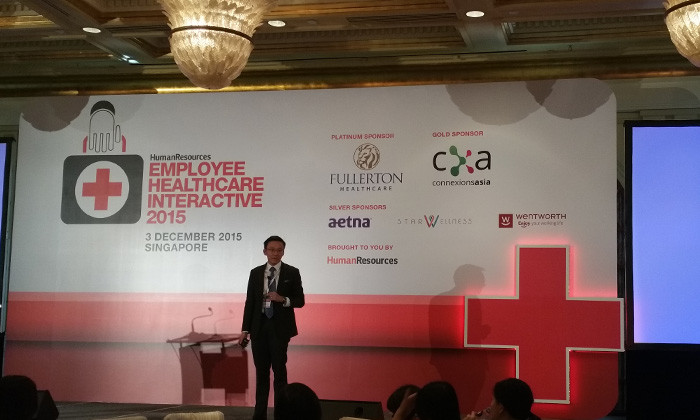 Next up is our second interactive session for the day. Each table gets a new healthcare topic to discuss and break down, facilitated by terrific moderators in place.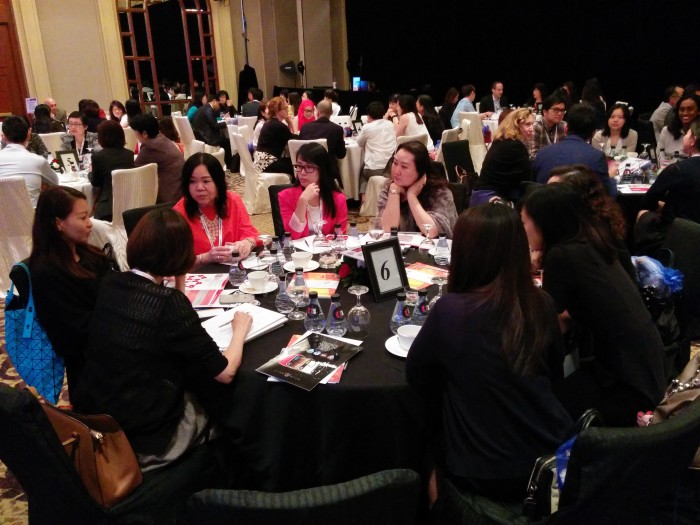 Taking stage now is Human Resources' senior journalist Akankasha Dewan, moderating a panel discussion featuring: Dr Elton Ong (MD of Fullerton Healthcare Group); Eudora Choo (VP of benefits governance APAC, Deutsche Bank); and Sow Chat Gan (benefits director APAC, Honeywell).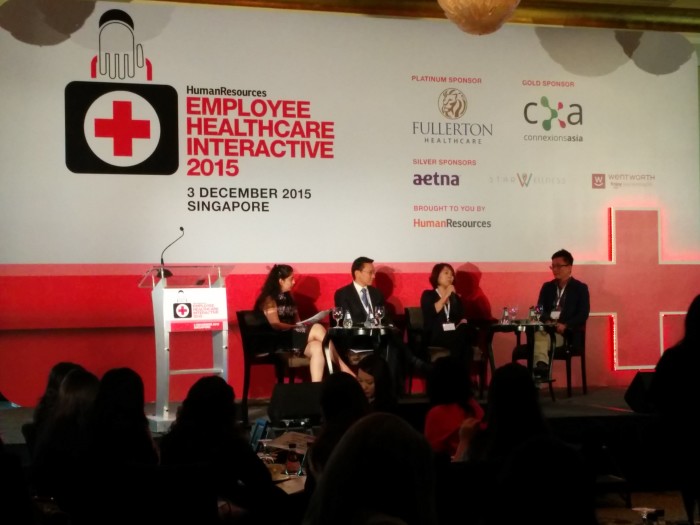 Our first interactive session for the day sees healthcare trends and cost as one of the topics discussed.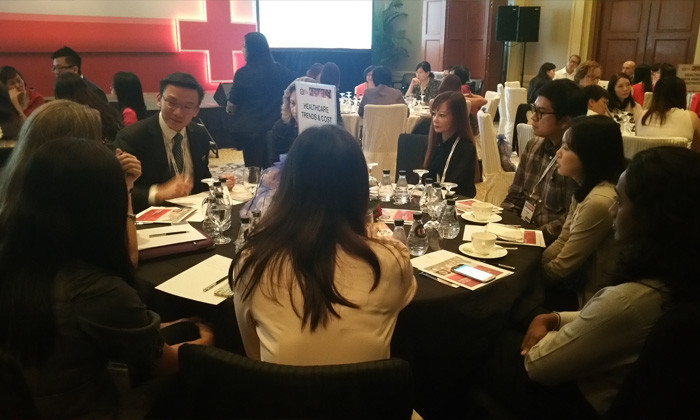 Our keynote speaker is CXA's founder and CEO, and one of Singapore's most eminent entrepreneurs, Rosaline Koo – discussing innovation in healthcare solutions.
She asks: "What if we allow each one of your employees to choose and personalise, not just their insurance and what they need, but what if they can re-purpose that money for what they really want?"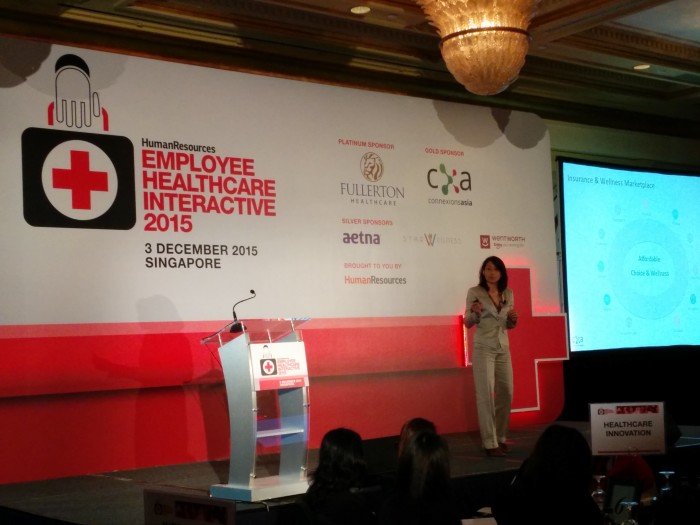 We're kicking off Employee Healthcare now, with an opening address by regional editor, Aditi Sharma Kalra. #EHI2015
"Research shows by taking care of our employees, we can reduce sick leave by 17% – questions like these inspired us to launch today's conference to solve the biggest healthcare puzzles today," she says.