Welcome to the Employee Benefits Asia 2016, Hong Kong, the region's biggest conference dedicated to compensation & benefits strategy! This two-day conference will see speakers from Philip Morris International, C&A, Mattel, and more unveiling the secrets to developing best practice rewards strategies.
On this page, you can catch live updates from the conference, brought to you straight from The Mira Hong Kong – from all the tweets on #EBA2016 to the top advice dished out by our speakers and photos.
#EBA2016 Tweets

Day 2
Those sessions bring us to the end of Employee Benefits Asia 2016, Hong Kong. Hope all of you had a great time and managed to bring home a few key takeaways from the conference. Thank you once again to all our speakers, delegates and sponsors, and we do hope to see you again next year.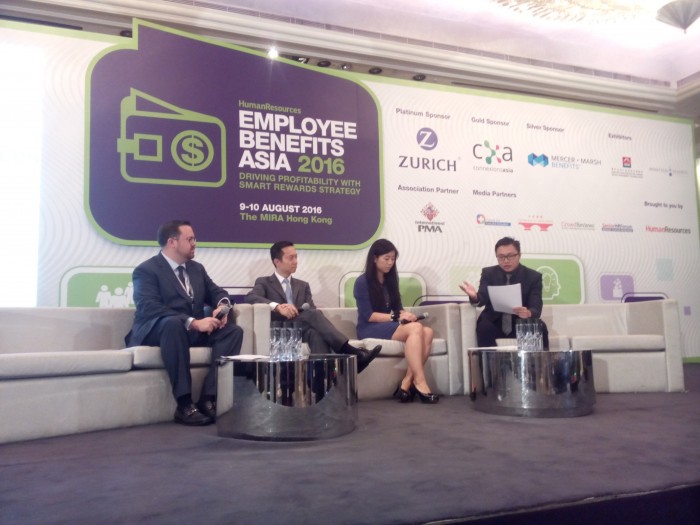 Our last session of day one sees panellists (from left to right) taking the stage for a discussion on building a diverse working environment for LGBT employees:
-William Hallatt, partner and LGBT sponsor for Greater China, Herbert Smith Freehills
-Paul Choi, executive director in the Human Capital Management (HCM) division, Goldman Sachs
-Florence Chan, senior manger of strategic programmes, Community Business
Moderator: Anthony Wong, editor, Human Resources
The panellists start by revealing why creating an LGBT inclusive working environment is important for businesses.
Paul Choi points out that inclusiveness can help build a strong company brand and attract talent. He adds that by going one step beyond gender diversity, companies especially increase their chances of capturing the attention of the Millennial Generation.
Continuing on the topic of attracting talent, Florence Chan asks: "Currently, 15 countries in the world recognise same-sex marrige. How will you cater to talent with same-sex partners?"
The panellists agree that actively creating an LGBT inclusive environment can help grow and retain a client base as well. "You probably don't know many people who are gay, because they don't tell you", Choi points out. "But your client base is diverse, they come from different backgrounds." 
Making reference to recent studies, Choi reveals that companies with open policies actually perform better financially. "It's not just the right thing to do, it's the right thing for business as well", William Hallatt concludes.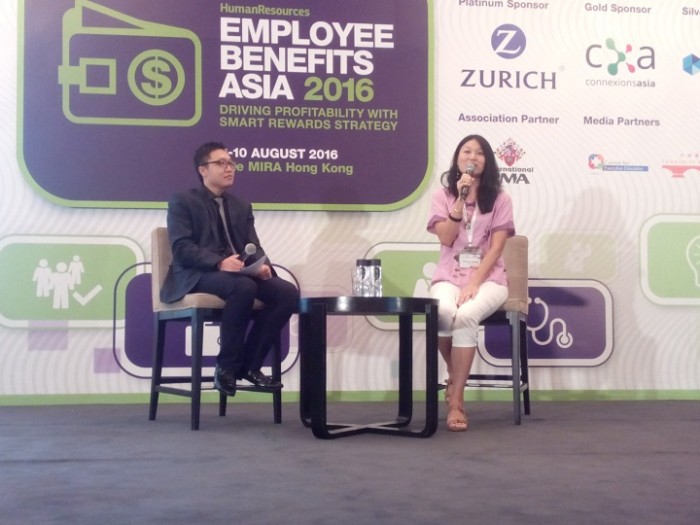 We continue with Theresa Chong, group human resources director, Amoy Food, giving an exclusive interview on how to satisfy employees' needs through different perks and benefits.
She explains that in a company with both front line staff and office workers, the same overall benefits can take different forms for different employees, depending on their specific needs.
Next, Chong addresses the topic of annual dinners, a benefit often offered to employees. After evaluating what the dinner was meant to achieve, the company decided to replace the costly 600-person dinner with two employee conferences focused on business goals, results and team building. As a direct result of reconsidering the format, the company experienced higher retention rates in the months following the conferences.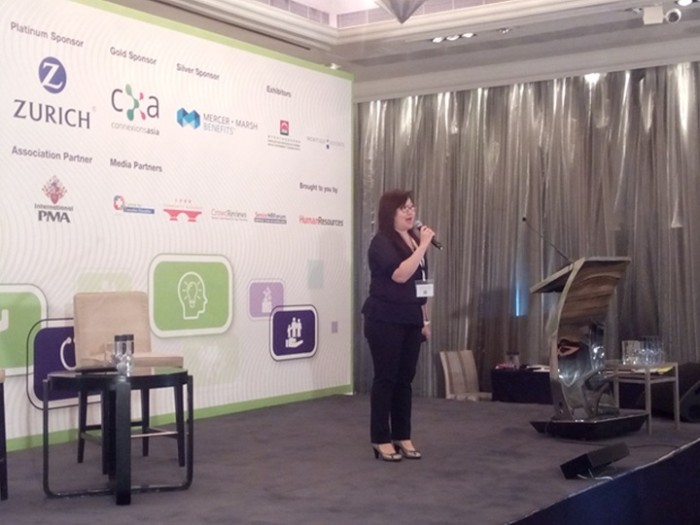 After lunch, Joanna Lee, head of human resources, Bauhinia Coating (Yip's Chemical), takes the stage to give tips on engaging and retaining Millennials in your company.
"No matter what, in the near future the Millennial Generation will make up the majority of the workforce", Lee says. This makes it paramount to understand what this generation wants and expects, in order to engage them.
Lee continues by listing the three main areas where companies can engage with Millennials: in the workplace, through technology, and through company culture. By adjusting meeting styles, communication methods and career development structures, organisations can ensure they continue to engage their next generation of employees as we move into the future.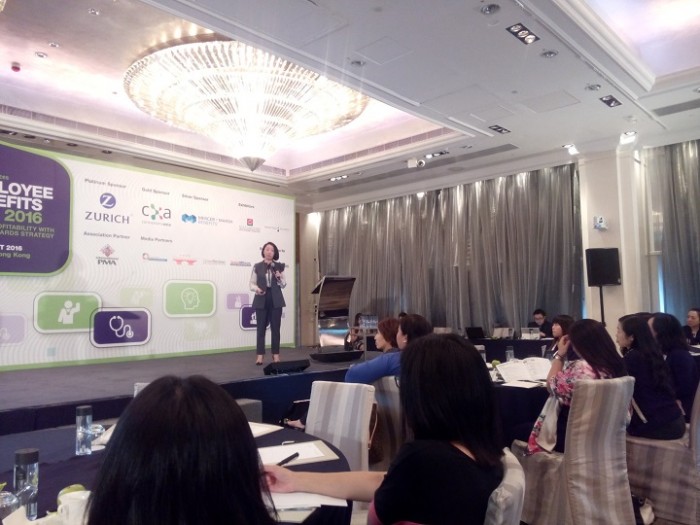 Next up is Grace Xu, human resource director, Hong Kong and Macau, Richemont, sharing insights into what makes employees more willing to be relocated.
With 20% of the company's workforce being classed as non-local, the company has several tools in order to help make any relocation as successful as possible, she tells the room. Offering look-and-see trips, taking care of logistics such as moving, and providing home leave and language courses can all contribute.
Xu takes some questions from the room and explains that in more difficult markets such as China and Macau, the company prefers external over internal hires. Due to the competitiveness of the market in those countries, the priority lies with bringing in new talent from the outside.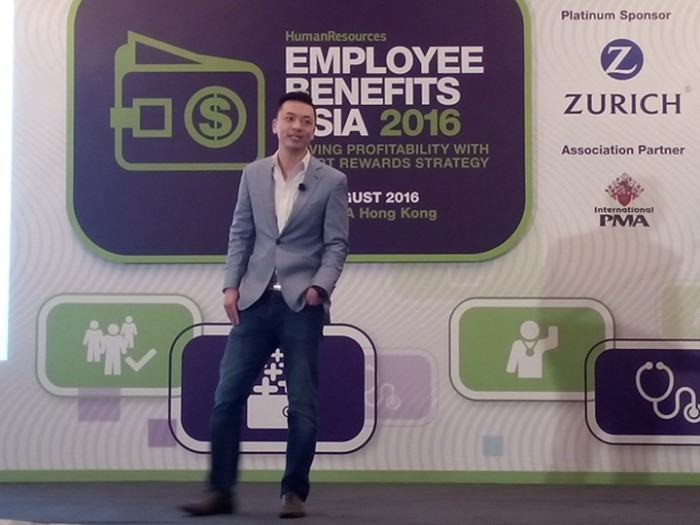 Now on stage is Danny Yeung, chief executive officer, Prenetics, giving useful tips on how advances in DNA technology can be part of your health care programme. He explains to the room what role DNA testing can play in personalising programmes and preventing illness.
"Everyone's DNA is unique, and so should be the way we care for them", Yeung explains his vision. By personalising health care programmes, employers can differentiate themselves among other employers, improve loyalty and retention, and have healthier employees overall.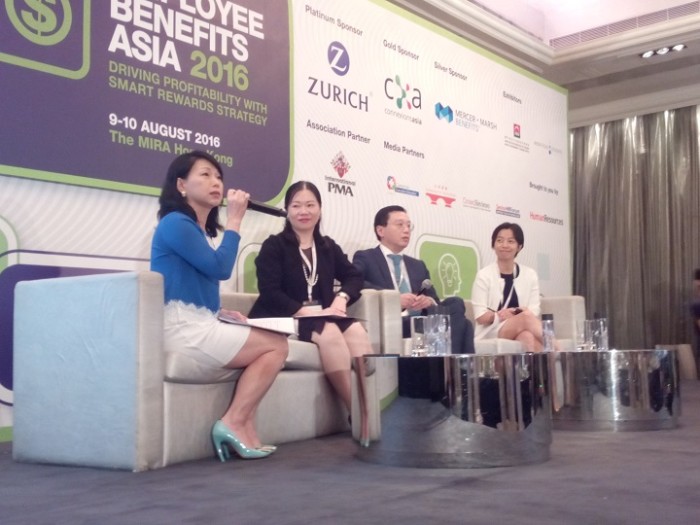 For our first panel of the day, panellists take the stage (from left to right) to discuss one of employees' biggest concerns: medical care benefits.
Moderator: Elaine Chan, chief health officer, general insurance, Zurich
-Vanessa Yen, head of HR Asia, institutional banking and markets, Commonwealth Bank
-Ricky Long, director, people and performance, Asia, Colliers International
-Sonia Leung, director, head of human resources, Greater China, Knight Frank
The panellists discuss some of the medical benefits they feel are most valuable to their employees. Vanessa Yen points out that different generations have their own needs, and that needs might change overtime. For example, adding the option to include a same sex partner on the medical cover can be a way to keep up to date and include all employees, she says.
Ricky Long agrees that it's important to adjust benefits to your staff's specific needs. Since his team is relatively young, the organisation puts a lot of emphasis on driving social activities such as hiking that benefit their health.
Sonia Leung adds that wellness also covers work-life balance. Offering more annual leave, releasing staff early on Friday during summer and organising sports activities can all contribute.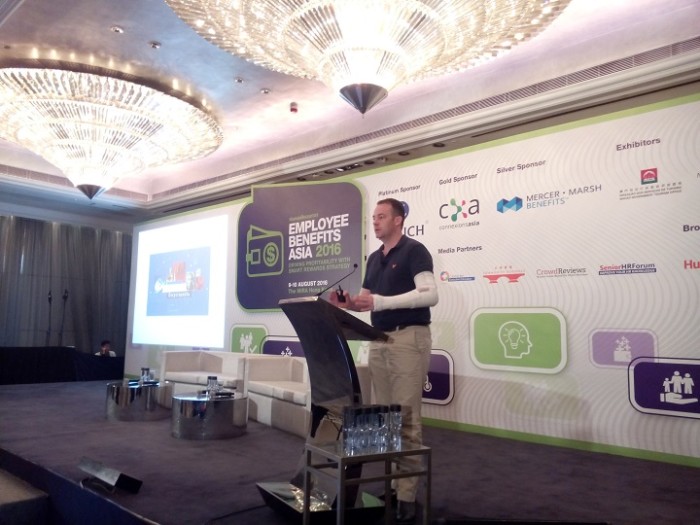 Our first keynote of the day sees Gordon Bedford, global director environment, health and safety and corporate social responsibility, Mattel, on stage revealing the secrets to boosting employee motivation through effective total rewards strategies.
Bedford introduces the topic of motivation and its complexity. "The more you find out, the less you know", he says.
Due to its complexity, he suggests that maybe we have misunderstood how to best motivate employees to perform well. "Goals and rewards may actually have a negative effect on staff performance", Bedford says. "The very presence of goals may lead employees to focus on short term gains and lose sight of the potential long-term affects on the organisation."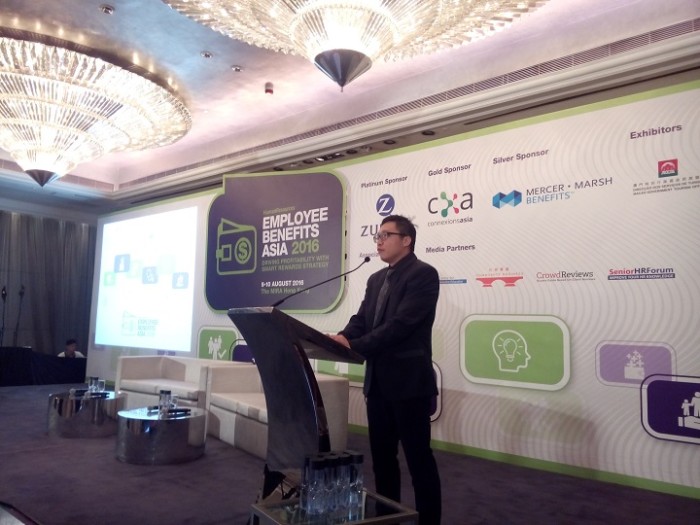 Human Resources' editor Anthony Wong takes the stage to welcome all delegates, sponsors and speakers to the second day of Employee Benefits Asia, the region's biggest conference dedicated to compensation & benefits strategy.
We hope you enjoyed day one of Employee Benefits Asia 2016 yesterday. We're on to our second and last day at The Mira, Hong Kong. Stay with us for live updates. Today's conference will see speakers from Commonwealth Bank, Mattel, Prenetics, and more unveiling the secrets behind developing best practice reward strategies.
Day 1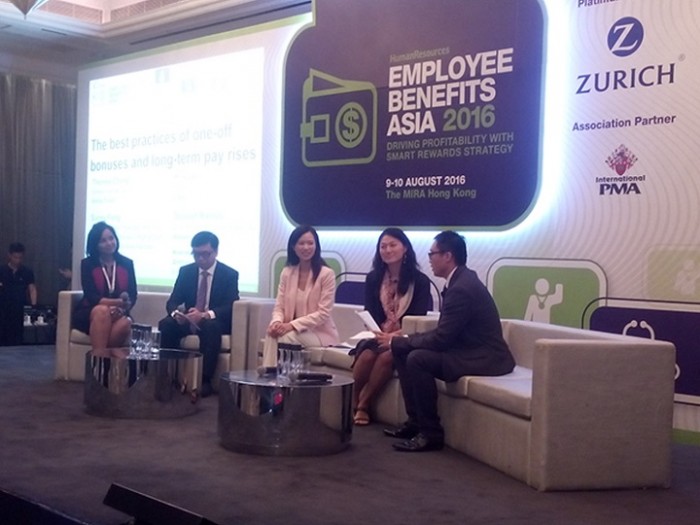 Our last session  of day one sees panellists (from left to right) taking the stage to discuss the best practices of one-off bonuses and long-term pay rises:
-Deborah Mannas, group head of human resources, Wallem
-Sunny Fong, senior director, rewards, mobility and HRBP McDonald's high growth and foundational Asia markets, McDonald's
-Kris Lui, global head of human resources, C&A
-Theresa Chong, group human resources director, Amoy Food
Moderator: Anthony Wong, editor, Human Resources
One of the topics Human Resources editor Anthony Wong introduces is the issue of Hong Kong's notoriously long working hours. If it's not all about the money, what are other ways in which companies can compensate employees for overtime, he asks the panel.
Deborah Mannas suggests keeping Mondays clear from conferences or meetings to encourage staff to go away for long weekends. Sunny Fong agrees that flexible working hours can act as compensation, as well as tools such as a one-off sabbatical leave after a certain number of service years.
Kris Lui counters that perhaps we're asking the wrong question. Instead of asking how to compensate overtime, should we be aiming to discourage staff working overtime in the first place.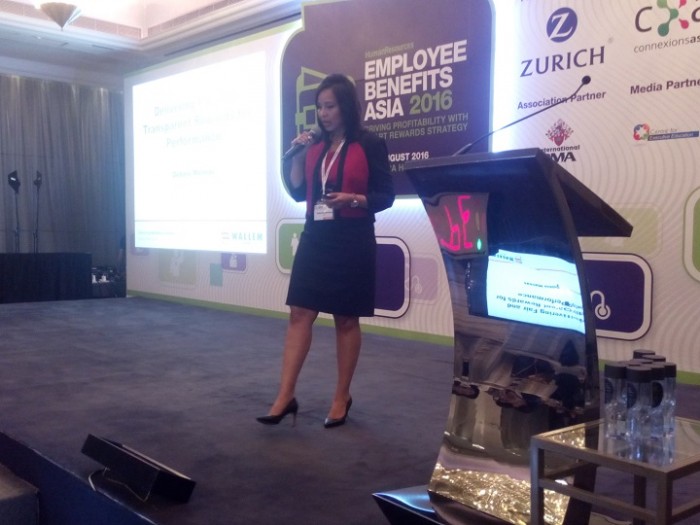 In our next keynote session, Deborah Mannas, group head of human resources at Wallem, shares how reinforcing the rewards programme can drive excellent performance.
"There are so many theories around performance management", she says. "It's an ever-changing minefield and everyone is trying to understand 'what works'."
She points out that companies can learn something from the society they're operating in. "We're living in a point-era", she tells the room. "Supermarkets, airlines, even schools are all rewarding good behaviour with points. So why aren't we deploying points at work?"
Mannas emphasises the importance of balancing negative and positive consequences in order to change employees' behaviour and improve performance. When the reward is appealing enough to your employees, it will outweigh the immediate negative effect of them having to change their current behaviour.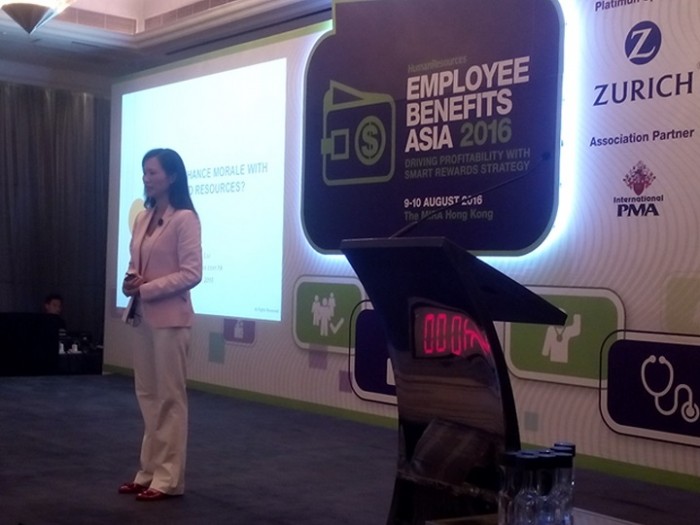 After lunch, Kris Lui, global head of human resources at C&A, takes the stage to address the issue of satisfying employees' needs  and maintaining a good atmosphere in the company while cutting costs.
Her main message for today is that rewards and recognition go a long way towards maintaining high morale. With many human resources professionals facing budget constraints, she introduces the delegates to the option of alternative rewards.
As an example, Lui mentions using a focus on learning and growth as a tool: "A lot of people are not only motivated by money, it's about how they can learn and grow within the company – both vertical and horizontal."
Furthermore, generating a sense of pride for their work, investing in capable line managers who can coach employees, and considering life outside of work can all be ways of satisfying needs while using limited resources.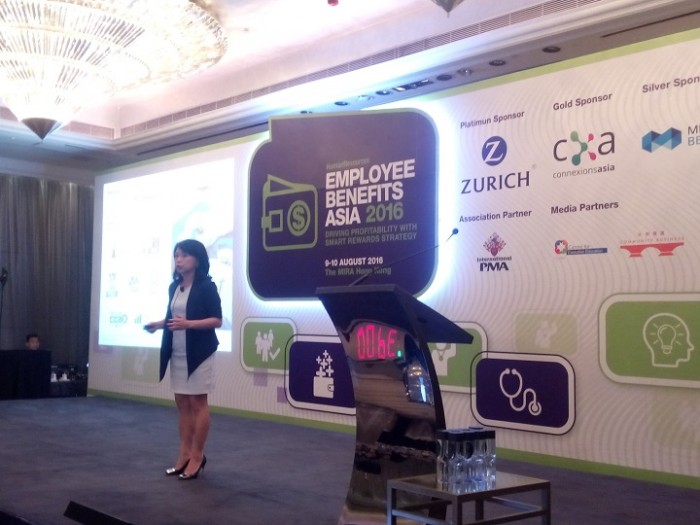 Next on stage is Elaine Chan, chief health officer, general insurance, Zurich, with an overview of ways to fulfill the benefit gap of your employees.
She introduces the room to a number of different structures companies can adopt to fulfill employees' needs, such as offering the option of an additional individual plan to complement the existing core medical benefits.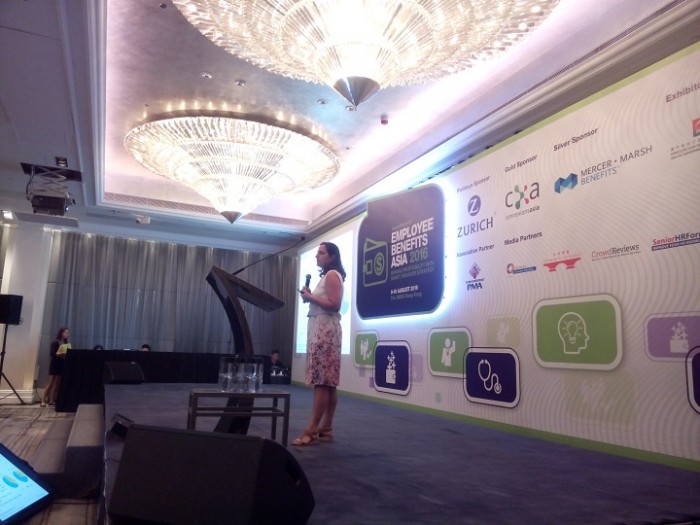 Our next session sees Ceyda Kamhi Ozyel, director, compensation and benefits, Asia, Philip Morris International, on stage with insights on how to optimise the investment in employee benefits for talent.
"Are we correctly allocating resources to the talent in our organisation?" she asks the room. "And are we allocating enough?"
In order to effectively prioritise resources, she points out the value of focus groups to help establish the different needs of talent. "When it comes to benefit programmes one size does not fit all", she continues. Different generations have different needs and wants, creating the need for different types of programmes.
Next up, Liana Attard, Principal, AMEA employee health and benefits consulting leader at Mercer, takes the stage to share tips on the use of big data for employee health benefits. She discusses the devices and technology available as well as best practices in using them.
"In human resources, we tend to rely on opinion based decision making instead of fact based. Data does have a place in the industry, but are we ready for that?"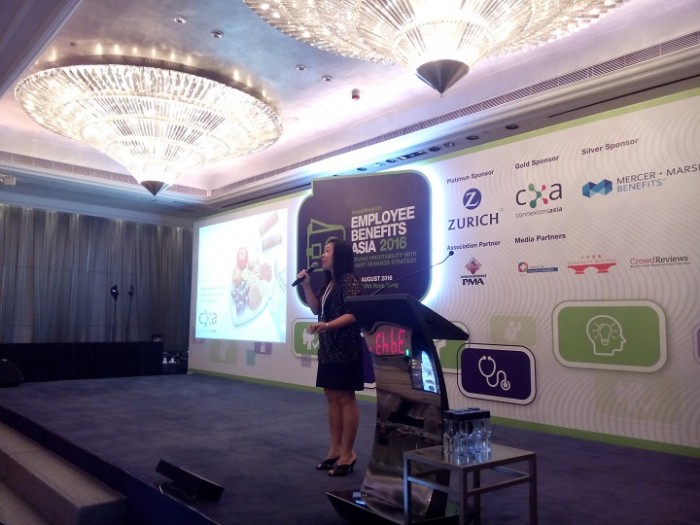 Rachael Tay, vice president sales of CXA Group, kickstarts the conference with a keynote on engaging your workforce through personalized benefits and wellness.
"The burden of health care is going to shift to employers. What if Human Resources could offer a one stop shop in order to deliver health and benefit services to employees?"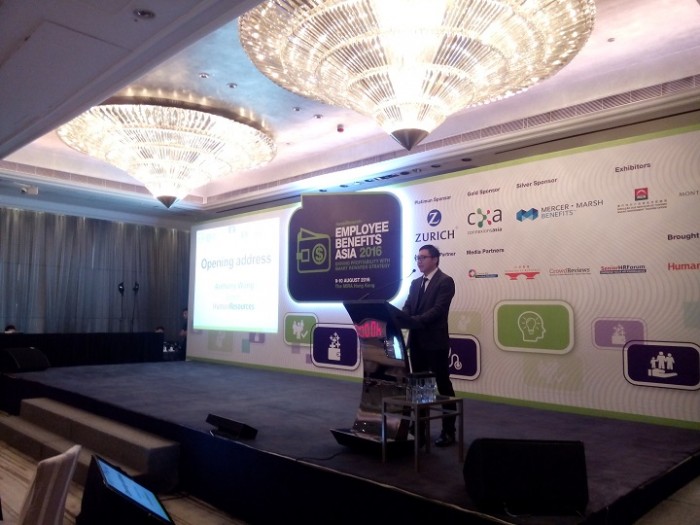 To inaugurate day one of Employee Benefits Asia, Human Resources' Hong Kong editor Anthony Wong takes the stage to welcome all delegates, sponsors and speakers.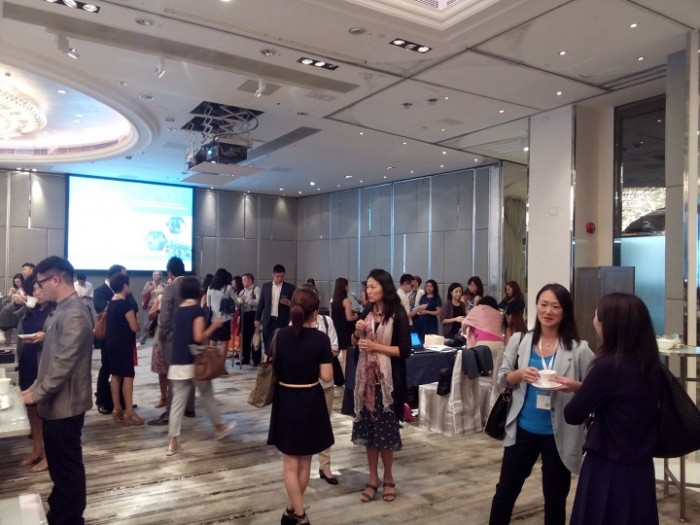 The registration counter is open and our team is all set to welcome today's delegates at Employee Benefits Asia 2016, Hong Kong.