Ever sat down in an effort to clear your emails only to find that half of your inbox is filled with spam or irrelevant messages? If you feel that clearing emails are a waste of time, you're not alone.
According to a Robert Half survey polling 2,200 executives, respondents revealed that 17% of the time they spend on work email is wasted.
While the survey found that spam was the primary culprit (39%), these executives identified other distractors including being copied on irrelevant messages (27%), as well as receiving messages that could be delivered another way (19%).
"Spam can be addressed by using filters and technology to prevent unwanted email," Paul McDonald, senior executive director for Robert Half advised. "But the other issues often boil down to good judgement."
McDonald added, "Keeping your messages short, relevant and actionable will improve the chances your emails are read and responded to quickly."
ALSO READ: CEOs are wasting time in meetings and replying to emails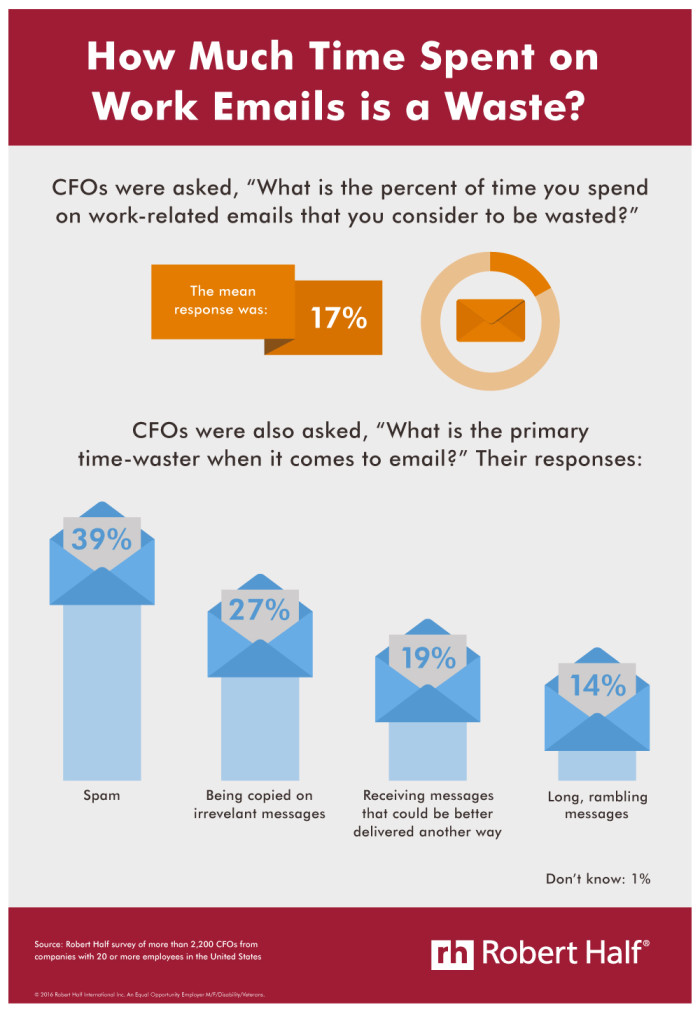 Robert Half has put together six email etiquette tips HR can encourage employees to follow:
1. Be cautious about who you copy.
Before copying someone or using "Reply All", take a step back and think – does the person you're copying need to review the message? Is action required of them? Do all recipients need to read the message?
2. Go on a word diet.
If you don't like reading long emails, chances are your recipients don't either. When crafting your email, efficiency and brevity should drive your approach. As often as possible, keep it under two paragraphs.
3. Save the detective work for Sherlock.
No one likes to read through a long email thread to find out why they are being copied. While you can provide the string as background, be sure to summarise the issue and what is needed at the top.
4. Send less, sift less.
Resist the urge to respond immediately, especially if the request can resolve itself without your input. Consider implementing "email-free Fridays", but don't ignore emails from vendors and customers.
5. Make the subject line count.
Use a subject line that's direct and to the point. If you need a reply try using "RSVP" within the first three words. Let recipients know immediately what action is required (e.g., "Meeting rescheduled").
6. Watch your tone.
Remember that email is the equivalent of a hard-copy business memo. Check spelling and grammar, and read it aloud to yourself before you click send. This can also help in fine-tuning the content and tone.
Image: Shutterstock