Companies in Singapore are keen to add additional finance and accounting, financial services and IT professionals to their ranks in the first half of this year.
Echoing earlier reports, a new study by Robert Half stated one in every two companies surveyed plans to increase headcount in the next six months.
The study polled 400 senior hiring decision makers, including chief financial officers (CFOs), financial services business leaders and chief information officers (CIOs) on their hiring intentions for the first two quarters of 2015.
Across sectors, more than half of bosses stated plans to hire in these six months – 52% in the banking and sector, 53% of employers in the commerce and industry sector, and 50% of those in the technology industry.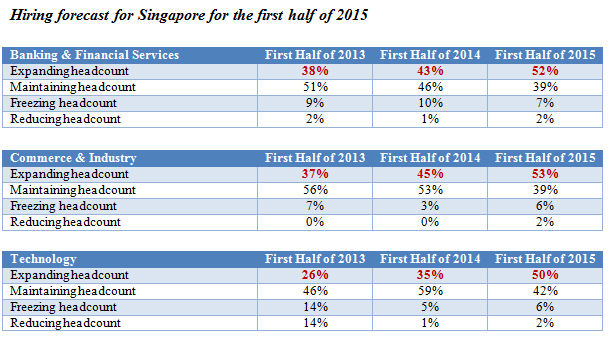 The report attributed the main reason for increase in headcount to companies starting new projects.
A little more than six out of 10 (64%) of bosses in the technology sector stated new initiatives as the top cause for the hiring outlook, followed by 59% in the commerce and industry industry, and 54% in the banking and finance sector.
"Newly created positions are exciting roles for anyone seeking to make a name for themselves. The employee is not constrained by past ways of doing things so it is an opportunity for an ambitious person to get recognition for their achievements," said Stella Tang, managing director of Robert Half Singapore.
She added that a growing number of companies are competing for a limited number of quality professionals.
"Two years ago, the percentage of companies making new hires was closer to a third. Now more than half of companies are increasing headcount," she pointed out.
Image: Shutterstock