Human Resources Online is heading to Bangkok with the Accelerate HR conference on November 26-27.
HR leaders from Agoda, DKSH, Fonterra, FWD, Kasikornbank, Minor Food, Nissan Motor and more have already confirmed to speak.
Bring your team for additional group discounts.
Online jobs platform cpjobs.com has reported an unauthorised third-party attack on the website, compromising the security of user data. Impacted pages have been shut down and all users' passwords have been deactivated.
The jobs platform sent an email to its users on Saturday morning [2 September] informing them of the security breach.
"We are taking this incident very seriously," the email states. "We have shut down the impacted pages, deactivated all users' passwords, and installed additional layers of data security safeguards. In addition, we have notified law enforcement and are working closely with them on their investigation."
In an additional security notice on the website, the company reveals it has identified two attempts to attack the website on 28 August and 30 August. The compromised data includes user data and passwords, but according to the company there is no evidence that CVs have been compromised.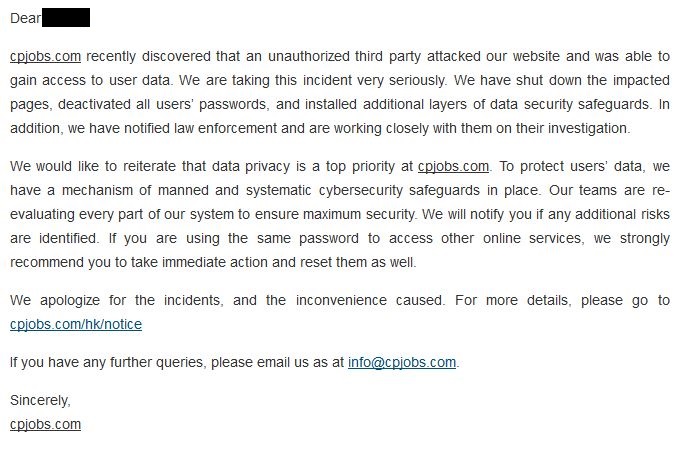 Last month, executive search firm aimHigher made the news after an applicant discovered he was able to gain access to the personal data of other candidates. An internal investigation revealed that there had been a number of cases of unauthorised access to candidates' CVs through the company's website.
ALSO READ: More than 25% of employers take up to 6 months to fill a cybersecurity role
For the 5th consecutive year, HR Distinction awards will again honour the very best in the HR industry. Winning is both an affirmation of the exceptional quality of your work in the industry and among peers. Book your gala dinner table now
Contact us now for more details.