Here's another reason why professionals might be unhappy with recruiting processes in firms today.
According to research from Glassdoor, it is now taking longer to get though the job interview process as compared to the past.
Reviewing more than 4,250 interview reviews spanning six countries, the report found the average time taken in an interview process has risen by 3.3-3.7 days since 2009.
It highlighted the average overall job interview process takes 22.9 days in the U.S.
Jobs in France, Germany and the United Kingdom, however, were found to each take on average four to nine days longer than in the United States and Canada.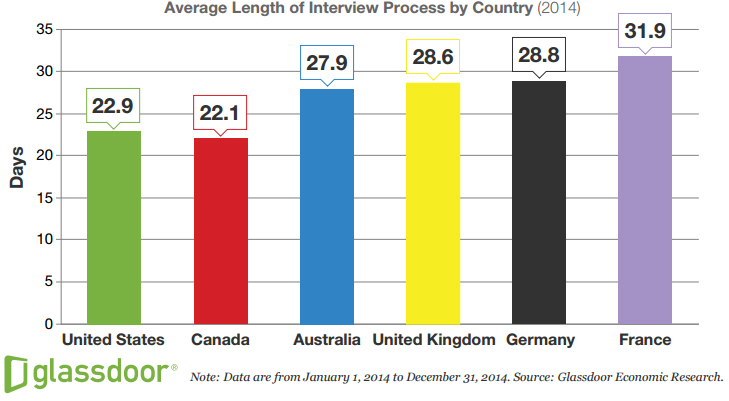 "According to academic research, part of the explanation for differences in hiring times across countries is due to differences in how efficiently labor markets match up employers and workers," the report stated.
It explained labour markets in some countries simply do a better job at matching job seekers and companies. This partly reflects differences in labor market regulations, culture and other institutions such as rates of unionisation.
For all these countries, the report added there has been a striking upward trend in time required for job interview processes in recent years.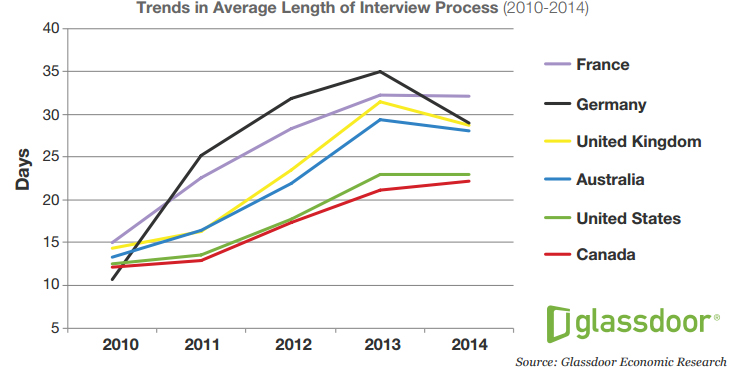 Various factors were attributed to this rise. These included the fact that candidates today are generally facing more "job screening" methods than in the past.
ALSO READ: Background screening takes too much time, say employers
"One interview method that has grown sharply in the U.S. is candidate background checks. The percentage of job seekers reporting background checks has grown from 25% in 2010 to 42% in 2014," the report stated.
Other interview methods that were identified as growing recently included skills tests (16% in 2010 to 23% in 2014), and personality tests (12% in 2010 to 18% in 2014).
The report added job titles were also found as playing an integral role in determining time taken to hire candidates.
In general, the more complex the job, the more intense screening of applicants it required.
The job titles with the longest interview processes were found to be typically government, academic, or senior executive positions. Police officers reported the longest average interview duration (127.6 days), followed by patent examiners (87.6 days).
By contrast, the shortest job interview processes belonged to more routine, lower-skill job titles. The shortest hiring times were for entry-level marketing jobs (3.9 days), followed by entry-level sales (5.4 days), servers and bartenders (5.7 days).
However, personal characteristics of job seekers—including gender, age and highest level of education—had zero statistical effect on interview lengths.
"All of the recent growth in hiring processes appears to be driven entirely by economy-wide shifts in the composition of employers, job titles, hiring industries, and company HR policies," the report stated.
Image: Shutterstock