Concern among CEOs about skills has more than doubled in 20 years (from 31% concerned in 1998 to 77% in 2017). This worry over skills availability is highest for CEOs in Asia Pacific (82%) and Africa (80%), while globally the figure stands at 77%.
As a result, human capital is a top three business priority for CEOs this year, among 1,379 CEOs surveyed from 79 countries, including China and Hong Kong, Singapore, Japan, and India.
As such, PwC's 20th annual survey of CEOs worldwide found diversity and inclusiveness, and workforce mobility are amongst the strategies being used to address future skills needs.
We spoke to Meenakshi Priyam, a senior global HR leader, who agreed that human capital issues have progressively taken centre-stage as far as business priorities are concerned over the years. "The hunt for agility, innovation and great leadership talent is ever more important to compete in the fast changing economy and competitive landscape," she affirmed.
Additionally, over half of CEOs (52% vs 48% 2016) expect to increase headcount over next 12 months, led by ambitious hiring plans in the UK (63%), China (60%), India (67%) and Canada (64%).
By industry, CEOs in the asset management (64%), healthcare (64%) and technology (59%) sectors have the most optimistic hiring plans, with CEOs in the government and public sector (32%) having the least.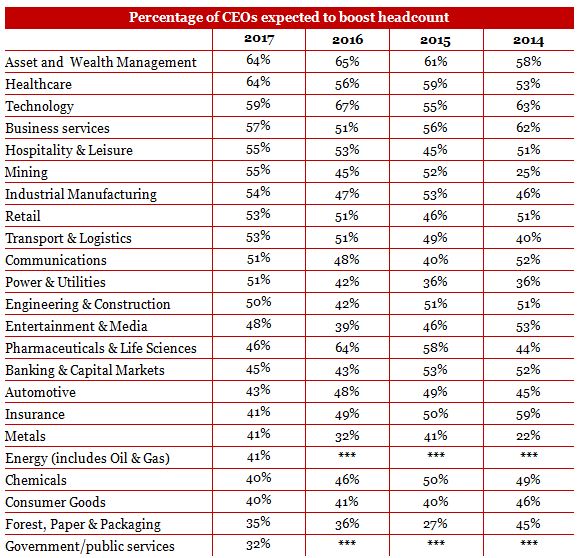 Thankfully, just 16% of business leaders surveyed expect to reduce their overall employee base, among which four in five (80%) say the affected jobs will be impacted in some way by the use of automation. The impact of this technology is expected to be most in Canada (100%), US (95%), Germany (93%), Australia (92%), and Brazil (91%).
Over half of business leaders interviewed (52%) are already exploring the benefits of how humans and machines can work together, and two out five (39%) are considering the impact of artificial intelligence on future skills needs.
With the speed of technological change a concern for 70% of CEOs, it's no surprise that the three skills identified as most valuable by CEOs are: creativity and innovation, leadership, and emotional intelligence. Most CEOs admit to finding it difficult to recruit candidates with these traits, while digital and STEM skills are a recruitment issue for over half of business leaders.
Speaking to Human Resources, Achyut Menon, MD of Hyderabad-based Options Executive Search, and career consultant, agreed that "soft skills combined with the ability to constantly re-invent" is the top human capital priority for 2017. "Knowing all the answers is passe' – the ability to ask all the right questions will be the mark of a true genius," he explains.
Menon also sees most roles being morphed into those that need multiple skills. "I am working on some exciting roles that may sound like hunting for purple squirrels, but I can empathise with the business owners," he says, citing an example: "We are looking at a CFO for a fast growing tech company, that wishes to raise money, but also wants someone with a strong legal background."
Bob Moritz, global chairman, PwC, gauged that CEOs value soft skills the most, and are concerned key skill shortages will impair their company's growth potential, relevance and sustainability.
He added: "Innovation and relationship skills can't be coded.
"So to drive the change CEOs need – thinking carefully and actioning accordingly – a balance between technology and irreplaceable skills in their people is key… Bottom line – prioritising the human element in a more virtual world will be a pre-requisite for future success."
Adding to this, HR leader Priyam, said that the area of human capital that will require that most time and investment this year continues to be developing leadership bench strength, building agile workforce models which allows companies to adapt more quickly to the external challenges, and culture that is unique, sustainable and adds to the competitive advantage of the organisation.
Loading ...
Photo / iStock