In an email shared by a source with South China Morning Post (SCMP), it has been reported that gym and fitness centre chain, California Fitness is shutting down its 12 outlets in Hong Kong today, July 12.
A written announcement circulated among staff says the gym chain and its two sister companies mYoga and Leap will cease operations, effective Tuesday until further notice.
The notice, dated July 12, said operating capital has been frozen in light of a pending winding-up petition filed by its creditor, and the group would have to close business because it was short of cash.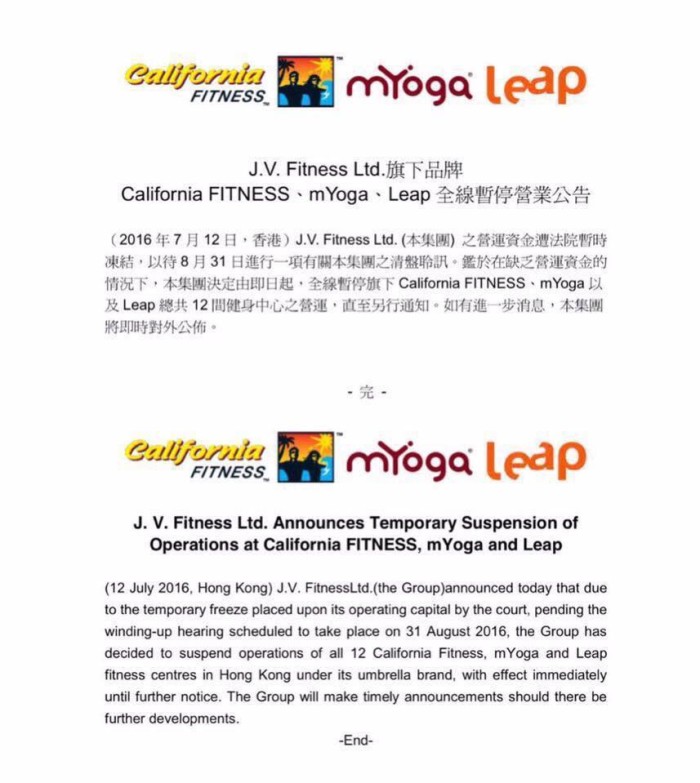 Calls by Human Resources to California Fitness' media centre for comments went unanswered.
ALSO READ: Resorts World Sentosa announces layoffs
In the meantime, Hong Kong's Labour Department has responded to media queries, with Matthew Cheung Kin Ching, Secretary for Labour and Welfare, saying the authorities are looking into the case on unpaid wages for June at California Fitness.
They have also said they will get in touch with the management of the company and inform them the legal consequences they will face for not paying wages on time.
The statement noted that if in the process of gathering evidence that the shareholder or persons in charge wilfully failed to meet their responsibilities, criminal prosecution of a fine of HK$35 million and imprisonment for three years, may not be ruled out.
In addition, SCMP reported about 100 workers of California Fitness have given their employer a 48-hour ultimatum to spell out how they plan to settle back pay.
SCMP has reported Federation of Trade Unions lawmaker Bill Tang Ka-piu saying that all 500 workers were supposed to have their June salaries paid on July 1. The amount involved is said to be more than HK$10 million.
In parallel, on July 11, two senior executives of California Fitness were reportedly arrested by customs officers on suspicion of violating the city's trade descriptions law, as reported by SCMP.  They were released on bail later, pending further investigation.
 Image: 123RF