Advertising agency Blak Labs has issued a challenge to graduating students from the Nanyang Academy of Fine Arts (NAFA) with the promise of a 12-week work placement.
In a bid to attract the most talented and brightest, the test was distributed to students through their graduation booklets and digital channels, requires them to spot at least 10 design errors deliberately hidden in the ad.
According to Blak Labs, industry practitioners should be able to spot a minimum of 15 errors to be worth their salt.
"Over the years, Blak Labs has been actively supporting NAFA's faculty and students with mentorship and internship opportunities. Many NAFA graduates have joined us and achieved great things," Charlie Blower, managing partner and co-founder of Blak Labs, said.
"With this challenge, we hope to cherry-pick top creative minds with an eye for detail, befitting Blak Labs' philosophy of offering our clients the highest level of creative care," Koh Hwee Peng, NAFA alumna and Blak Labs co-founder, added.
Although aimed at NAFA students, Blak Labs has opened this challenge to anyone keen enough to give it a shot and encourages anyone to send their answers to talktous@blaklabs.com.
Check it out here: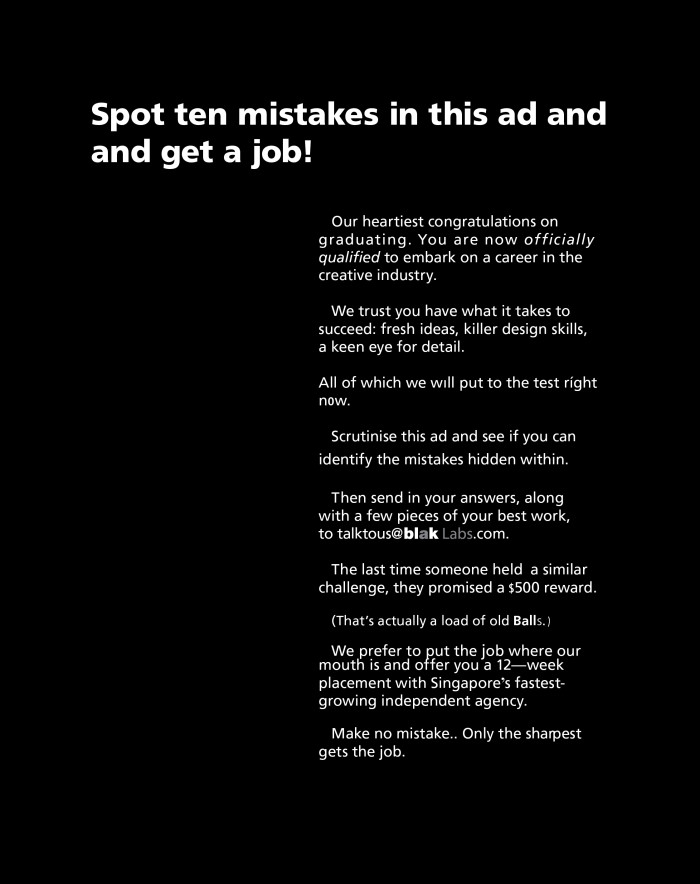 This article was first published in Marketing magazine.
Image: 123RF