Penning your resignation letter in icing on top of a cake has got to be the sweetest way to resign.
Airport worker Chris Holmes handed in his resignation at Stansted Airport earlier this week by piping his reasons for leaving atop a "spiced carrot cake with pecans sultanas and coconut", The Guardian reported.
Using royal white icing, Holmes, who worked as an immigration officer with Border Force, told his employers he had decided to leave his job to work full-time at his newly-created cake business, Mr Cake.
The picture of the resignation cake has since gone viral on Facebook and Twitter.
"The writing was quite fiddly," he told The Guardian. "I would have done it a bit neater if I'd known it was going to go viral."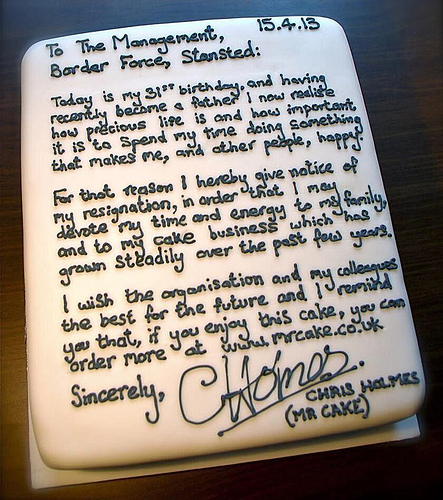 Addressing his letter "To The Management", Holmes wrote:
"Having recently become a father I now realise how precious life is and how important it is to spend my time doing something that makes me, and other people, happy. For that reason, I hereby give notice of my resignation, in order that I may devote my time and energy to my family, and my cake business."
Holmes said he handed the cake over to the duty manager, who was "surprised and amazed" but his managers took his resignation "very well".
Toby Allanson, a spokesman for the Border Force, said "the people who tasted it [the cake] say it was very nice".
The assistant director of Border Force says Holmes leaves with their very best wishes.
Image: Twitter