Ladies often point out men's terrible bathroom habits, and complained the men's room is a smelly, dirty place to be avoided, even though they may not have stepped in one.
But research has proved their fears are indeed correct, with nearly half of men admitting they have seen their colleagues not washing their hands after going to the washroom.
According to the 2015 Healthy Hand Washing Survey conducted by Bradley Corporation, women are outdoing men in hand hygiene in the US.
A total of 46% of men say they frequently or occasionally see colleagues exiting the workplace restroom without washing up compared to only 32 % of women.
While men and women have a different approach towards washing hands, both agreed that the condition of a workplace restroom is an indicator of how a company values its workforce.
More than two in five employees (42%) say they've experienced issues in the workplace restroom.
The top complaints included unflushed toilets, an unpleasant smell, and towel and soap dispensers that were out, didn't work, or didn't dispense enough.
Close to one in 10 workers (9%) classify their workplace toilet as poor or terrible.
ALSO READ: Study reveals we like to have sex, work on the toilet in the mornings
Both men and women in the workplace see hand hygiene as a key defence against germs. When a co-worker is sick the majority of men and women responded by washing their hands more frequently.
Beyond the workplace, hand washing among people in the US also splits along gender lines. Nearly 75% of women say they always wash after using a public restroom versus 59% of men who claim they always do.
When asked why they didn't wash up after using a public restroom, men consistently say they didn't feel the need.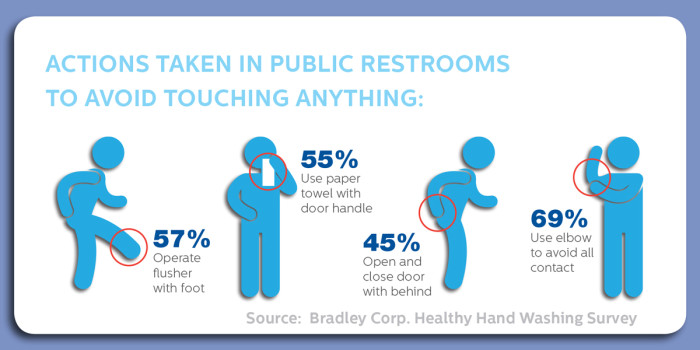 Image: Shutterstock