Human Resources Online is heading to Bangkok with the Accelerate HR conference on November 26-27.
HR leaders from Agoda, DKSH, Fonterra, FWD, Kasikornbank, Minor Food, Nissan Motor and more have already confirmed to speak.
Early-bird tickets are still available.
The National University of Singapore (NUS) Business School's Master of Business Administration (The NUS MBA) programme is now the 31st best MBA programme in the world.
According to the Financial Times' (FT) Global MBA Ranking 2015, NUS' MBA programme climbed up a position to emerge once again as the highest-ranked MBA programme offered by a Singaporean university.
The ranking was based on surveys of the business schools and their graduates of 2011. MBA programmes were assessed according to various factors, including the career progression of alumni, and the diversity of students and faculty.
Harvard Business School led the list as the university with the world's best MBA programme. Institutions such as the London Business School and the Wharton School of the University of Pennsylvania came second and third respectively. Stanford Graduate School of Business, second last year, slipped to fourth place, along with INSEAD.
Singapore's Nanyang Technological University's MBA programme was at 40th place this year.
ALSO READ: Singapore universities rank in top 10 for executive MBAs
The FT found the alumni of the NUS MBA programme commanded a 127% increase in their average annual salaries post-MBA, the highest jump among MBA alumni of business schools in Singapore.
Almost all (98%) of the NUS MBA's alumni also reported they got employed within three months of graduation, indicating that the global and local demand for NUS MBA's graduates remains strong.
"The NUS MBA's consistent performance in the FT's global ranking is welcome news as we celebrate the School's 50th anniversary this year," associate professor Susanna Leong, vice dean (graduate studies), NUS Business School, said.
"Going forward, and in line with our vision to be the leading business school in Asia, we will strive to scale greater heights."
Here are 2015's top 10 MBA programmes worldwide: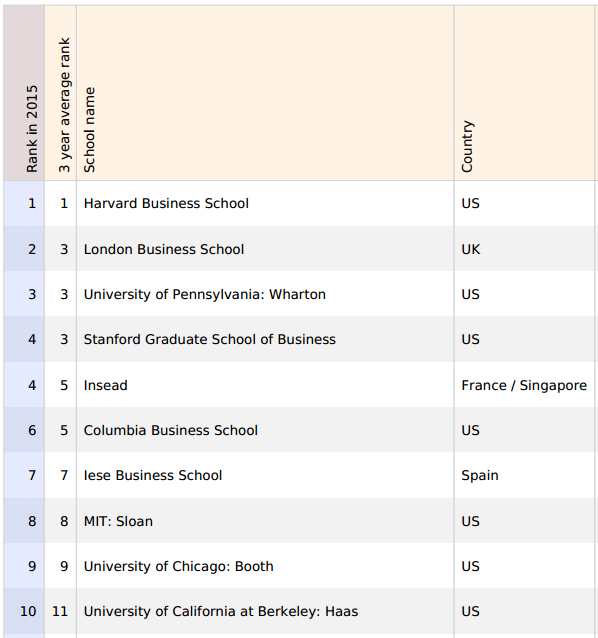 READ MORE:
MBA graduates in demand by employers
MBA salaries to increase in 2014
Image: Shutterstock

Less than 2 weeks to Learning & Development Asia. Speakers from Boeing, Marriott, Monetary Authority of Singapore, Shell, Singapore Exchange, Unilever confirmed to speak with more than 150 attendees.
Last few seats available, you don't want to miss it. Register now.