Women's activist group AWARE has named the Science Centre Singapore CEO, Lim Tit Meng, as a finalist in their annual 'awards', which call out comments or advertisements they deem to be sexist.
Dubbed the Alamak! Awards, the associate professor was nominated on the back of comments he made in an email allegedly sent out to his staff on International Women's Day.
The email was forwarded anonymously to AWARE by a staff member who felt "belittled by this email from her boss", their website states. The organisation then decided to go public with it.
The group point out a number of comments they have a problem with, but highlight this one in particular:
"I have my reasons why not many women can have the stature to hold the highest position. One of them is simply about the complex nature of women which challenges them with communication barriers in even understanding their own gender well, let alone having to compete or co-labour with the men at work."
See the full text of the email here
He has since apologised for his comments in a statement to Human Resources, saying he recognises his words "were inappropriate and I apologise unreservedly."
"My objective was to contextualise how women have been discriminated over time across cultures and I wanted to motivate and challenge my fellow colleagues to break the shackles of any stereotype and emerge a winner that they all can be. I am proud to be part of a great team at Science Centre and I deeply regret any distress caused to my colleagues by my words."
The other three nominees were also submitted by the public. Included is Suresh Damodara, a lawyer who argued a case for an accused rapist by saying the women he attacked (he was later found guilty and sentenced to 37 years in jail) did not suffer "the usual trauma" because they were unconscious when the assault took place.
Budget airline Scoot is also nominated for their advertisements which attempt to explain why their airline is better than your girlfriend, because it "knows when to be quiet" and "when to give you space" and "can handle all your crap".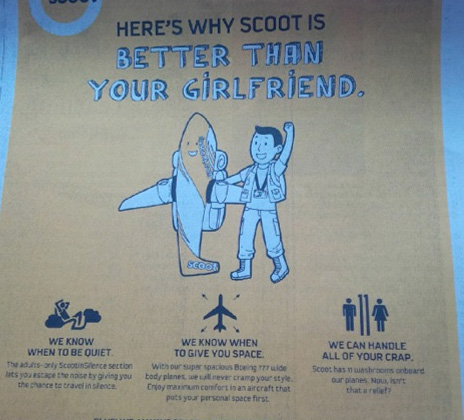 And finally, AWARE nominated Goldheart Jewellery for this advertisement which wants women to "embrace the joy of womanhood"… even though they're "weak".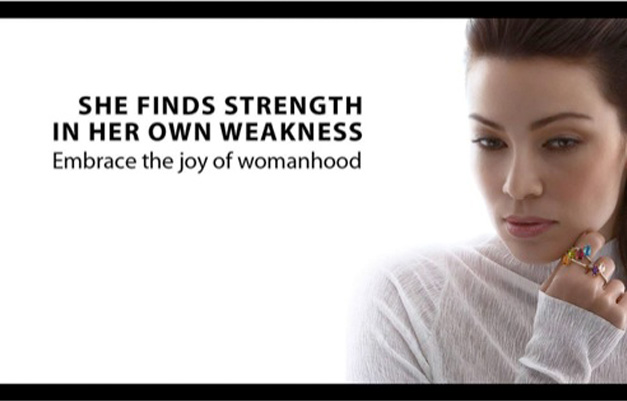 The 'winner' will be determined by AWARE next month.
What do you think?
Image: YouTube