Whether you select your future employee from among the world's top 200 universities, or outside of that clique, the one thing most important to them in their career is work-life balance.
Universum's new Future Talent Insight whitepaper explored the career expectations of business students and recent graduates (referred to as high achievers) from the top 200 universities listed in the Times Higher Education World University Rankings 2015–2016.
More than 18,000 of the 88,000 students surveyed study at the top 200 universities (high achievers), and the study was conducted across 10 countries: Singapore, China, Canada, Germany, Hong Kong, Norway, Sweden, Switzerland, the United Kingdom, and the United States.
More than half of both the high achievers (54%) and the other students (57%) listed work-life balance as their most critical career goal.
For high achievers, the second most important career goal was to be a leader or manager of people (42%), while for the other students, being secure or stable in the job was more important (47%).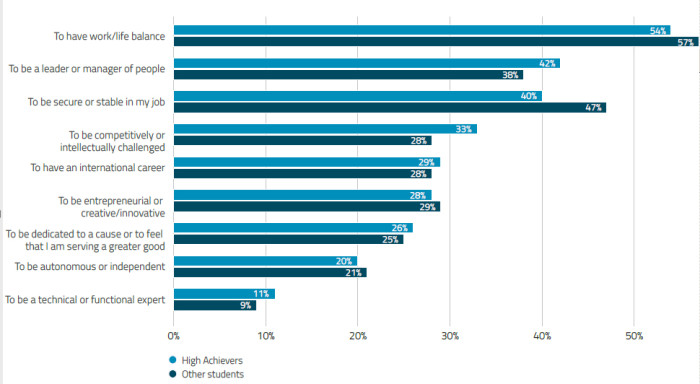 What makes employers attractive to high achievers?
High future earnings emerged as the top priority for all students – high achievers and the rest of cohort. however, a closer look at the salary expectations revealed that, perhaps unsurprisingly, high achievers
expect to earn a higher salary upon graduating.
High achievers ranked 'supportive leaders' as the second most important employer attribute,
followed by a 'creative and dynamic work environment'. While this creative environment was important to the other students too, they prioritised professional training and development in second place.

What differentiates high achievers from the rest?
With a lot of similar characteristics in their career goals as well as expectations from employers, Universum then set out to identify what makes high achievers, i.e. graduates from the world's top 200 universities, so different.
Among high achievers, prestige of the employer and variety of assignments are more important, while other students place greater value on working for a company with a friendly and respectful environment.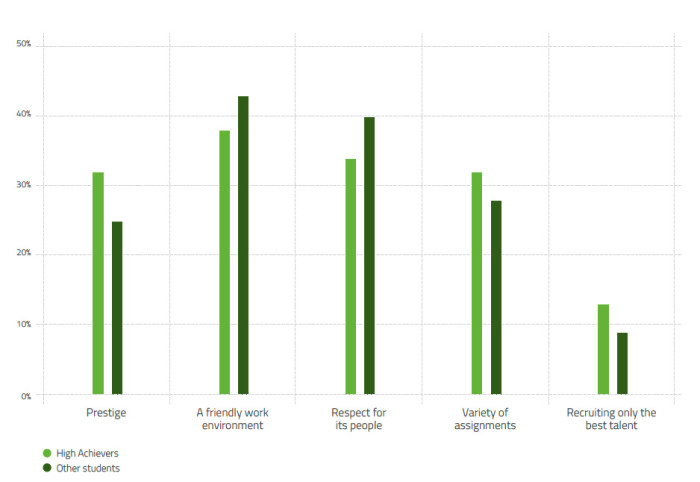 Related to this, Universum found that high achievers seem most drawn to industries where salaries are generally higher and work is potentially more prestigious – i.e. management and strategy consulting, banks and financial services, and auditing and accounting.
Agriculture, shipping, arts, entertainment and recreation were ranked among the least desirable industries for all students, suggesting employers in these areas may need to get creative in their quest to attract talent.
Lead photo / 123RF | All other images: Universum