According to a new survey by staffing firm, Robert Half more than half (65%) of CFO's have trouble recruiting for current vacancies.
In the survey over 2000 CFO's were interviewed across 20 of the largest U.S. metropolitan areas.  CFO's were posed the question, "In general, how challenging is it for your company to find skilled candidates for professional-level positions today?", 20% answered very challenging and 45% said somewhat challenging.
That means altering your hiring strategy if you want to attract the best in this ultra-competitive landscape.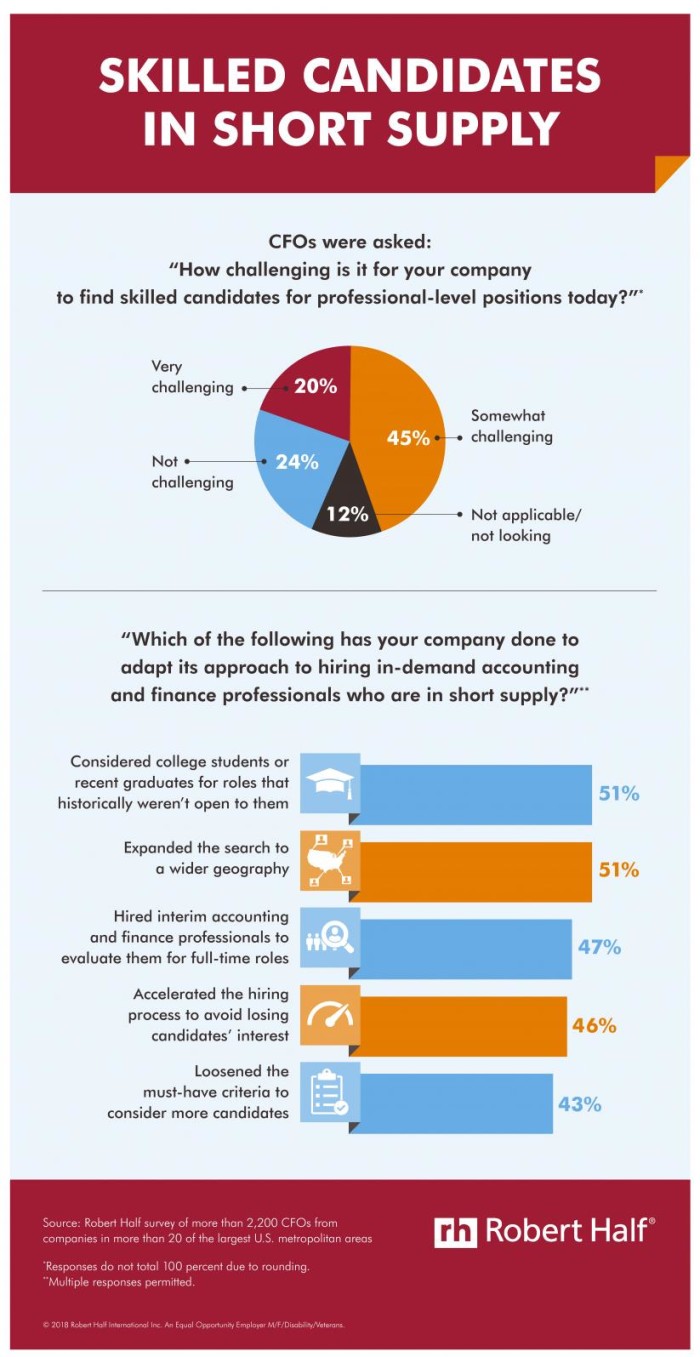 "With skilled professionals in short supply, hiring strategies that worked well a few years ago may no longer be effective," said Paul McDonald, senior executive director for Robert Half in a press statement. "Smart businesses are retooling their recruiting practices to feed the talent pipeline."
Use these 5 tips to adjust your hiring strategy and land the best talent in 2018.
Re-examine your hiring criteria
Prioritise must have skills and what can be learnt on the job. Make sure to have a great onboarding and training programme in place.
Amp up active recruitment
You should always have an eye out for potential talent, you can no longer place an ad and hope they come to you but should actively keep looking for people with potential.
Workers want more flexibility from their jobs and if the position allows it look into remote working as an option because suddenly you add people from all over the world.
A recruiter is a really great asset to help you sort through and approach potential candidates. Let them do the groundwork so you can focus on finding the right person.
Leverage employee referrals
An employee referrals programme is a great incentive for your team and a way to find untapped talent.
ALSO READ: Perfect your graduate recruitment strategies with this selection of 10 stories
Infographic/Robert Half