The fast approaching holiday season is the most popular time for taking MC, mainly because it overlaps with the peak flu season in Singapore (December to February).
However, if you don't see many empty desks in this period, it might be because a majority of them are showing up to work while they're sick, a survey by OfficeTeam found.
Polling more than 500 workers, the survey pointed found that 85% of employees have gone to the office despite being under the weather.
This is despite 82% of the 300 HR managers polled saying that their company encourages staff to stay home when they're sick.
ALSO READ: Local workers least likely to call in sick
The top reasons turning up at work while unwell – feeling well enough to work (36%), having too much work and not wanting to fall behind (32%), and not having any sick days (12%).
Other reasons included wanting to save sick time in case they need it later (9%) and managers frowning upon employees for not coming in (4%).
Interestingly, while a majority of employees have gone to work while sick, almost half dislike it when their coworkers do the same – 42% of employees said their biggest pet peeve during cold and flu season is when someone comes in sick.
While another 42% are most annoyed when those around them don't cover their mouth when sneezing or coughing.
READ MORE: Is your leadership style making your staff sick?
"Even if you're feeling up to the task of working, it's best to stay home when you have a cold or the flu," said Brandi Britton, a district president for OfficeTeam.
"Being out for a day or two can help the recovery process and prevent the spreading of germs to colleagues."
"Managers should set an example by steering clear of the office while sick and encourage their teams to do the same," added Britton.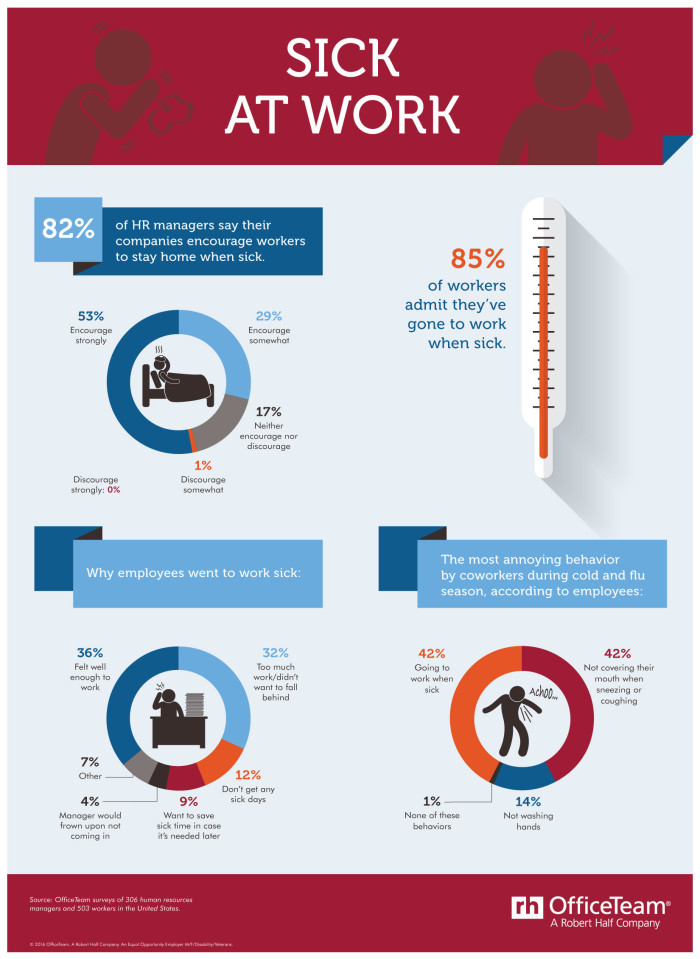 In line with that, OfficeTeam offers three tips organisations can encourage their staff to follow to be a considerate coworker during cold and flu season:
Check your options
If you're feeling well enough to complete projects but are still contagious, find out if you can work from home. If telecommuting is not an option or you're feeling too ill to tackle assignments, work with your manager to identify team members or hire temporary professionals to help during your absence.
Be a good neighbor
If you absolutely must be at work due to a major deadline or meeting, avoid getting too close to others, wash your hands frequently and cover your mouth when sneezing or coughing. Try to leave the office after the critical task is completed.
Lend a hand
Offer to fill in for coworkers when they're out sick. It's likely they'll return the favour the next time you need help.
ALSO READ: Too many employees falling sick? Get your office in order
Photo / 123RF