One in three small and medium-sized enterprises (SMEs) in Hong Kong will see their operational costs go up if the policy on standard working hours is implemented, stated a government's research report.
The Standard Working Hours Committee (SWHC) held its 14th meeting yesterday to discuss the feasibility of having standard working hours for the city. According to the meeting report, 7,000 profit-making companies could slip into the red if they had to use their profits to cover the additional wages.
It also said employers in Hong Kong could face an extra wage bill of between HK$103 million and HK$10.3 billion a year if working hours are standardised, depending on how it is done.
If the regulations only apply to those making HK$10,000 a month or below, and if the standard working-hours level is set at 52 a week and working beyond 52 hours means an overtime payment at the standard hourly rate, employers will need to fork out HK$103 million in additional wages a year.
If it applies to people making HK$15,000 or below, with a standard working-hours at 44, when working above 44 hours incurs 1.5 times the regular pay, the additional wage bill will balloon to HK$10.3 billion.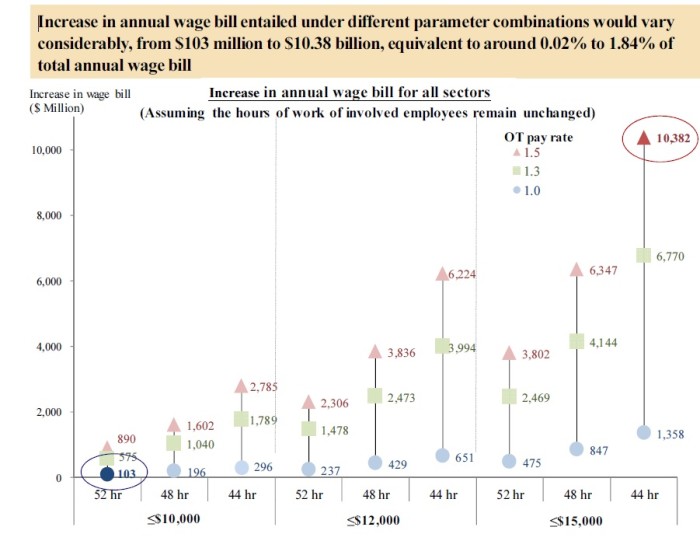 Source: The Standard Working Hours Committee
Restaurants, retail and elderly care are the sectors that are expected to be hit the hardest if the policy is implemented.
Chairperson of the SWHC, Dr Leong Che Hung, said employers may need to hire more staff to meet manpower needs if their employees' hours of work are reduced to standard working hours.
"Employers may need to offer lower salary to meet the new rules, there maybe a salary drop of 8 to 10%," he said.
At the next meeting, the SWHC will further discuss the feasibility of standard working hours and explore the impact on the medium and long-term macroeconomic indicators, such as inflation, labour market flexibility, manpower requirements, and Hong Kong's competitiveness.
ALSO READ: Hong Kong should regulate working hours: SWHC
Image: Shutterstock