More than half of local workers say work-life balance has gotten worse compared to 10 years ago.
And perhaps the biggest proof of this is that 68% of workers had worked even while being sick during the past year, says The Bupa Wellness@Work Research.
On average, presenteeism accounted for 64 days, or approximately a quarter of the total working days in 2015.
The research findings confirmed that not showing up to work is actually make the workplace more productivity than working sick.
Presenteeism represented a loss of productivity equivalent to HK$30.6 billion,  3.4 times more costly than people taking leave when ill, which accounted for a loss amounting to HK$8.9 billion.
Those who continued to go to work while sick said they considered these illnesses to be "not serious" (55%) and that taking time off from work when ill would affect their work progress (47%).
A significant number said they were too busy to take any time off to rest (43%) and one third said they did not want to increase colleagues' workload.
However, a majority of those who showed up for work while unwell, reported that there were adverse effects on their work performance and emotions.
They felt tired and lost their passion to work (66%); became less efficient (58%); and also developed negativity towards their job, with up to 19% considering to quit.
ALSO READ: High job satisfaction might be why staff report to work when they are sick
"Our research has shown that there was low awareness on addressing minor illnesses and hidden loss of productivity was resulted. These low-grade illnesses may not be apparent, but they can actually grow worse over time if not treated. It raises the question of how much attention do we pay to our health and related conditions that may turn out to be chronic in the long run," said Dr. Sarah Salvilla, Medical Director of Bupa Hong Kong.
Millennials and middle managers reported the highest level of presenteeism.  80% of Millennials surveyed experienced presenteeism, which is substantially higher than the average of 68%.
Of this group, 68% said they lost their passion for work and often felt tired when working whilst ill.  43% said they became forgetful, prone to mistakes and would ignore details.
Despite having to work sick, Millennials believe that employers can do more to ease the situation.  Two thirds (65%) of Millennials said employers should care more about employees' health. The majority of Millennials (88%) consider "health improvement programs" helpful, while 76% agree that a caring company would attract and retain talent more easily.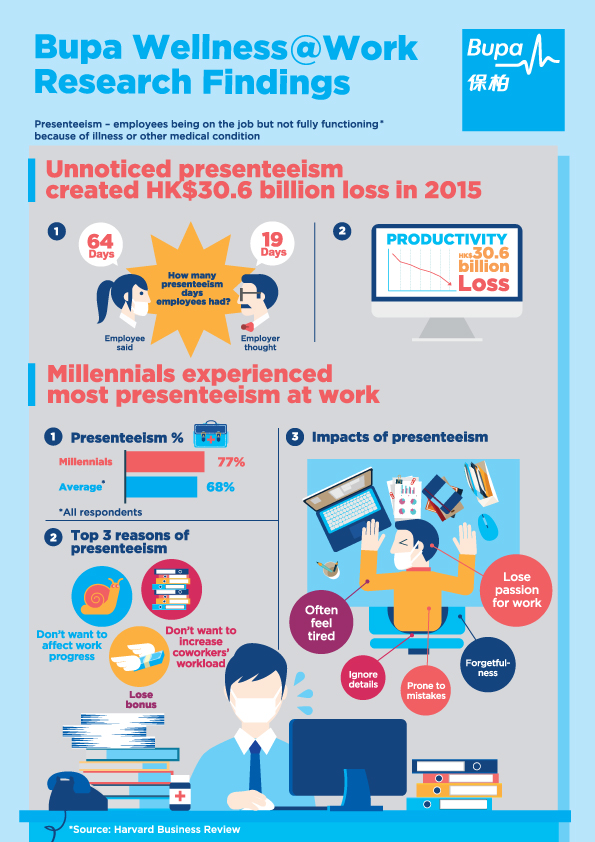 Middle management also reported a high degree of presenteeism (71%). Nearly half (45%) of the middle managers surveyed said they were stressed and 90% reported mood issues.
For example, they found it difficult to concentrate (44%), experienced increased emotional issues (24%). In fact, 47% of them said they thought about quitting their job.
"Similar to the Millennials, a remarkably high percentage of middle managers agreed that workplace wellness programmes will help enhance productivity, prevent disease and improve health and morale," added Dr. Salvilla.  "It is therefore important for companies to develop programmes to keep their staff healthy and productive instead of burning them out."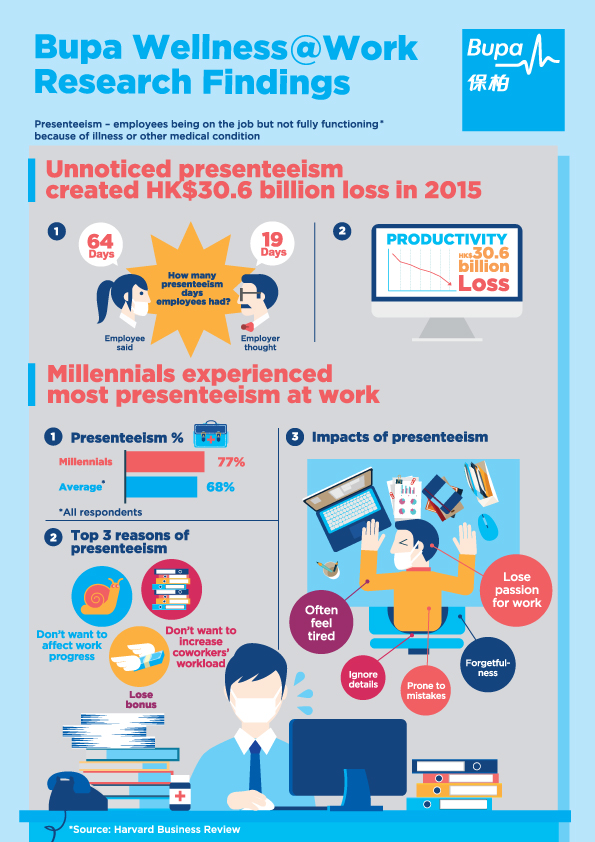 Image: Shutterstock