Back in Hong Kong for its fourth year on September 5 at the Hotel ICON, Learning and Development Asia is bigger and better than ever before and earned its reputation as the most influential L&D strategy event in Asia.
Book your tickets now!
Contact us now for an amazing group discount
If your company is headed towards a merger or acquisition and your CEO is 65-years-old, the business move may have more scientific backing than you realise.
According to new research by Stanford University and Dartmouth, a 65-year-old CEO seems to be the winning factor in a corporate take over.
In fact, the study found organisations with a 65-year-old leader are 40% more likely to receive an acquisition offer than a company with a 63-year-old CEO.
This is likely due to the CEO nearing retirement age, and are less likely to put up a messy fight, the study's authors said.
"A straightforward implication is that many CEOs close to age 65 do not lose much by accepting a takeover bid. For younger CEOs, becoming the target of an acquisition usually implies an (involuntary) early retirement," the report said.
"For a CEO at or close to his expected retirement age, however, the cost of his firm being acquired should be small."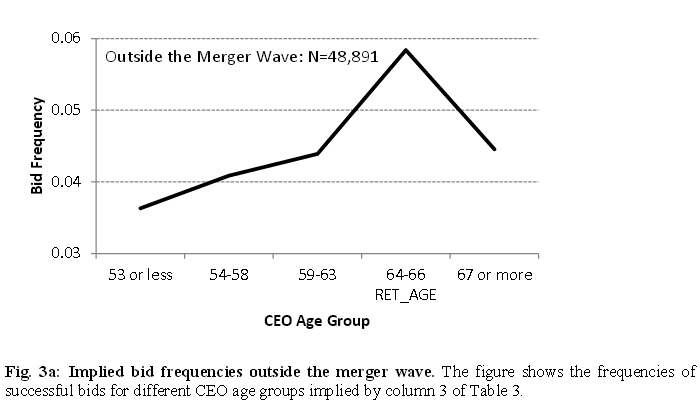 Source: CEO Preferences and Acquisitions
Overall, the result of the study support the retirement-age effect when it comes to acquisitions, in that companies are less likely to increase their takeover defenses when the CEOs near retirement age.
"If these provisions are used, at least in part, to deter bidders, this pattern suggests that the deterrence motive is weaker for retirement-age CEOs," the report said.
Image: Shutterstock

Mark your calendars as the crowd's favourite candidate and employee experience conference, Talent Experience Forum is back!
Happening only in KL, Malaysia on 5 November. Register your seat early because you will be hearing top insights from C-suite and senior HR leaders from Dell, Digi, GoCar, IPG Mediabrands, Nestle, Tesco, Unilever and more.