As Olympic Games Rio 2016 pick up the pace, sports fans may find a lot of ideas applicable on the sports field may work just as well in the corporate environment as well.
The team at OrangeHRM has compiled some quick tips:
1. Celebrate everything, not just the goals
A series of skill plays or a great shot attempt will often get the fans' applause, even if the team didn't score, because it shows that the players are making the right decisions and it will eventually lead to a goal. For example, when a marketing executive writes a good article that doesn't get the publicity that the organisation was hoping for, simply letting them know they did a great job can go a long way in improving that employee's morale.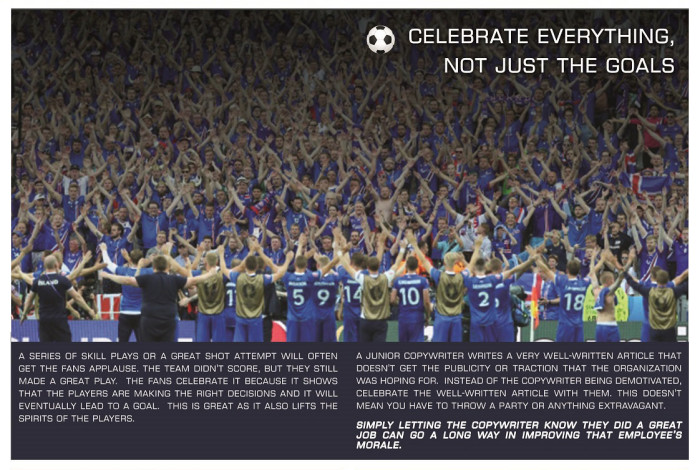 2. Team wins, not a player
In football, when a player scores a goal, the fans, players, and coaches all celebrate together, with players often huddling to celebrate as a team. It's also important to remember that no individual is greater than the team. Similarly, if a sales rep at a car dealership sells a car, who celebrates with them? Just them and the manager? What about the finance manager who worked on the contract? What about the receptionist who first greeted the customer and got them a coffee? This is why you will sometimes see large gongs inside car dealerships for the team to celebrate a win.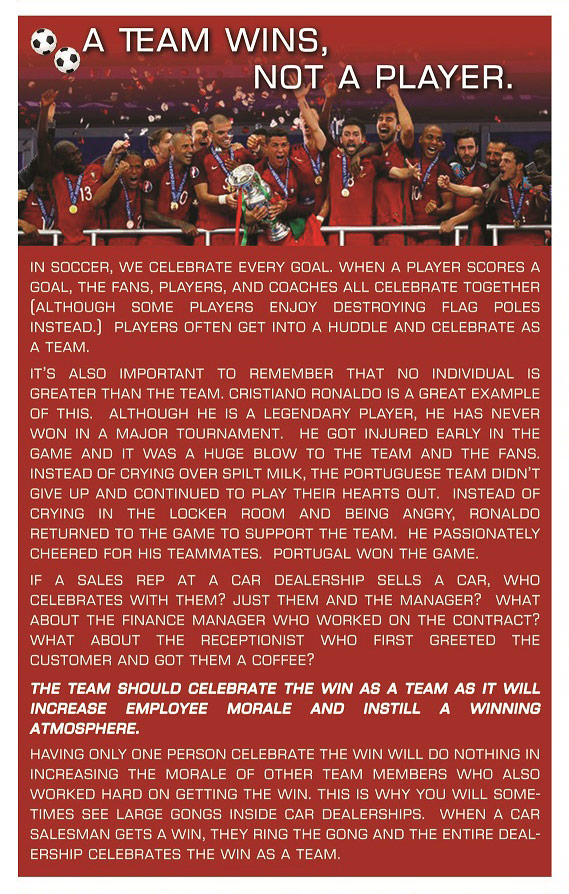 3. Quality over quantity
If for the same money, you can sign Wayne Rooney or four college-level strikers, remember that Wayne Rooney would likely score more goals than the other four combined. You need an elite striker to score against elite goalkeepers. Similarly, if you have RM 100,000 to spend on your sales and marketing, make sure you invest into the talent that is most suited to your role, and evaluate how strongly your internal training capability can equip them to hit your target.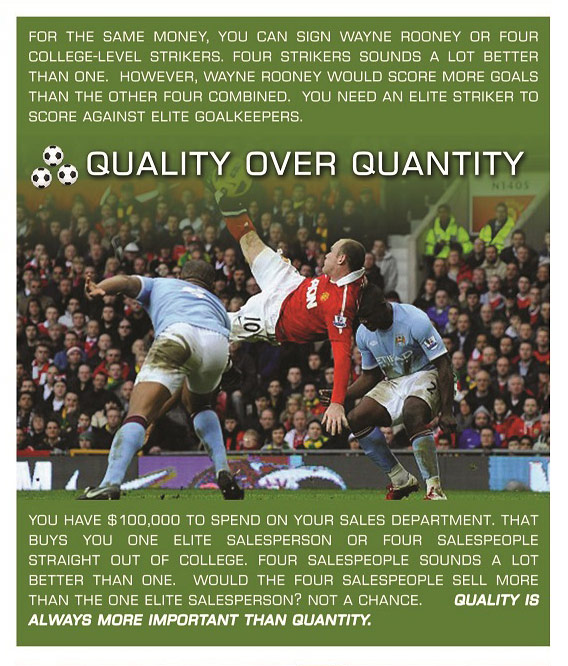 4. Chemistry is not just for scientists
In the UEFA Euro 2016, England was loaded with superstars and, on paper, had more talent than Iceland's starting eleven. However, Iceland had a lot of the success in the tournament while England made an early exit. The reason? Chemistry. Iceland's group had played together for years and had developed great team chemistry. In the office, you may have conducted dozens of interviews to find the right candidate. But before you hire them, bring the candidate in to have an interview with the people that they'll be working with on a daily basis.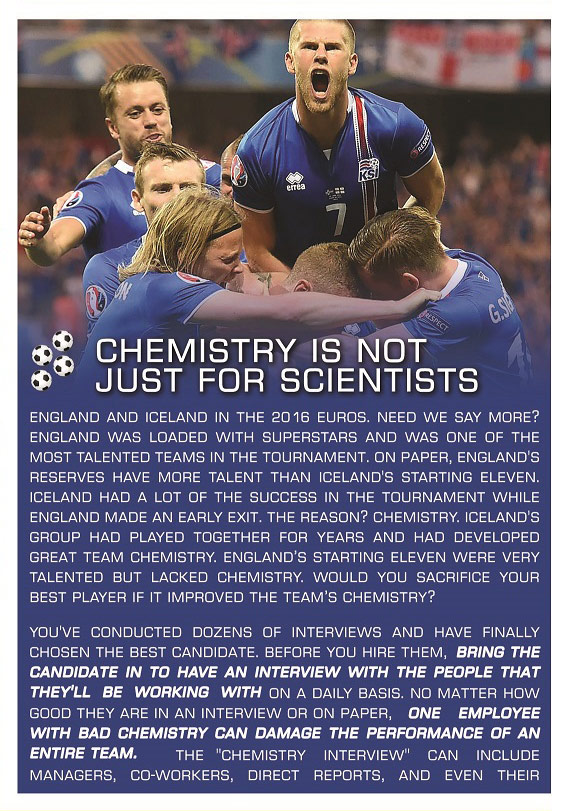 5. Discipline when required
If a player slide tackles another player with an intent to injure, disciplinary action must be taken, be it a yellow or a red card. In the 2016 Euro Cup, Ireland's Shane Duffy slide tackled a French player from behind and was subsequently sent off the field – ensuring he'll think twice before ever doing that again. Disciplinary tracking in the workplace is often not given the attention it deserves, yet is extremely crucial as it ensures employees adhere to the company policies as well as statutory regulations.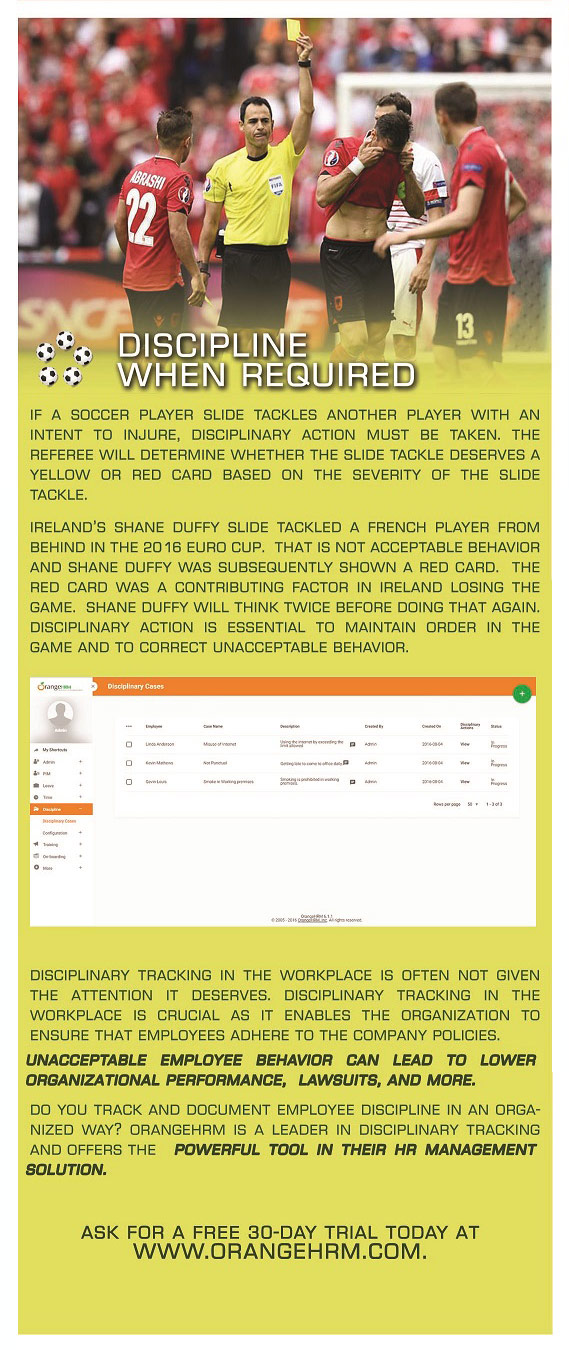 Lead image: 123RF