Thanks to HR being increasingly seen as a 'value-add' profession in Singapore, experienced professionals in the field are likely to see a salary hike this year.
That was one of the key findings of ZW HR Consulting's 2015 HR salary guide, which stated those in HR generalist positions should see 5% to 10% wage increases in 2015.
"2015 is likely to turn out to be a reasonably good year for HR professionals," Mervin Chui, Managing Director, ZW HR Consulting said
"The average salary bands for HR professionals are up 5% to 10% for 2014/15 as compared to 2013/14 figures. The potential for HR to influence and drive business strategy has never been stronger as employers realise they need to invest in strong HR professionals."
The report stated HR directors with more than 15 years of experience are likely to earn up to $300,000, while senior HR managers could possibly get an annual pay package of $100,000 over the next 12 months.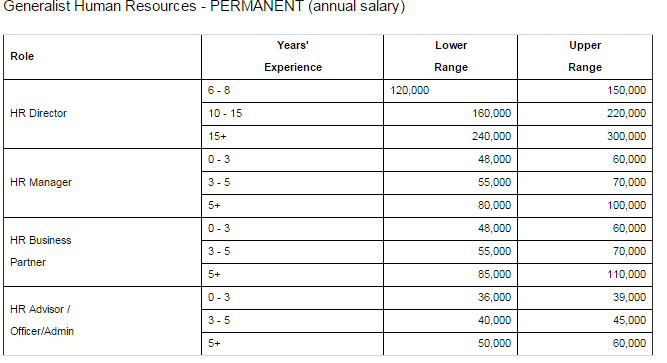 "We are seeing a high demand for HR related jobs in various sectors as MNCs and large local firms continue to aggressively expand their presence across the region," Sunil Dutta, director for human resources practice at ZW HR Consulting, said.
"This has created new opportunities for more robust and sturdy HR, compensation and benefits and learning and development professionals with specific industry experience to manage long-term strategies. Overall, there has been an increase in the number of HR roles coming to market at all levels and across various disciplines."
Indeed, regional compensation and benefits manager was identified as the top HR job in the country, followed by talent acquisition professionals and HR business partners.
Here is the list in full, according to the salary guide:
Regional compensation and benefits manager:

These individuals can make a huge impact upon several critical areas such as salary benchmarking, employee benefits solutions and talent retention.
Talent acquisition manager:

Talent acquisition managers have transformed recruitment into a key and strategic HR function, being responsible for talent attraction and market mapping a pool of competent external candidates — which would provide an alternative and/or backup to internal succession plans.
HR business partner:

The role of a business partner is to integrate business goals with management and employees across various departments promoting efficiency and eliminating waste.
A business partner is also expected to be a HR subject matter expert who is able to consult for the business on HR matters, policy and governance.
HRIS leader:

The responsibilities of HRIS leaders include maintaining and frequently upgrading information systems, to ensure the smooth running of the HR department.
Talent management and organisation development:

This department works in close collaboration with all the heads and the major stakeholders so as to understand their precise needs and thereby address their talent management problems accordingly by placing the right people in the right places.