Reflecting the subdued external economic environment, the continued restructuring of the economy, Singapore has seen a bleak first half of 2016 where the labour market is concerned, with an upward trend in redundancies and slow employment growth. This was according to the Ministry of Manpower's (MOM) latest statement on labour market developments.
Here's a quick overview of Singapore's labour market in H1 2016.
Redundancies and Job Vacancies
In Q2 2016, 4,800 lost their jobs, up slightly from the 4,710 in Q1 2016, continuing the upward trend in redundancies since 2010. This was noted as the highest second quarter redundancies since 2009.
Unfortunately, in line with a fall in job vacancies  for the sixth consecutive quarter to 49,400 in June 2016 (from 50,000 in March 2016), fewer residents (45%) made redundant in 1Q 2016 re-entered employment by June 2016, a slight decline from 46% in the previous quarter and the lowest since June 2009.
The statement pointed out that amid subdued global economic conditions, the decline in vacancies was broad-based across many sectors and occupation groups. Coupled with the increase in job seekers, the seasonally-adjusted ratio of job vacancies to unemployed persons declined to 0.93, the lowest since March 2010 (0.87).
ALSO READ: Layoffs, unemployment on the rise in Singapore Q2 2016
Employment
After declining in March 2016, the seasonally-adjusted unemployment rate for residents rose from 2.7% to 3.0% in June 2016 – comparable to the rate in December 2015 (2.9%), the statement noted.
Despite being low, on a non-seasonally adjusted basis, the resident long-term unemployment rate, rose from 0.7% in June 2015 to 0.8% in June 2016.
In line with a rise in unemployment, H1 2016's total employment growth (excluding foreign domestic workers (FDW))  – at 11,600 – was significantly lower than that of the same period in 2013 and 2014 though it managed to reverse the decline seen in H1 2015.
The statement noted that while the local employment in June 2016 was 0.4% higher than in June 2015, local employment remained flat in H1 2016 (-200), compared to the decline seen in H1 2015 of -8,900.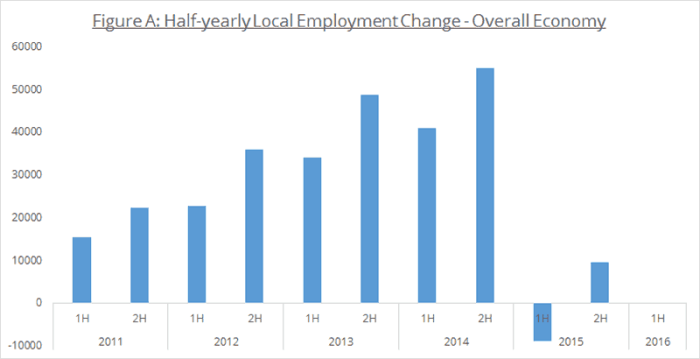 The statement attributed the slower local employment growth to singe 2015 to both structural factors and cyclical effects.
Whit regards to foreign employment growth, growth of S Pass and Employment Pass (EP) Holders continued to stay moderated at 800 and 1,700 respectively.
The statement noted that most of the foreign employment growth in 1H 2016 were of Work Permit holders (9,300), notably in F&B services, and administrative and support services. A significant number were employed as cleaners, security guards and kitchen assistants.
"The growth of WPH corresponded to a net shift in local workers away from lower-paying jobs, as the bulk of retiring workers had a lower education profile compared to younger cohorts entering the workforce."
READ MORE: The sectors in Singapore most likely to hire in Q2 2016
Productivity
On the brighter side, overall labour productivity (as measured by value-added per worker) rose by 0.8% in 1H 2016 over the same period last year, an improvement from the 0.3% growth in 2H 2015 over 2H 2014.
The manufacturing and construction sectors saw productivity growth of 4.0% and 1.5% respectively.
Within the services sector, wholesale and retail trade saw the highest productivity growth (3.3%) while business services (-2.7%), other services (-2.0%), and information and communications (-1.5%) saw the steepest drops in productivity.
ALSO READ: The most and least productive sectors in Singapore
On a whole, barring unexpected shocks in the external economy, MOM expects labour demand to remain modest in 2016, noted the statement.
In line with the weaker global growth outlook, hiring is expected to be cautious in the manufacturing sector, as well as other externally-oriented services sectors such as financial and insurance Services, and wholesale trade.
Amid the slowdown in the global economy, MOM expects redundancies to continue to rise in sectors facing weak external demand and that are undergoing restructuring. On the other hand, labour supply will remain tight in domestically-oriented services sectors such as community, social and personal services and accommodation and food services.
Looking ahead, "the Government will continue to step up efforts with tripartite partners to transform our industries, create more jobs of better quality, and help displaced workers to seize new job opportunities through various career and employment support programmes under SkillsFuture and Adapt and Grow initiatives."
Photo / 123RF