Business scenario planning, based on the parameters of economic volatility and talent mobility, will help HR teams become more agile in their ways, finds Abhishek Mittal, senior consultant at Towers Watson.
The term VUCA was introduced by the US Army War College to describe the more volatile, uncertain, complex and ambiguous world in the post-cold war era.
The term was subsequently adopted by the business world to describe the rapidly changing environment, underscored by globalisation of markets, rebalancing of the global economy, advances in technology, changing demographic trends, new customer needs and disruption of existing business models.
The chaotic "new normal" in business is real and here to stay. And the new realities of the world will have deep implications for the HR function.
Klaus Schwab, founder and executive chairman of the World Economic Forum (WEF), recently concluded in a report, "In the future, human capital will be the most important kind of capital."
The WEF report highlighted that a nation's human capital endowment – productive skills and capacities – can be a more important determinant of long-term economic success than virtually any other resource. Demographics are leading to a major shift in the demand and supply of talent around the world.
According to Global Talent 2021, a study conducted by Towers Watson and Oxford Economics, HR professionals must prepare to address the projected labour shortages in countries such as USA, Japan, South Korea, France, and Germany, while dealing with talent surpluses in countries like India, Indonesia, Brazil, and South Africa.
Talent mobility, thus, becomes the first variable when thinking about the future of HR.
The second variable is economic volatility, which is also a part of life now. Every day we are bombarded with analyst reports and forecasts about the state of economies around the world – gradual recovery of the USA, continued instability in most of Europe, slowing down of China, the hopes of Abenomics in Japan, the growth revival in India and so on.
The constantly changing business environment requires a continuous evolution of strategy and again, HR needs to be able to respond to these.
Scenario planning for HR
Nate Silver, the American statistician revered for his work on accurately forecasting results of the 2008 and 2012 US elections, wrote in his best-selling book The Signal and the Noise, "We need to stop, and admit it: we have a prediction problem. We love to predict things—and we aren't very good at it."
He further added that we must become more comfortable with probability and uncertainty.
This is where the concept of scenario planning comes in. Instead of formulating HR strategy based on a single prediction, it might be better to plan for multiple future scenarios. Using the two variables of talent mobility and economic volatility, we can construct different scenarios for the future.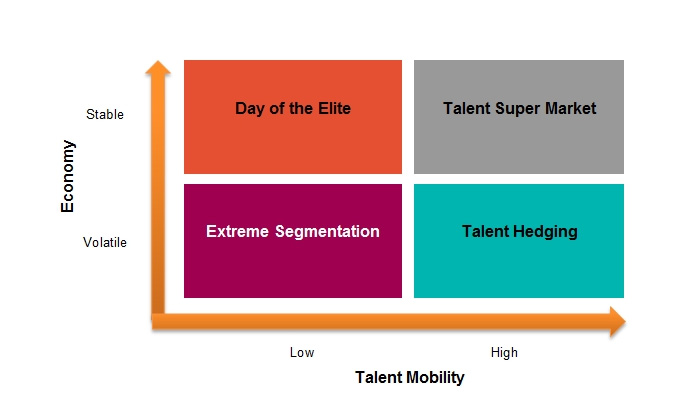 Let's look at each of the scenarios and what some of the key implications for HR might be.
Day of the elite: Local talent rules in this scenario characterised by economic stability and low talent mobility. The demand for talent would grow and employers would need to compete heavily for the best talent. And with ample employment opportunities for critical-skills talent, retention would become a serious challenge.
This scenario would require companies to invest heavily in branding themselves as a destination employer and offer a differentiated employee experience, together with a compelling total rewards proposition.
Extreme segmentation: If the economy is in turmoil and talent mobility is low, HR would need to flex its approach to managing the workforce – retaining critical-skills talent while tapping into cost-efficient, on-demand talent sources like contractors, outsourcing and crowdsourcing.
To retain the best talent, companies would segment their workforces and invest in roles pivotal to strategic business success. Given the reliance on external parties like contractors and off-shore workers, there would also be a need to enable better ways of working through task parsing, asynchronous collaboration and tele-commuting.
Talent super market: If the economy is stable and talent mobility is high, the power starts shifting to the employers. In this scenario, the high demand for talent is matched by ready availability of talent. At the same time, talent investment will be lower as more talent from lower-cost economies comes on board.
The onus of differentiation now falls on the employees, to stand out in the crowded labour market. However, such an "ideal" state is somewhat hard to envisage given current debates on immigration.
Talent hedging: The last scenario is one of high economic volatility and high talent mobility. The outlook for talent becomes uncertain, even though talent can move more fluidly. Employers would become more cautious and access talent from lower cost economies to manage costs.
The employer-employee relationship would change to short-term contractor-type arrangements, rather than permanent employment. The scenario can see an over-supply of talent, especially in routine jobs and HR departments would invest resources in identifying the right talent from a global pool.
In the agile HR model, HR will have fewer permanent resources, but instead will have on-demand internal or external resources grouped around specific business problems.
The way forward
The scenarios described above are entirely plausible, but in no way are the implications for HR comprehensive. There would be several other issues to deal with. Moreover, HR leaders might need to tactfully navigate each one at different points of time.
To enable business success under different scenarios, agility is the key word for HR. Based on research and experiences with hundreds of companies, Towers Watson has developed a model for agile HR, with different underpinnings. An agile HR function's organisation structure, roles, competencies, technology and governance will need to change substantially.
In the agile HR model, HR will have fewer permanent resources, but instead will have on-demand internal or external resources grouped around specific business problems.
Such groups may consist of stakeholders with vested interest in an initiative, be they business leaders or external experts. They would be formed when a pressing issue presents itself and will be disbanded once the group's mandate is achieved.
The roles would change too with HR centers of expertise designing programmes based on business demand (pull) versus based on corporate roll-out (push). The HR business partners will assume added importance and have a more strategic business-enabling focus, rather than operations alone.
New roles like contract experts may need to be created to manage the on-demand talent pools and outsourcing vendors.
The competencies of the HR professionals would also look different. Instead of HR specialists who understand business context, there would be a need for business experts who can deliver people solutions.
Beyond having expertise in HR programme design and delivery, future HR professionals would also need solid analytics and change management capabilities.
And HR technology will need to evolve to provide consumer-grade experience to the enterprise. Transactional systems would be replaced by knowledge-based enterprise 2.0 systems based on software-as-a-service platforms. Technology will play a key role in enhancing responsiveness, enabling analytics and simplifying people-related tasks for managers and employees.
The takeway
Peter Drucker shared his wisdom, "The greatest danger in times of turbulence is not the turbulence; it is to act with yesterday's logic." Hence, it is crucial that HR leaders plan for the different future scenarios, respond swiftly to drive business success and enable enterprise agility through an agile HR function.
Image: Shutterstock