If the Oscars included an award for the most uncomfortable issue ever confronted in a large public setting – my bet is that it would go to the issue of diversity at the 2016 Oscars.
Don't get me wrong, for an awards ceremony which has seen only 6.4% non-white actor nominations since 1929, and has never awarded an Asian actress the title of Best Actress – it is highly impressive and heartening to finally see the issue of racism in Hollywood being brought to light.
This endeavour is perhaps even more crucial today, when the biggest corporations in the world, such as Google and Facebook, are struggling with their own diversity statistics.
And that is why we have listed our favourite, and most awkward diversity-struck moments from the awards ceremony last night – moments that could give HR leaders around the world an inkling on the nature of diversity, and how best to deal with it.
1. Addressing the lack of diversity is the first step to overcoming it
This isn't a moment, exactly, but an ode of sorts to the host of the Oscars this year, Chris Rock.
Rock addressed the "elephant in the room" right from the start with his opening monologue. Welcoming the crowd to the "White People's Choice Awards," Rock acknowledged that he was hosting the "wildest, craziest Oscars," and several celebrities, such as Jada Pinkett Smith had boycotted the Oscars due to its lack of diversity and he was under pressure to do the same.
"So, I thought about quitting. I thought about it real hard. But, I realised, they're gonna have the Oscars anyway. They're not gonna cancel the Oscars because I quit."
On a more serious note, though, he said, "Is Hollywood racist? … you're damn right."
Later, Rock appeared in a hilarious skit with Whoopi Goldberg, Leslie Jones and Tracy Morgan, spoofing some of this year's films while commenting on the lack of opportunities for black people in Hollywood.
ALSO READ: 2016's top trends in diversity and inclusion across Asia
What Rock should be applauded for isn't merely that he woke up the audience, and the world, to the problem, but also showed how easy, and essentially pointless, it is to escape from it.
Instead, by spreading awareness of the pervasive lack of diversity in our awards, in our companies, in our lives, we can only then look at solutions to fix it.
2. Be careful when bringing up racism through racism
This seems to be a common trend occuring, especially in the media today – using humour, sarcasm and irony to voice out serious issues harming the current society.
While the effectiveness of such a method is undeniable, it remains integral that nobody gets hurt or embarrassed during this backlash – however well-intended.
This became most apparent when Rock brought three Asian children to the stage, posing as "bankers" from finance firm PricewaterhouseCoopers.
"They sent us their most dedicated, accurate and hard working representatives," he said. "Please welcome Ming Zhu, Bao Ling and David Moskowitz."
"If anybody's upset about that joke, just tweet about it on your phone that was also made by these kids," he continued.
ALSO READ: Microsoft's attempts to improve its diversity figures might be failing
Understandably, many people were upset, because the only mention of Asians was a stereotype about their smarts and a light-hearted reference to child labour.
What is offensive about this is the fact that people laughed. The audience and the world took joy in laughing at three kids on stage about how the world perceives them. How is that in itself not racist?
Imagine isolating three employees of your firm and laughing at their stereotypes – again, no matter how genuine your intentions are.
Chances are, you will receive their resignations the next day.
As proof how negatively the world took Rock's joke, check out a few tweets we found below:
How in the world is @chrisrock going to talk about racism with blacks, but then go on to make fun of some asians. #Hypocrite? #EqualityMyass

— William Lor (@Wizard_will2) March 1, 2016
@chrisrock took "Uncle Tom" approach @ #oscars. Superficial attack on racism while making minorities, especially Asians, the butt of jokes.

— P. Elle (@p_elleO) March 1, 2016
So if you were fighting race issues with #OscarsSoWhite , how and why is it okay to mock Asians @chrisrock ?

— Aditi Krishnan (@AditiKrish) March 1, 2016
3. Remember, diversity is about equality
At the end of the day, it's important to remember diversity isn't about giving recognition to someone because they are different, it is about treating everyone equally – something which Total Beauty reminded us of beautifully by mistaking Whoopi Goldberg for Oprah.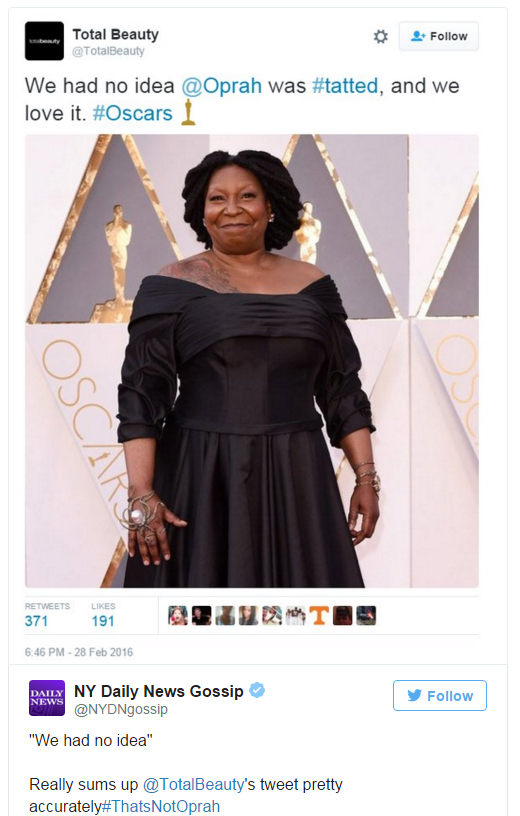 Source: Mashable
The mistake led to some satire, as wits on Twitter pretended to mistake white actresses for other white actresses.
Preserving the identity of each individual and viewing them as playing an equally integral role to achieve  equality was a stance reiterated throughout the awards ceremony.
For instance, in his speech, Kevin Hart displayed his passion for his industry and how that should be the focus of everyone in it:
"At the end of the day, we love what we do and we're breaking ground doing it. These problems of today will eventually become problems of the old. Let's not let this negative issue of diversity beat us."
Similiar sentiments were echoed by Cheryl Boone Isaacs:
"The Oscars celebrate the storytellers who have the opportunity to work in the powerful medium of film – and with that opportunity comes responsibility. Everyone in the Hollywood community has a role to play in bringing about the vital changes the industry needs so we can accurately reflect the world today. I am confident that together we can shape a future for which all of us can be proud."
The Oscars are (or should be) testimony to the fact that success is awarded to the people who deserve it the most – regardless of race, age, gender and sexual orientation.
Let's help in achieving this in not only our movies, but also in our boardrooms and companies to ensure our valuable talent don't leave us, and to ensure everyone is given an inclusive environment to work in.
Image: Shutterstock