jobsDB最新的「2018年薪酬調查報告」顯示,有71%的受訪香港僱員今年獲得加薪,平均加薪增幅達5.7%,增幅比去年的3.9%為高。加薪幅度最高的行業分別為「銀行及金融」(8%)、「資訊科技」(7%)及「市場推廣/公共關係」(6.4%);加薪幅度最小的則是「運輸及物流」從業員,加幅平均只有3.1%。
jobsDB香港區行政總裁仇崑石在新聞稿表示:「金融科技為大勢所趨,亦促進了本地金融界的新營運模式和服務激增。與此同時,香港以至世界其他地區的監管機構亦日益收緊條例,使市場對風險管理專才的需求有所攀升。」
「資訊科技已連續三年成為加薪幅度最高的三大工種之一,就以網絡工程師為例,隨著電子商貿、初創企業(start-up)發展日盛,企業陸續運用流動應用程式和雲端技術,市場對這個崗位自然有一定需求,要求亦相對提升。此外,企業亦同時著重人員的網絡保安經驗,以面對愈來愈猖獗的黑客、網絡入侵等活動,故藉大幅加薪來挽留人才。」
他補充:「科技人才求賢若渴,企業如著重工作生活平衡、友善工作環境或有其他特別的員工福利,不妨可於招聘廣告詳細描述,亦有助吸引人才,提升企業形象。」
延伸閱讀:政府應對本港資訊科技人才短缺問題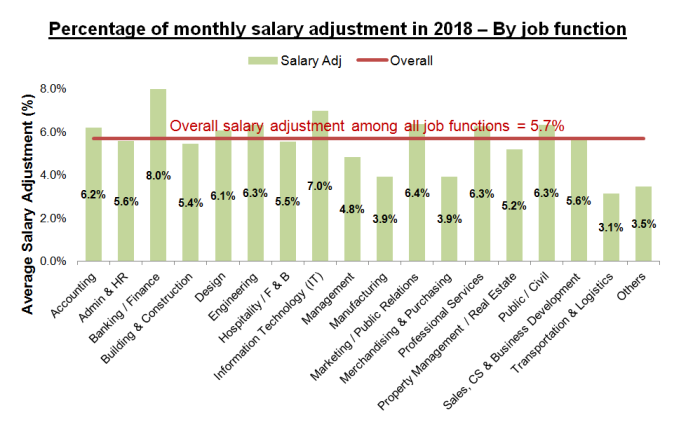 調查亦發現,有15%的在職受訪者每週需工作超過50小時(包括於公司及在家辦公)。其中工時最長的行業是「款客服務/飲食」,有多達70%的僱員每週需工作超過50小時;排第二、三位的分別是「樓宇及建造」(46%)及「管理」(38%)的從業員。
除此之外,調查指出有兩成香港僱員並不希望升職,工種包括「管理」(30%)、「設計」(27%)及「行政及人力資源」(26%)。不欲升職的受訪者指出箇中原因分別是「希望保持工作生活平衡」(64%)、「工作量/工時增加與加薪幅度不相符」(50%)及「害怕上司/老闆對自己期望增加」(22%)
另一方面,在希望升職的受訪者當中,有86%表示因為想「加薪」,62%表示升職是「對自己工作表現的肯定」,32%則表示希望藉升職「獲得更多福利(如增加年假/提升員工保險計劃)」。
調查亦訪問了受訪者為爭取升職而作出過什麼行為。
51%的受訪者表示曾「主動爭取工作機會」
36%選擇「進修」
19%試過「瘋狂加班」
Although most of these techniques are related to job performance, some interviewees have also sought to please their supervisors and colleagues through other means,
雖然爭取升職的手段大多與工作表現有關,但部分受訪者亦曾試過用其他方式來提升上司及同事對自己的好感,包括:
「積極參與公司活動」(19%)
「更注重外表」(13%)
「奉承上司/同事」(7%)
「替上司/同事辦私人事務」(6%)
仇崑石表示:「在表面講求實質效率和生產力的香港社會,仍有近兩成人以瘋狂加班及積極參與公司活動作為爭取升職的手段。」
「不少打工仔深信為公司付出更多時間、表現忠心才是升職的『潛規則』。僱主如欲提拔真正有才能之士,就必須對所有員工明確闡述公司的晉升制度及符合條件,並且制定例如培訓等支援措施,以協助升職員工適應新職責與人事關係。」
延伸閱讀:2018年人力資源職位薪酬指南

Asia's most renowned regional HR Excellence Awards is back in October in Singapore and Malaysia to sieve out HR's finest gems. Are you a diamond in the rough? View the categories and find out more.